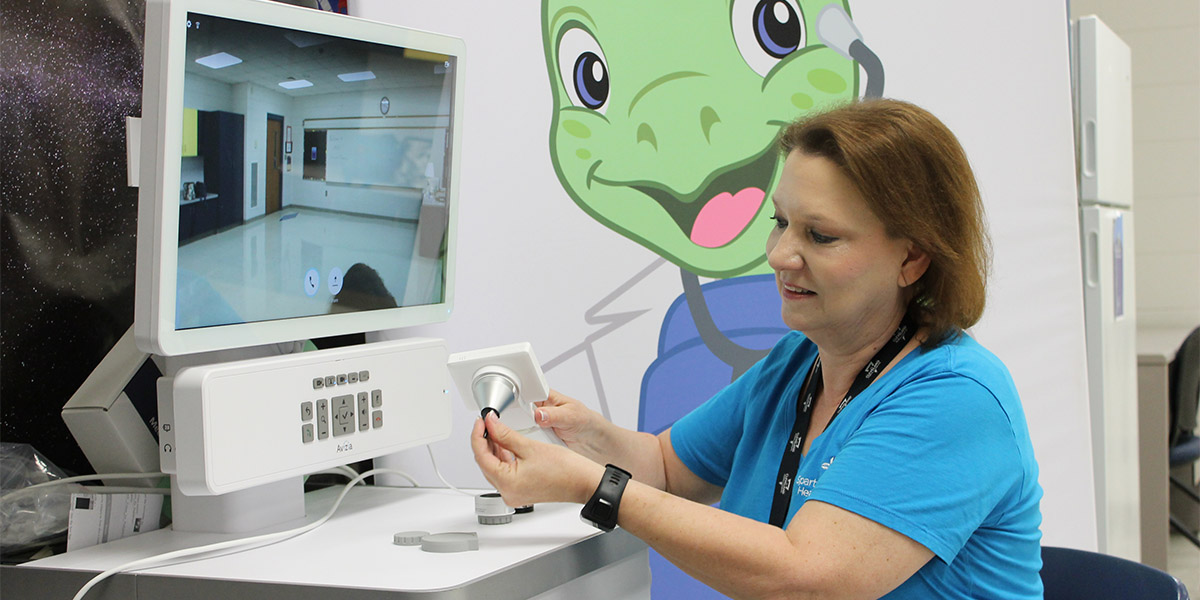 Carol Foil, RN, uses the telehealth equipment
Telehealth: The doctor can see you now
No parent wants to hear that their child is at school sick. It starts the time consuming process of making a doctor's appointment, picking your child up from school and then going to the doctor, and then trying to find your way back to work.
Students at the Cleveland Academy of Leadership can now see a doctor without ever leaving school. Spartanburg School District 7 is now using a school-based telehealth pilot program through a partnership with Spartanburg Regional Healthcare System (SRHS) and South Carolina Telehealth Alliance.
How it works
Sick students are assessed by a District 7 school nurse. If it is determined by the school nurse's assessment that the symptoms are appropriate for a telehealth visit, then the school nurse refers the child to the Spartanburg Regional telehealth nurse, who calls the parent or guardian and shares the child's symptoms and information about telehealth services.
When the parent or guardian arrives at the school, the forms are signed, and the telehealth visit occurs. Parents can also participate in the visit virtually. If forms are filled out in advance parents may not even have to come to the school.
The student and telehealth nurse have a video chat with a physician, who is onsite at Spartanburg Medical Center—Center for Pediatrics. During the virtual exam, the telehealth nurse helps the physician examine the child using a stethoscope to listen to their heart, an otoscope to look in their ears, a laryngoscope to check their throat, and a dermatoscope to check their skin. All of these devices provide audio and visual information to the physician so they can observe the student's symptoms and determine if the child needs a follow-up visit or prescription.
While more than 50 schools in the lower part of the state have adopted the innovative practice – the program at Cleveland is one of the first of its kind in the Upstate.
"The beauty of the program is that children and their families won't have to wait for a traditional appointment or spend time away from school going to the doctor's office," said Marc Bingham, MD, Chief Clinical Informatics Officer and Medical Director of Telehealth Services for Spartanburg Regional Healthcare System. "And while parents won't always have to leave work, they can easily participate in their child's care by calling into the school nurse's office when their child is scheduled to 'meet' the doctor."
What can be treated?
A wide range of illnesses can be treated through school-based telehealth, including:
Cold and flu
Fever
Strep throat
Asthma
Lice
Pinkeye
Rashes
Ear infections
Sprains
Since the program launched in 2018 at Cleveland Academy, the most common conditions assessed by physicians include viral illness, sore throat and impetigo.
Dr. Russell W. Booker, superintendent of Spartanburg School District 7 says the innovative program speaks to the District's mission to care for the whole child.
"When we talk about the health and wellbeing of our children, we're not just talking about their success in the classroom. It's our job to inspire and equip our students to be the best they can be," Booker said. "When our children are healthy and well, when they're engaged and excited about learning there's nothing they can't accomplish. This joint effort between District 7 and Spartanburg Regional is a plus for our families and it also compliments the economic development and sense of neighborhood that's being developed through the Northside initiative." 
Currently, school-based telehealth is a pilot program at Cleveland Academy, but Spartanburg Regional Healthcare System is assessing opportunities at other schools.
For more information on telehealth, visit SpartanburgRegional.com.