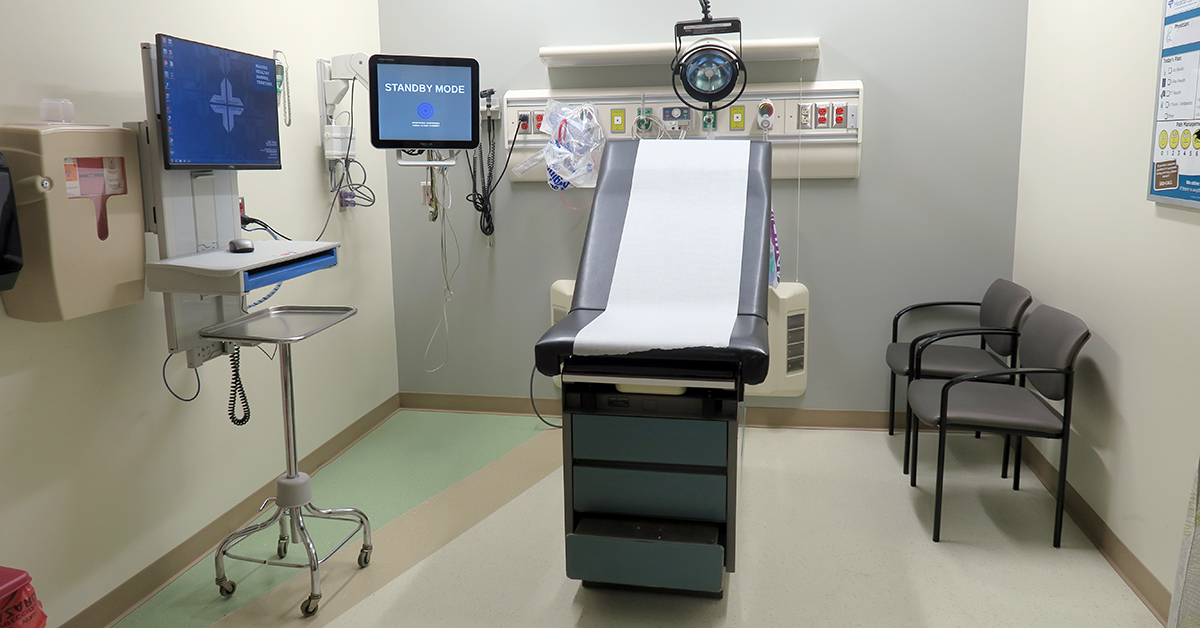 New Emergency Department room at PMC
A labor of love
Sixteen months ago, associates and dignitaries scrawled their names on the white construction beam used to "top out" the new construction.
A year ago, a crane lifted the massive new MRI machine as associates watched in awe.
Six months ago, PMC celebrated its 10-year anniversary as information tables occupied a new waiting space that had opened only a handful of weeks prior.
The expansion of Pelham Medical Center's emergency department has been more than a construction project. It has been a labor of love, a matter of pride for those who have dedicated their lives to serving patients and their families.
Their wait is over. The expansion is complete and, as of May 8, a newly expanded Pelham Medical Center is serving the community.
A higher standard
Pelham Medical Center has always been known for shorter wait times in its emergency department. But as Greenville and Greer continue to grow, those wait times began to increase.
Pelham Medical Center leaders didn't want to lose that edge. So a $33.5 million expansion was planned.
"Our goal is to remain true to the five-minute wait time," Walter Bennett, director of operations at Pelham Medical Center, said. "Our new space allows us to grow with the community and continue to meet the demands for efficient quality services."
The emergency department grew from 14 to 27 exam rooms, and also includes six fast track rooms, seven results pending bays, one trauma room and one seclusion room, designed to host patients with infectious diseases.
Rapid growth
The emergency department is seeing more than 100 people per day, compared to the 60 people per day in 2014, said Tony Kouskolekas, president of Pelham Medical Center.
That growth mirrors what's happening in the surrounding community. Greer's population has grown almost 12 percent since 2014. Neighboring Greenville has seen an 11 percent increase in population growth.
To help keep Pelham Medical Center running smoothly, more jobs were created and 20 new associates were hired in various roles.
The expansion also allowed space for Pelham Medical Center's MRI machine to be moved into the hospital, rather than transporting patients across the street to the Medical Office Building. This expansion even helped with an issue all hospitals face: it created more parking. The project created 46 new parking spots.
But the expansion doesn't stop there. The 55,000-square-foot expansion includes a new, larger pharmacy. The chapel is so new that stained glass windows haven't been installed yet, but the large stone that acts as its pulpit stands tall in the center.
"As the Greer community continues to grow, the medical center will keep pace," Kouskolekas said.
Visit PelhamMedicalCenter.com to learn more about Pelham Medical Center's services.