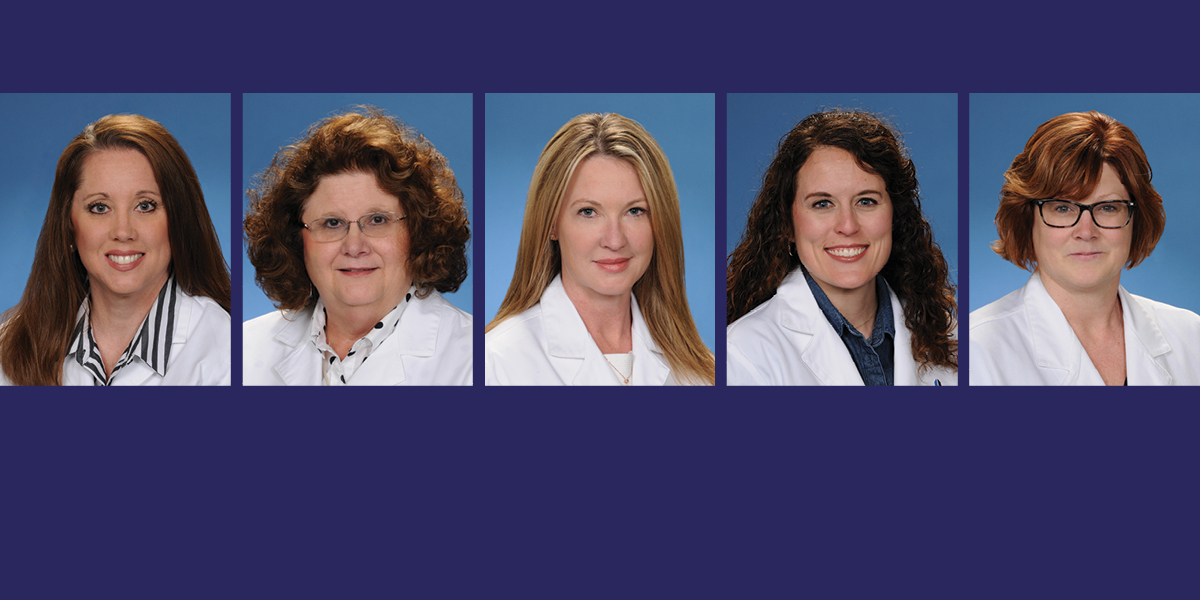 Five Spartanburg Regional nurses honored with Palmetto Gold Award
Five Spartanburg Regional Healthcare System nurses were recognized with this year's South Carolina Palmetto Gold Award, an honor recognizing clinicians for commitment to excellence in the nursing field.
Amy O'Neal Bunch, Cindy Cash, Donna Hobson, Donna Kennedy-Littlefield and Lauren Setzer have been selected as five of the top 100 nurses in the state by the South Carolina Nurses Foundation. The group was honored during an April gala, where each received a plaque to commemorate her accomplishments.
The following recipients are committed not only to the nursing profession but go above and beyond in providing safe, quality health care for our patients. 
Amy O'Neal Bunch, RN, BSN
Amy O'Neal Bunch serves as charge nurse in Spartanburg Medical Center's intensive care unit. A certified medical-surgical nurse, Bunch considers nursing "a passion."
After helping care for her grandmother at the end of life, Bunch said there was "no question" about pursuing a career in nursing.
"Nursing is a passion I had long before I obtained my degree," she said.
Bunch enjoys seeing her patients overcome obstacles, from speaking first words following a tracheotomy or walking after a stint of immobility.
"The art of caring has always been my nature," she said.
Bunch received her associate of science degree from Spartanburg Community College and her bachelor of science in nursing from the University of South Carolina Spartanburg (USC Upstate). She is also a member of the American Nursing Association.
Cynthia "Cindy" Cash, RN, BSN
"I can never remember aspiring for anything except being a nurse," Cindy Cash said.
The care Cash provides to her many patients as nurse manager and educator at Pelham Medical Center in the Pre-Admission/Pre-Op and PACU areas is evident of that aspiration.
"I love to meet people and help people," Cash, a nurse for more than four decades, said.
Cash was educated at the University of South Carolina Spartanburg (USC Upstate), Limestone College in Gaffney and Western Governors University.
Currently, Cash volunteers her time as board chair for the Forrester Center for Behavioral Health in her community. The group's mission is to improve the lives of others through substance use disorder treatment, behavioral therapy, prevention and education.
"I feel like, in some small way, I can make a difference in (a patient's) life," she said.
Donna Hobson, RN, BSN
Donna Hobson, a nurse for almost two decades, says she is "passionate about caring for others," so it would make sense for her career choice to be in nursing.
Hobson manages the operating room at Pelham Medical Center, where she trains staff, plans daily operations, works to maintain the highest quality of service and makes continuous improvement in her departments.
A summa cum laude graduate of Clemson University, Hobson is also a member of the Association of periOperative Registered Nurses.
Hobson thrives when working as part of a team and notes the collaborative atmosphere is another added benefit to her profession.
"Being a part of a team to improve the quality of lives of others is at the core of why I became a nurse," she said.
Donna Kennedy-Littlefield, RN, BSN
Donna Kennedy-Littlefield says she has always had a desire to help people.  
Kennedy-Littlefield is a staff nurse in home health, where she provides nursing care to adults of all ages, including the realms of physical, spiritual, emotional and psychological.
"I have found a love for home health nursing," she said. "There is something wonderful about seeing a person improve and get better, especially when the odds are against them."
Kennedy-Littlefield, a two-time graduate of the University of South Carolina Spartanburg (USC Upstate), has been in nursing for 23 years at Spartanburg Regional Healthcare System.
In addition to her time in the hospital setting, Kennedy-Littlefield also serves in volunteer capacities in her community with organizations such as Mobile Meals, a local soup kitchen, homeless shelters and through her church. She shares her healthcare knowledge at an assisted living facility in Woodruff by giving talks to both staff and residents.
"To be a part of helping someone improve their health or just being there to support someone emotionally or spiritually brings great joy to me," she said.
 Lauren Setzer, RN, BSN, CEN
Almost 10 years into the nursing profession, Lauren Setzer enjoys using her God-given abilities and interests to impact lives for the better.
An emergency department nurse at Pelham Medical Center, Setzer serves as interim nurse manager for the emergency department, as well as stroke project manager.
Setzer enjoys being an emergency nurse "because of the team approach to caring for patients."
Teamwork is key to a successful emergency department and Setzer knows that well.
"Each of our ER teammates uses our strengths to support each other and provide the best care to the patient," she said
When she's not working in the emergency center, Setzer gives back to her community through teaching CPR, providing stroke education and serving with her church on medical mission trips. She is also a member of the Emergency Nurses Association.