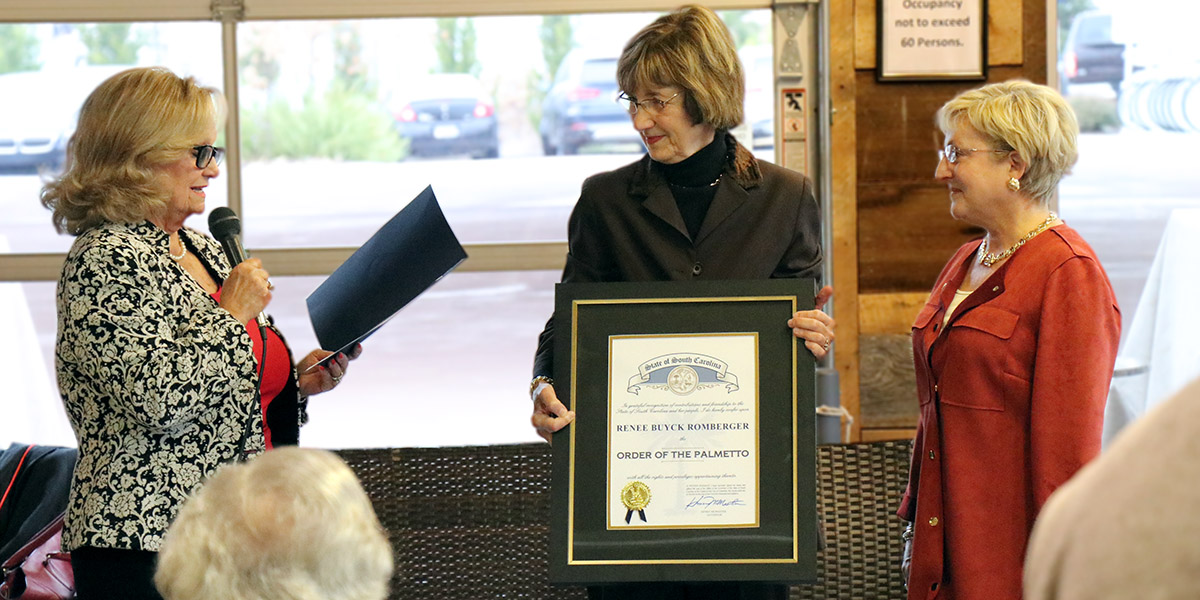 Creating partnerships for a healthier community
Lower teen pregnancy rates, higher health rankings, improved access to health care, and so much more. These are a few of the successes Spartanburg has achieved, and all of them are the result of community partnerships forged by years of hard work.
At Spartanburg Regional, the face of those partnerships has long been Renee Romberger. For that work, Romberger is being recognized.
On Nov. 30, Renee Romberger was presented with the Order of the Palmetto, the highest civilian honor awarded by the Governor of South Carolina. S.C. Rep. Rita Allison presented the award on behalf of Gov. Henry McMaster.
"The more we worked together, the more we realized we needed each other," Romberger once said about the community's successful work in lowering teen pregnancy rates. But it is a sentiment that reflects the core of Romberger's community efforts and health advocacy.
Romberger recently retired as the vice president of community health policy and strategy for Spartanburg Regional Healthcare System. Romberger started at Spartanburg Regional in 1995, serving the healthcare system and the community for nearly 25 years. As the vice president of community health policy, she led community health initiatives and was passionate about collaborating with community-based organizations, expanding healthcare access and promoting healthier lifestyles.
Under her leadership, Spartanburg Regional and its partners have successfully implemented multiple community health initiatives that have lowered the teen pregnancy rate, improved Spartanburg County's annual health rankings and expanded access to health care to the uninsured. These efforts helped save millions of dollars by streamlining processes and creating partnerships.
Romberger holds a master's degree in health sciences from the Medical University of South Carolina, a bachelor's degree in fine arts from the College of Charleston and is a fellow in the American College of Healthcare Executives.
Romberger has served on many boards, including AccessHealth Spartanburg; the Northside Development Group; the College of Charleston Board of Trustees; Eat Smart, Move More South Carolina; the American Hospital Association's Association for Community Health Improvement; Welvista; and the Alliance for a Healthier South Carolina.
It is hard to put into words all that Romberger has done for the community. Below are a few of many highlights during her tenure:
AccessHealth Spartanburg opened its doors in 2010 to help provide access to care to uninsured people in Spartanburg. Since the doors open, thousands have been assisted with prescription assistance, assigned medical homes, and connected with services like smoking cessation or behavioral health.
In 2014, Spartanburg was selected as one of five communities across the United States to participate in the health initiative, Way to Wellville.
Spartanburg County was one of eight winners of the 2015 Robert Wood Johnson Foundation Culture of Health Prize, which celebrates communities that made strides to ensure good health flourishes for all.
In 2016, Spartanburg County was selected to participate in the HealthyCommunity50 Challenge.
In 2017, Spartanburg County's health ranking improved on the County Health Rankings study released by the Robert Wood Johnson Foundation and the University of Population Health Institute.
 What Others Are Saying:
"Renee takes on difficult, and sometimes complex, challenges ... She has a lot of heart, professionalism and tenacity. If someone is going to take a hill, they want to take the hill with Renee Romberger."
Bill Barnet, former mayor of the City of Spartanburg
"Renee is someone who is innovative and visionary. She doesn't need the path made for her. She sees the issue and makes the trail."
Sue G. Schneider, CEO of Spartanburg Water
"Early on, Renee saw the need to encourage healthy lifestyles and ensure that every person in our community had access to healthcare. Renee's legacy will serve Spartanburg Regional's patients for decades to come."
Mark Aycock, chief operating officer of Spartanburg Regional Healthcare System