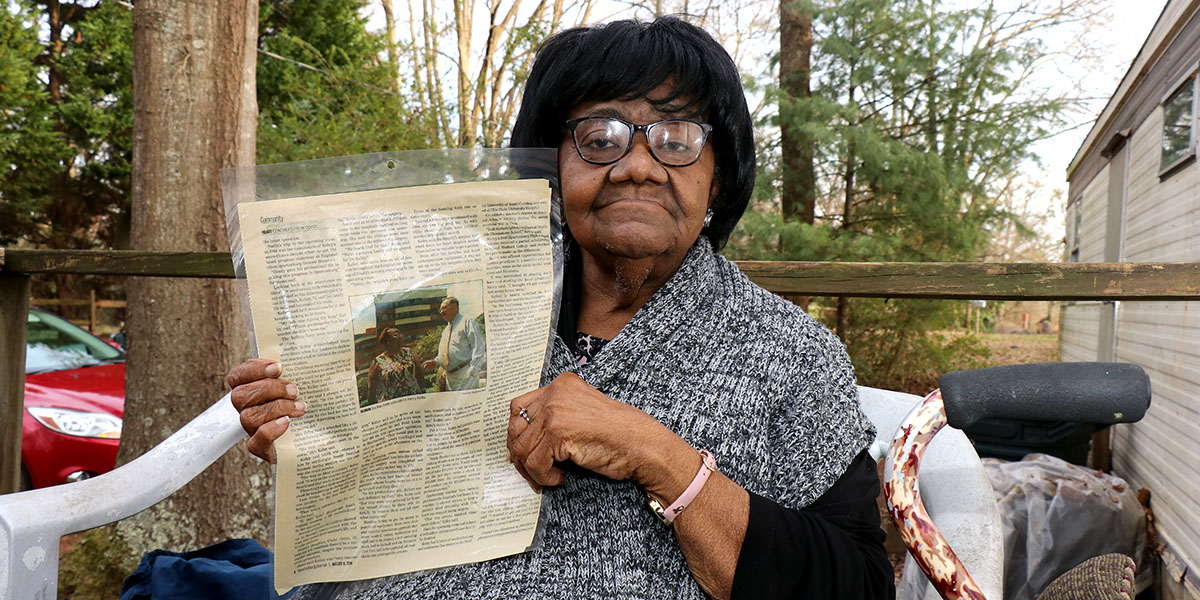 Eva Mae Smith outside her home in 2020
"She's really blessed"
In 1981, Eva Mae Smith was in pain.
"I remember my heart was hurting a lot," Smith said.
Smith's heart was hurting because two of her four heart valves were blocked.
"We were told one valve was blocked, and the other was like a melted straw," said her daughter, Betty Fuller. "So, they had to take two veins out of her leg and bypass her heart."  
On March 17, 1981, Smith became the first patient to receive open-heart surgery at Spartanburg General Hospital, the former name of Spartanburg Medical Center.  
Nearly 39 years later, the Spartanburg native is still alive thanks to the lifesaving surgery performed by Dr. Henry Kelley.  
"He did tell her that if she didn't have the surgery, she would have passed on," said Fuller.  
"I wasn't afraid" 
During the surgery, all of Smith's 10 children were at Spartanburg General Hospital, waiting and praying.  
"I wasn't afraid going in, because I went and prayed," Smith said. "One of my daughters was crying, and I told her, 'Be quiet, I'm all right.' I knew I would be all right."  
While open-heart surgery was new for Spartanburg General Hospital patients in 1981, today it is more commonplace, according to cardiothoracic surgeon Steven Leyland, MD, of Medical Group of the Carolinas — Cardiothoracic & Vascular Surgery.  
"The procedures are similar today, but generally they are performed on patients who are much sicker now," Dr. Leyland said. "Open-heart surgery is much safer due to advances in technology."  
Today, cardiothoracic surgeons can often avoid open-heart surgery with new minimally invasive procedures. Treatments through Spartanburg Regional's structural heart program help treat patients who aren't candidates for open-heart procedures, with options like TAVR, Watchman and MitraClip. 
"Due to the complexity of most open-heart surgeries, they are not minimally invasive, but we perform them when appropriate," Dr. Leyland said. "Heart surgery is primarily for coronary artery blockages and worn out valves." 
Smith remained in the hospital for two months after her surgery. However, today's open-heart surgery patient typically stays in the hospital for only five to 10 days. 
The week following her surgery, hospital staff let Smith speak with other patients awaiting open-heart surgery to encourage them that they would be OK. 
"I just told them it will be all right, it isn't anything hard," Smith said. "Just believe in God; He'll take care of you."  
Following the procedure, Smith, Dr. Kelley and his staff were celebrated for the landmark surgery at the Piedmont Club in Spartanburg.  
Paving the way for heart excellence 
Dr. Kelley's surgery and Smith's successful recovery exhibit Spartanburg Regional's long history of high-quality heart care. This paved the way for the South's first robotic endoscopic beating heart surgery to be performed by Dr. Leyland at Spartanburg Medical Center in 2008.  
Spartanburg Medical Center was also the first hospital in the state to receive the Chest Pain Center with Primary PCI with Resuscitation Accreditation from the American College of Cardiology in 2018. The PCI designation means that physicians use a specialized treatment, called percutaneous coronary intervention (PCI), as the primary treatment for acute heart attacks. This is the highest level of accreditation for chest pain centers. 
Today, her children are thankful Smith exceeded the expectations of the surgery. 
"They said maybe she would last 10 years after the surgery, but look at her now, 39 years later," Fuller said. "She's really blessed." 
The surgery allowed Smith to continue living and doing what she loves. 
"I went to church and sang in the choir," Smith said. "My doctor told me a month ago, 'You keep on singing and praising the Lord. You're doing good.'" 
If you are concerned about heart symptoms, please speak with your primary care physician. Learn more about the services provided at Spartanburg Regional Heart Center.