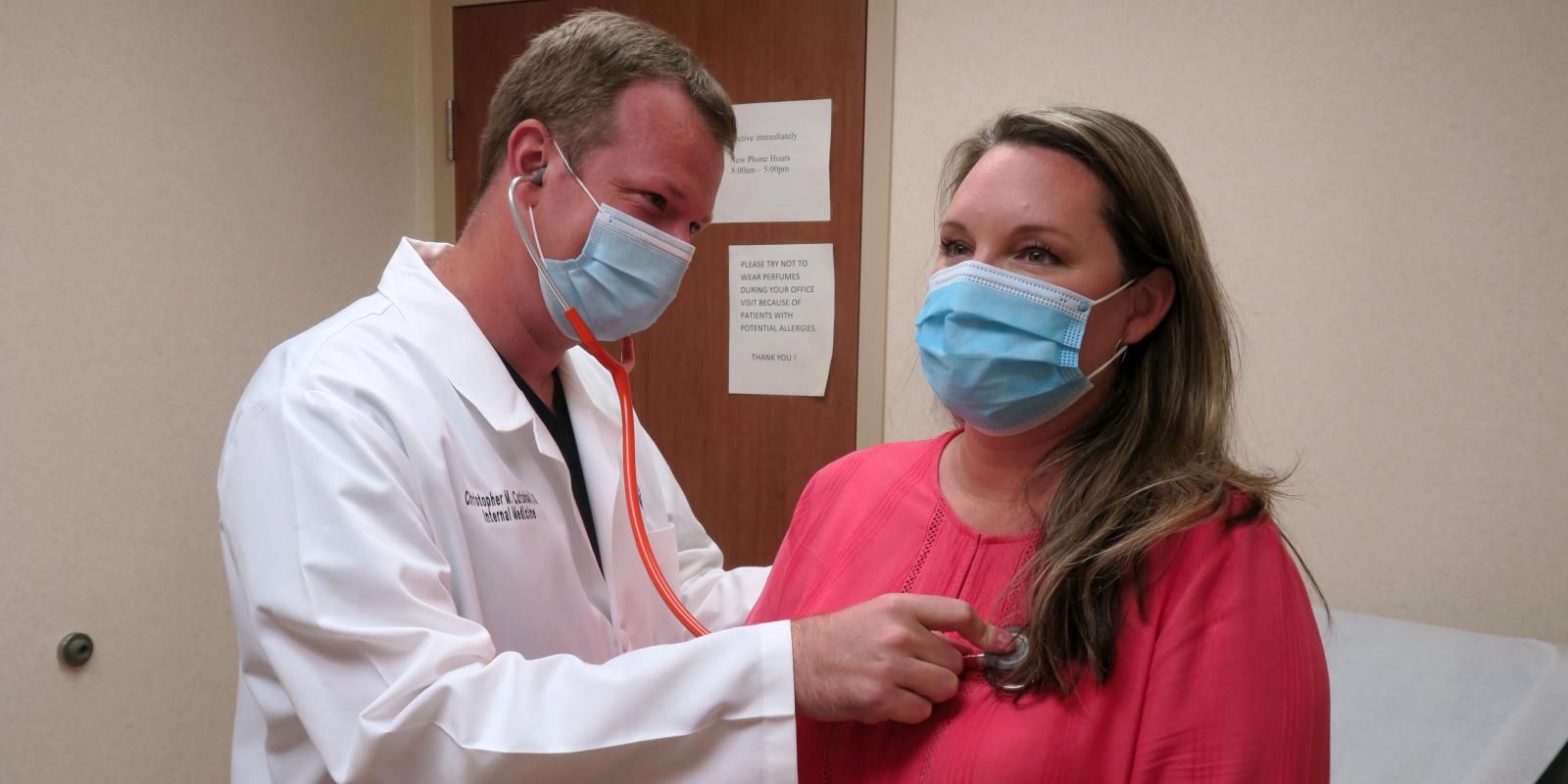 Your health is essential – especially during COVID-19
As COVID-19 continues to spread in the Upstate, patients are wondering, "Is it safe to visit my doctor?"
Not only is it safe to see your doctor – in some cases, you could be putting yourself at higher risk by skipping a wellness exam or scheduled check-in with your primary care provider or internal medicine physician.
"Ignoring new or worsening symptoms or postponing a visit to the doctor can keep you from getting the care you need to stay healthy," said Christopher Cutshall, MD, an internal medicine physician with Medical Group of the Carolinas — Medical Affiliates — North Grove. "We've seen patients sicker in the hospital than they would have been if they had talked to their doctor earlier in their non-COVID-19 illness."
Staying on schedule with wellness exams and up to date on treatment plans can keep you healthy. That can help minimize your risk of developing serious complications if you do get COVID-19.
Spartanburg Regional offers many options to help you stay connected with your primary care provider.
"We're seeing patients in the office and through telehealth — including phone calls and virtual visits with video conferencing applications," Dr. Cutshall said.
Dr. Cutshall and his team have worked through a few different technologies and apps for virtual visits and found that when it comes to seeing patients remotely, the simpler, the better.
"We have our virtual visits down, so it's just a few clicks on a computer or smartphone," he said. "It really is amazing what we can do and see over video. It's not always a substitute for coming in the office, but it's a good starting point to figure out what's going on and what the next best steps are to keep you healthy."
Reducing your risk in the doctor's office
Because your health and safety are a top priority, Medical Group of the Carolinas has implemented many safety measures across all locations, including:
Following guidelines by the Centers for Disease Control and Prevention (CDC) on face masks and personal protective equipment (PPE)
Screening patients and visitors for COVID-19 symptoms
Limiting time spent in common areas, like waiting rooms
Regularly disinfecting high-touch surfaces
Encouraging physical distance of 6 feet
Separating COVID-19 patients from other patients
Staying healthy during COVID-19
Seeing your doctor when you're sick or when it's time for a check-up is just one way to stay healthy during COVID-19. Dr. Cutshall encourages his patients – and all others – to maintain the habits and lifestyle that can help them avoid getting sick and allow them to recover quickly.
"People are genuinely confused and overwhelmed right now," Dr. Cutshall said. "I remind them that we need to control the things that we can. To me, that includes following CDC guidelines and making healthy choices."
Dr. Cutshall also reminds the community to:
Eat a healthy diet. Try a new healthy recipe or gather the family in the kitchen to cook together.
Stay physically active. Go for a walk around the neighborhood, ride a bike or explore a new hiking trail. Just be sure to follow CDC guidelines for being out in public.
Take care of your mental health. It's a stressful time for everyone. Take time to talk to friends and family members and share what's on your mind. And if it might help, reach out to a mental health professional.
Limit alcohol (or avoid it altogether). It can be tempting to reach for a glass of wine or other alcoholic drink to relax and unwind, but Dr. Cutshall urges people to find healthier alternatives to de-stress. Try gentle stretching, breathing exercises or physical activity to combat stress and anxiety.
Follow your treatment plans. It can be easy to get off schedule and stop paying attention to the little things that keep you healthy. But, now is not the time to skip the health habits that help you control blood pressure, blood sugar or other health goals. Be sure to talk to your doctor if you are struggling with your treatment plan. They are just a phone call away.
Learn more about staying healthy during COVID-19. Or, find a primary care doctor near you and schedule your wellness exam today.