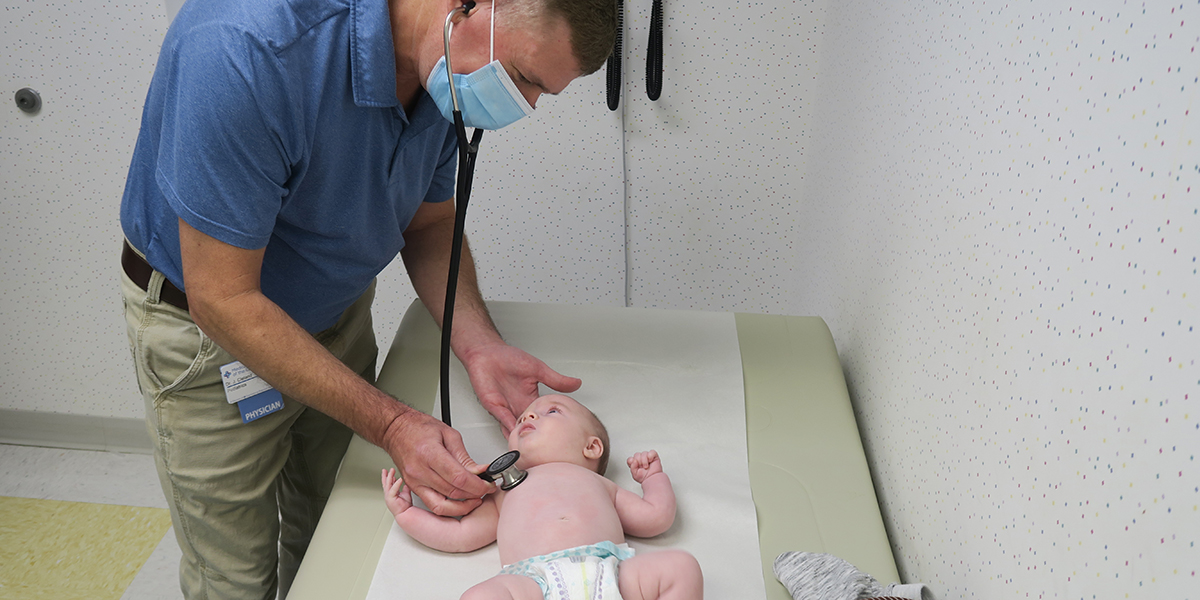 Dr. Jack Cleland performs a well visit on a patient.
Your child's wellness visits are essential, don't delay care.
What should my children be eating? Am I letting them have too much screen time? Are they reaching all of their growth goals?
Parents often have many questions about their children's wellness, and a visit to the pediatrician is the best opportunity for your children's growth to be assessed and get your questions answered.
This is true at any point in a child's development, and especially during the COVID-19 pandemic.
"This coronavirus isn't going anywhere until we have a vaccine. We have to learn how to navigate this so that kids are safe and healthy," said Jack Cleland, MD, pediatrician at Medical Group of the Carolinas — Pediatrics — North Grove.
One of the best ways to do that, according to Dr. Cleland, is to stay on track with your child's wellness exams. Here, he shares four important reasons parents need to continue visiting their pediatrician during COVID-19.
Vaccines keep children healthy
Vaccines are a staple of many well child exams. These vaccines serve an important purpose – one that's even more clear now.
"The vaccines children receive protect them from diseases that were once a pandemic, just like COVID-19 is today," Dr. Cleland said. "While we're waiting for a COVID-19 vaccine, it's important to keep your child up to date on other vaccines that continue to provide immunity from many different diseases."
And if your child missed a vaccine because of stay-at-home orders, Dr. Cleland reassures parents that it's easy to catch children back up on their vaccine schedules.
"The CDC has a catch-up schedule for vaccines that's very safe to follow," he said. "We can get kids caught up very quickly. It really comes down to how many shots a parent wants their child to have in one visit."
Parents can also schedule a nurse visit at the pediatrician's office to help get their child back on track with vaccines once your child's pediatrician has mapped out the best catch-up schedule.
Monitor your child's growth and development
Vaccines aren't the only important part of your child's wellness exam. Nurses and pediatricians monitor your child's growth and development through a series of vitals (like weight, height, head circumference, blood pressure and pulse) and ask important developmental questions. These checks offer your child's pediatrician the opportunity to identify any areas of concern and offer care and support to keep your child on track.
"It's important for us to see your child at regular intervals in the office so that we can address any concerns before they become health issues," Dr. Cleland said. "We can get kids plugged into any kind of therapy they need, whether it's speech, occupational or physical therapy, and make sure they're not struggling in any area."
Get prepared for the next stage
Most parents, especially parents of younger kids, look forward to regular wellness checks at the pediatrician's office to ask questions, share concerns and get prepared for what the next stage of development will bring. For Dr. Cleland, he sees offering "anticipatory guidance" as one of the most important things he does for parents and children.
"I spend a lot of time talking with parents about what their child should be doing and what comes next – whether that's shifting to a different car seat, introducing certain types of food or just sharing general summertime safety," he said.
This helps empower parents and give them the confidence they are making the right choices for their children.
The pediatrician's office is safe
Pediatricians and healthcare teams understand the necessary precautions to take to help protect patients, parents and colleagues from COVID-19.
"Our office is as clean and safe as it has always been," Dr. Cleland said.
Medical Group of the Carolinas offices, including Dr. Cleland's, are taking safety precautions to limit children's and families' exposure to COVID-19, including:
Screening children and family members for COVID-19 symptoms

Offering well exams in the morning and sick visits in the afternoon

Requiring masks for children and parents

Following Center for Disease Control and Prevention (CDC) guidelines on personal protective equipment, including all staff wearing masks

Asking parents and children to wait in the car until their exam room is ready

Offering separate entrances for sick and well patients

Encouraging social distancing
Schedule a visit
If your child is behind on vaccines or due for a well-child visit, schedule a visit today. If you don't have a pediatrician, visit SpartanburgRegional.com to find a physician.