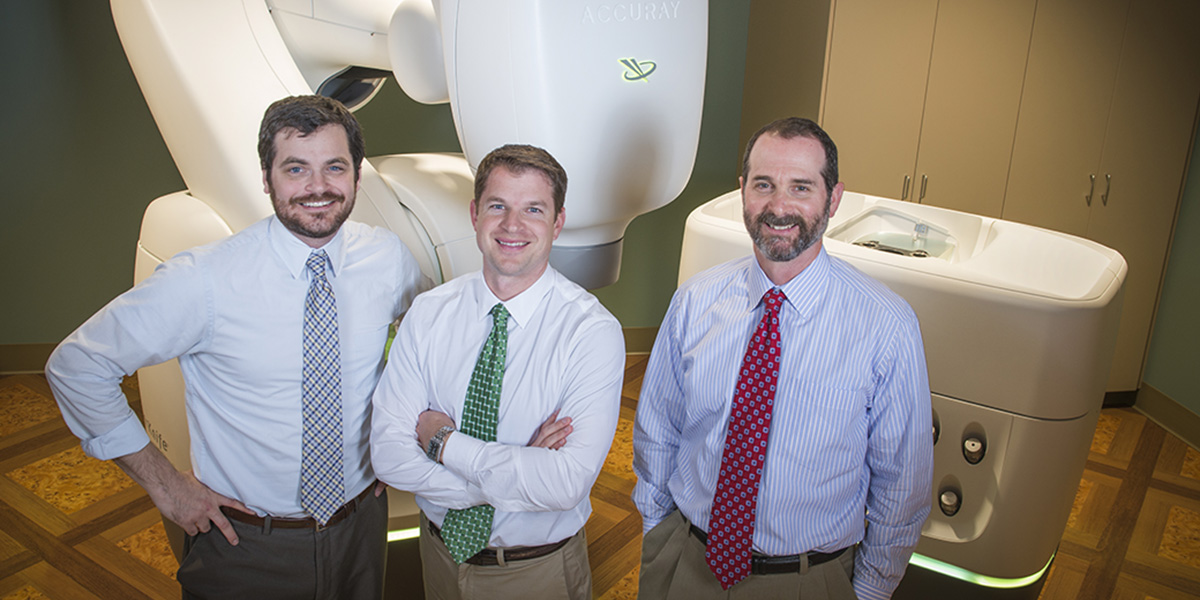 A year of CyberKnife
(Pictured above: Jacob Gersh, PhD; Jeremy Kilburn, MD; Daniel Fried, MD)
A prostate cancer patient traveled from Winston-Salem, N.C. to Greer for his cancer treatment.
He was attracted by the CyberKnife M6 Series Radiosurgery System and its ability to work with the new SpaceOAR System, which protects men during prostate cancer radiation therapy.
"This patient was aware that nobody around Winston-Salem was utilizing SpaceOAR, so he came to Gibbs for prostate cancer therapy,"  said Daniel B. Fried, MD, PhD, medical director and radiation oncologist at Gibbs Cancer Center & Research Institute—Pelham in Greer, S.C.  "His CyberKnife radiation went so well and during treatment he could not feel a thing, and had little to no side-effects." 
More than a year has passed since CyberKnife was unveiled at Gibbs Cancer Center & Research Institute—Pelham and there are dozens of similar stories.
"One feature that makes the CyberKnife so unique is the Synchrony program that allows the machine to follow a patient's breathing pattern. As a tumor moves inside the patient while they breathe, the CyberKnife is able to deliver high-dose radiation by moving with the patient's breathing pattern," Fried said. "One day a patient held her breath and the CyberKnife machine stopped moving. When a therapist checked if she was okay, she said she wanted to see if the machine was paying attention!"
Most CyberKnife patients only require three to five visits due to the amazing accuracy and high doses of radiation it delivers. The already precise machine became even more accurate when it was upgraded with the InCise™ Multileaf Collimator—an addition that further cuts the radiation treatment time with its extreme precision.
"We wanted to bring this high quality care to our local patients," said Gibbs Cancer Center physicist, Jacob Gersh, PhD. "Patients don't have to travel in order to receive great cancer care."
Call 1-855-DNA-Gibbs for more information on the CyberKnife.