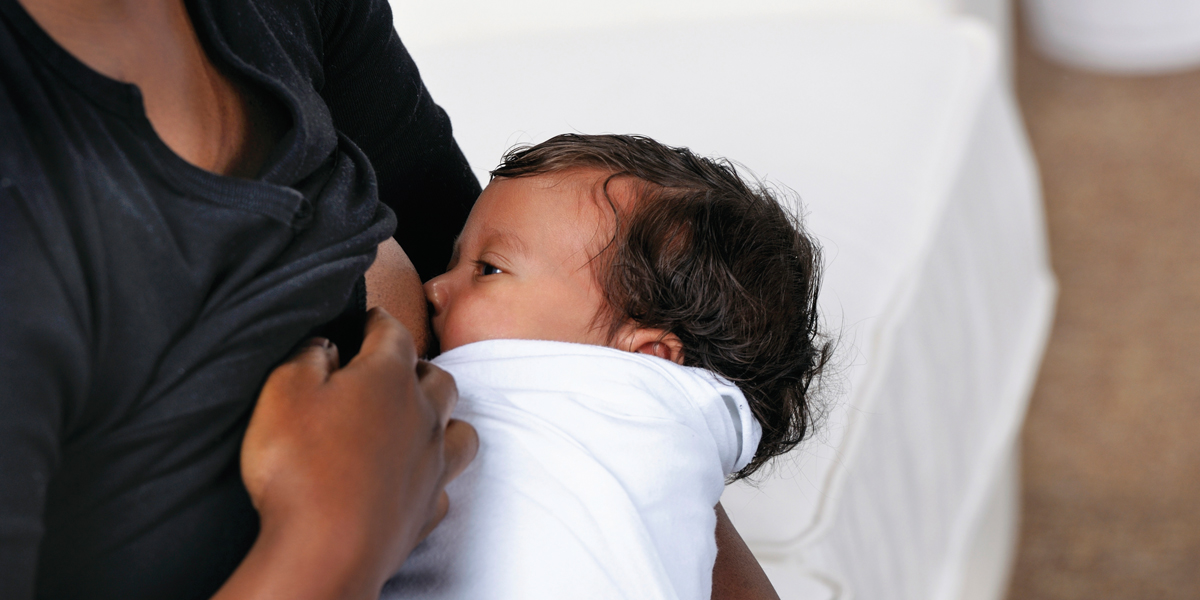 'A woman's body is designed to feed her baby': OB/GYN shares benefits to breastfeeding
What if my baby isn't latching? How will I know if my baby is getting enough milk? Can I not breastfeed as a working mother? 
Breastfeeding can feel overwhelming for some new mothers when deciding how to provide the best care for their newborns and infants. 
The method of feeding a baby can often be difficult to navigate and come with a slew of questions and myths to overcome, but Union Medical Center's Dr. Natashia Jeter is encouraging new mothers to embrace the practice of breastfeeding and seek help whenever needed. 
"Spartanburg Regional Healthcare System has a wonderful lactation consultant team, and it starts right with the nurses after delivery. All of them, even if not certified in lactation, are excellent in helping mothers establish that rapport with their baby in breastfeeding and starting the latch- on process," Dr. Jeter said. "It's not a shameful process. It's very normal so I help them get used to the idea , and understand that breastfeeding is going to give their baby so many more advantages." 
Dr. Jeter is an obstetrician and gynecologist at Union Medical Center – Center for OB/GYN and shares the many benefits of breastfeeding – from increasing infants' immune systems to helping the emotional wellbeing of a new mother during the postpartum period. 
'Most natural form of nutrition' 
"Breastfeeding is very important. It is a natural occurrence. A woman's body is designed to feed her baby, which is the most natural form of nutrition for a newborn," Dr. Jeter said. "Although it may be a process, and it may be work, the majority of women are able to breastfeed after delivery." 
While babies grow, a mother's milk supply and the nutrients within her breastmilk change over time, Dr. Jeter said. 
Dr. Jeter recommends that babies exclusively breastfeed for the first six months before introducing other basic food groups to the baby's diet. There's also no limit as to how long a mother should breastfeed her baby. 
"In general, a lot of moms will shoot for that one-year mark for breastfeeding," Dr. Jeter said. "Breastfeeding past that is not harmful. Some moms breastfeed well into the toddler stage and that is perfectly OK." 
Often parents will wonder if their babies are getting enough nutrients through a mother's milk supply, so Dr. Jeter encourages parents to have their babies weighed often to make sure they are gaining weight. Babies also give parents natural cues as to whether they are still hungry after breastfeeding or are satisfied. 
How to know when a baby is hungry 
Signs such as a baby rooting for a breast while being held, smacking their lips or rubbing their hands along their mouth could be cues that a baby is still hungry. 
"In the same ways they'll give you cues if they're hungry, they'll give you cues when they're satisfied," Dr. Jeter said. 
Most over-the-counter medicines are OK for a mother to take while breastfeeding, though women should talk to their doctor if they are unsure about specific medications. For alcohol consumption, Dr. Jeter said to try to wait a couple hours to breastfeed again after consuming an alcoholic beverage. 
There are no real absolutes, she said, but excessive alcohol, excessive caffeine and excessive processed foods can affect breastmilk and milk supply. 
Health benefits for breastfeeding moms, too 
Other health benefits include better digestion for the baby, so they tend to have fewer problems with gas, burping and diarrhea while breastfeeding. And breastfeeding moms also have a decreased risk for breast cancer, ovarian cancer and diabetes, Dr. Jeter said. 
Breastfeeding is also a cheaper method of feeding a baby, and it's less reliant on supply chain issues in the event of a formula shortage on the shelves, Dr. Jeter said.  
"You don't have to search for it if your baby is hungry. If the mom is available, it's right there," she said. 
Dr. Jeter shared the benefits of working with the skilled associates at Spartanburg Regional and the lactation specialists who assist with helping mothers develop best practices for breastfeeding. 
To schedule an appointment with Dr. Jeter at Union Medical Center, patients can call 864-427-8380.
Spartanburg Regional's Lactation Center can also be reached at 864-560-2297.
A lactation consultant at Spartanburg Medical Center's maternity is available daily from 8 a.m. to 8 p.m.
Spartanburg Regional also offers telehealth services that allow you to talk with a consultant by video from the comfort of home.