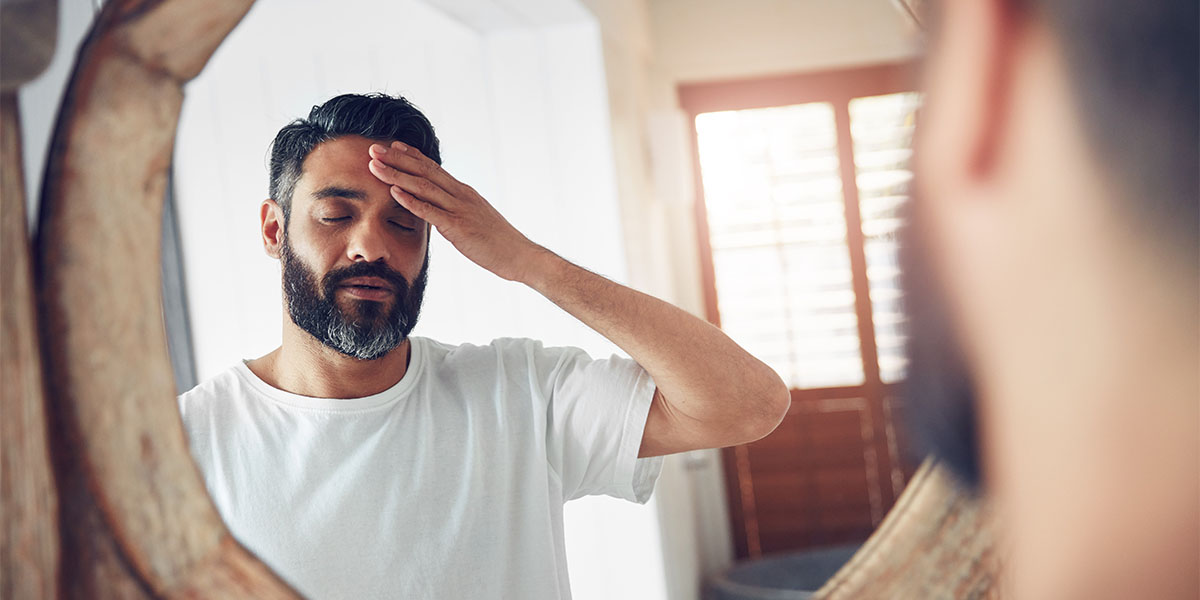 When to go where?
When you get sick, it can be difficult to figure out when to see a doctor — or where to go?
When considering care, chief medical officer of quality, Chris Lombardozzi, MD, says many people consider the time of day, such as day of the week, holidays, or work schedules, rather than basing their needs on the medical issue.
"It really ought to be based on the kind of problems you have and the type of care that you're going to need," he said. "Things like sore throats, sore throats with fevers, for kids ear aches, respiratory illnesses that have fevers, a lot of that can be handled in an urgent care or a primary care office."
Other issues, like heart attacks, stroke symptoms or traumatic injuries should be cared for in an emergency setting.
This infographic will help you select where to go the next time you need a doctor:
Infographic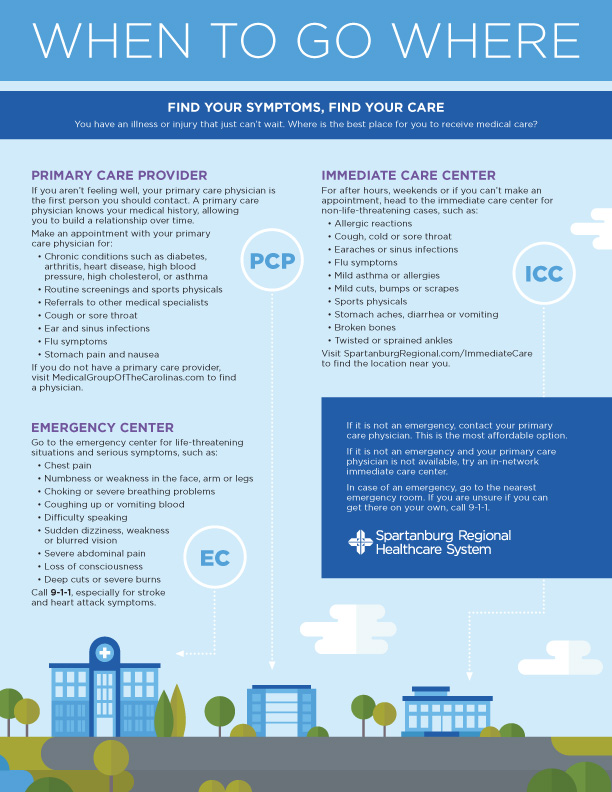 Find Your Symptoms, Find Your Care
You have an illness or injury that just can't wait. What do you do? Where is the best place for you to receive medical care?
Primary Care Physician
If you aren't feeling well, your primary care physician is the first person you should contact. A primary care physician knows your medical history, allowing you to build a relationship over time. Make an appointment with your primary care physician for:
Chronic conditions, such as

Diabetes
Arthritis
Heart disease
High blood pressure
High cholesterol
Asthma

Routine screenings, including sports physicals
Referrals to other medical specialists
Cough or sore throat
Ear and sinus infections
Flu symptoms
Stomach pain and nausea
If you do not have a primary care physician, visit SpartanburgRegional.com to find a physician.
Immediate Care Center
For after hours, weekends or if you can't make an appointment, head to the immediate care center for non-life-threatening cases, such as:
Allergic reactions
Cough, cold or sore throat
Earaches or sinus infections
Flu symptoms
Mild asthma or allergies
Mild cuts, bumps or scrapes
Sports physicals
Stomach aches, diarrhea or vomiting
Broken bones
Twisted or sprained ankles
Learn more about Immediate Care Centers in the Upstate.
Emergency Center
Go to the emergency center for life-threatening situations and serious symptoms, such as:
Chest pain
Numbness or weakness in the face, arm or legs
Choking or severe breathing problems
Coughing up or vomiting blood
Di­fficulty speaking
Sudden dizziness, weakness or blurred vision
Severe abdominal pain
Loss of consciousness
Deep cuts or severe burns
Call 911, especially for stroke and heart attack symptoms.
Remember 
If it is not an emergency, contact your primary care physician. This is the most affordable option.
If it is not an emergency and your primary care physician is not available, try an in-network immediate care center.
In case of an emergency, go to the nearest emergency room. If you are unsure if you can get there on your own, call 911.