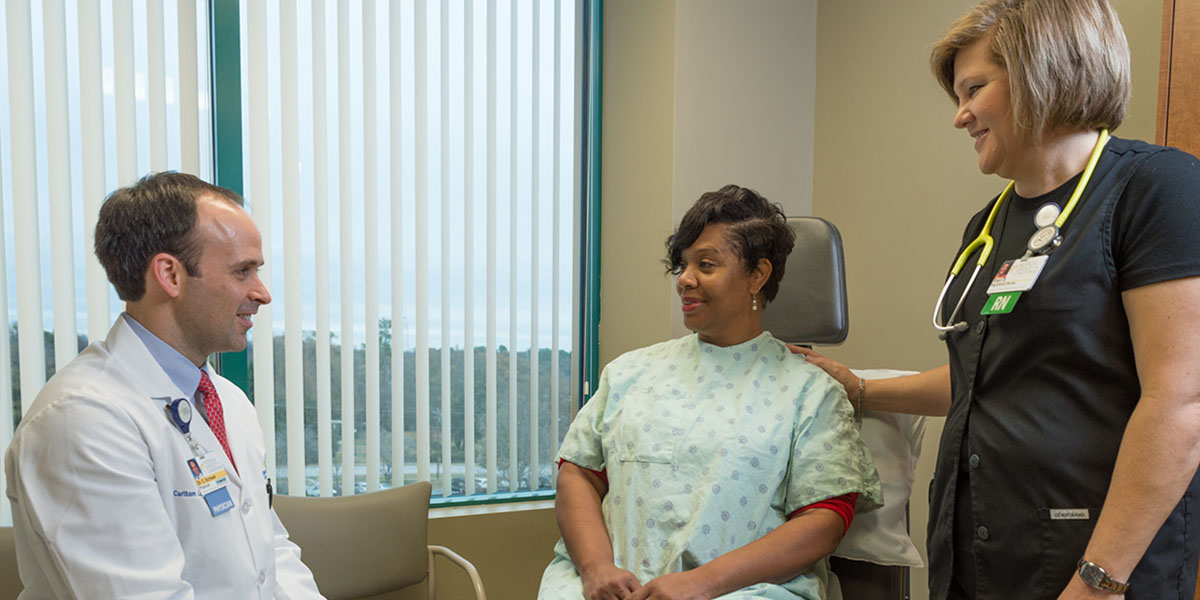 What women need to know about gynecologic cancer
When you hear "Fight Like a Girl" or "Think Pink," you probably recognize them right away as slogans for breast cancer awareness. These amazing awareness campaigns continue to save countless lives. However, women also need to "think outside the bra" to learn about another group of cancers that are not talked about quite as much but can be every bit as dangerous.
September is Gynecologic Cancer Awareness Month, bringing awareness to gynecologic cancers that develop in the female genital tract, including cancers of the uterus, vagina, vulva, cervix and ovaries.
Not only can many of the symptoms of these cancers be subtle and hard to detect, but they can also be caused by non-cancerous conditions.  And warning signs can be easy to overlook or ignore because of women being used to feeling crampy and bloated.
"Ovarian cancers are usually diagnosed at an advanced stage because of what are typically non-specific symptoms," said Carlton Schwab, MD, gynecologic oncologist with Gibbs Cancer Center & Research Institute.
Awareness and education are the most important tools we have in the fight against gynecologic cancer. Women know their bodies better than anyone else, but they can't help themselves if they don't know what to look for.
Dr. Schwab says it is important for women to know the warning signs associated with the five most common forms of gynecologic cancer:
Uterine Cancer:
Heavy, irregular menstrual cycles after age 35, or bleeding after menopause, can be a sign of cancer of the uterine lining.  If cancer is present, prompt evaluation and management is the key to finding early stage cancer that can be cured.
Vaginal and Vulvar Cancer:
Irritation, discharge and itching around the outside of the vagina are commonly associated with infection. However, if the symptoms do not go away after treatment, they could be signs of precancerous or cancerous changes in the skin of the vagina or vulva.
Cervical Cancer:
Abnormal discharge and bleeding after intercourse are potential signs of cervical dysplasia (pre-cancer) or cancer. Pap smears are screening tests which help to detect abnormalities of the cervix typically caused by human papilloma virus (HPV). 
Ovarian Cancer:
Ovarian cancer is tricky due to non-specific symptoms; therefore, diagnosis usually does not happen until the cancer is in an advanced stage. Symptoms commonly include abdominal swelling and /or pain, weight gain and change in pants size, decreased appetite, trouble eating or feeling full quickly, and pelvic heaviness with or without changes in bowel and bladder habits.
According to Dr. Schwab, the following information can help decrease a woman's risk for developing advanced gynecologic malignancies.
Ovarian Cancer:
Take oral contraceptive pills. The longest study ever done regarding the contraceptive pill found that taking the pill for any length of time lowered the cases of ovarian cancer by 33 percent. Another amazing discovery from the same study shows that "the pill" protects women against some cancers for more than 35 years after they stop taking it.
Cervical, Vulvar, Vaginal Cancer:
Undergo regular screening examinations.
Get an HPV vaccination at a young age, preferably between the ages of 10 and 12 years old.
Avoid tobacco use.
Uterine Cancer:
Maintain a healthy weight.
Tell your doctor right away about post-menopausal bleeding.
Also be sure to know your family history. Having a family history of cancer increases your risk. This can include ovarian, uterine, prostate, pancreatic, breast, colon cancers, and melanoma. Discuss this with your doctor, and be sure to participate in regular check-ups and screenings.
It's important to pay attention to your body and let your doctor know as soon as possible about any changes you notice that persist or are not normal for you. Knowledge is power, so learn as much as possible about the signs and symptoms of gynecologic cancer, because 'thinking outside the bra' really could save your life!
If you think you might have a gynecologic cancer, request a referral from your doctor to see Dr. Schwab. Dr. Schwab sees patients at the Gibbs Cancer Center & Research Institute locations in Spartanburg and Greer.