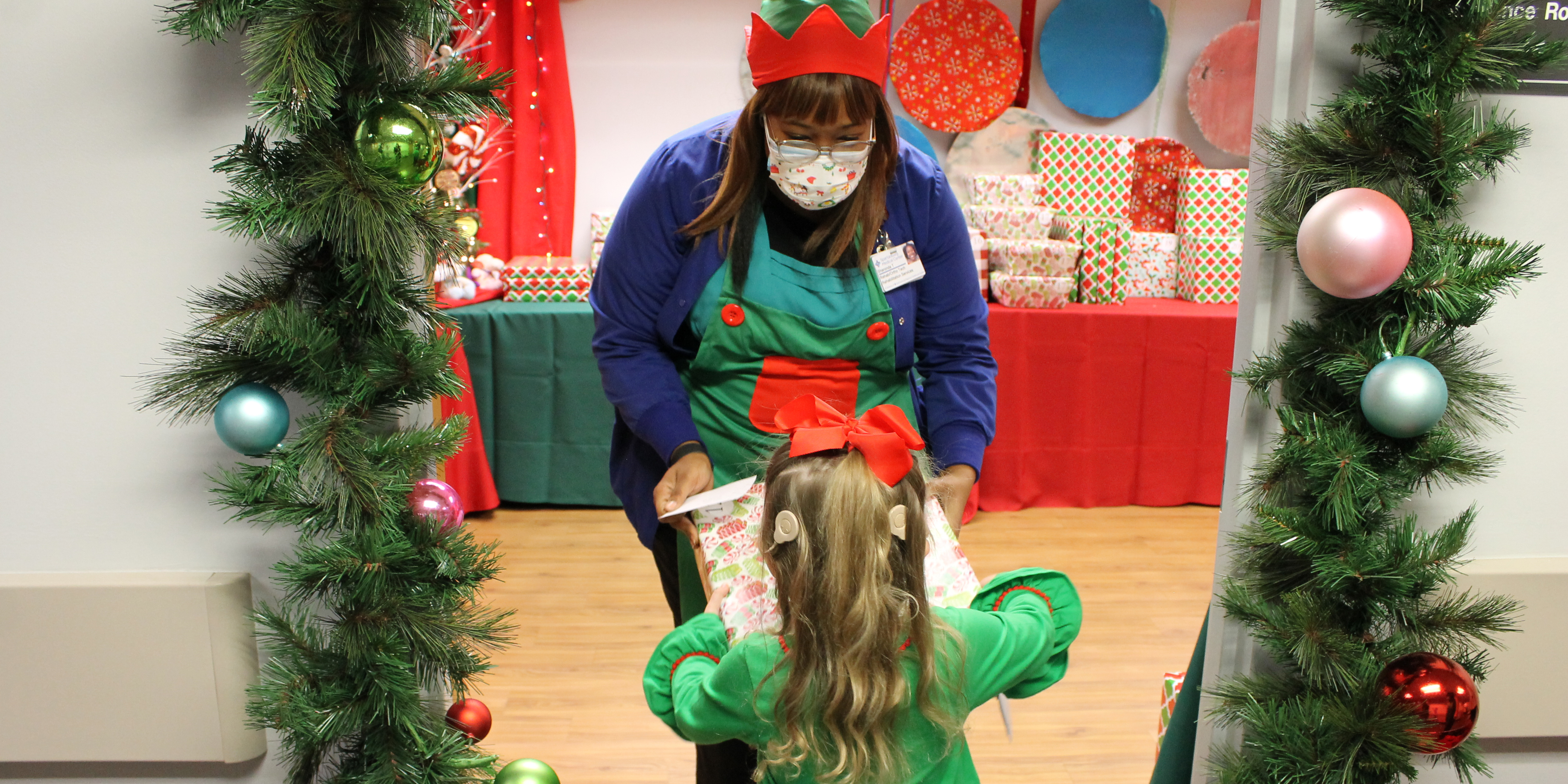 Adaline receives her gift from Sharonda Thomas
Weeklong Christmas celebration benefits pediatric rehab patients
Four-year-old Adaline peeked into the room filled with packages.
Presents were wrapped with bright red-and-green paper. The walls were decorated with bright metallic paper and colored lights.
Physical therapist Sharonda Thomas handed the child her gift. Adaline dropped to the floor and unwrapped her new tea set right there as her mom, Crystal, laughed. 
Adaline received the gift at Spartanburg Regional Pediatric Rehab, where therapists created a Christmas-themed week for their patients, who range in ages from birth to 21 years old. Each of the presents were selected by staff members to support developmental and therapeutic goals. The therapists selected nearly 500 gifts, with each patient in mind. 
A committee including a therapist from each of the disciplines – physical, occupational and speech therapy – started in July selecting age-appropriate toys, dolls, puzzles, and games that promote improved motor skills, language development or other needs, said Sharon Caston, pediatric rehab manager.  
A heart for children 
Earlier that day, five-year-old Angel Pascual-Miguel bounced up and down with excitement as he was presented with a colorfully wrapped box nearly half his size. He grinned as he tore the wrapping paper and discovered the present inside – a construction set collection.  
His mother, Anna, was smiling, too. Through an interpreter, she said, "I am really happy." 
All of this was made possible by the Spartanburg Regional Foundation's Judy Bradshaw Pediatric Rehab Fund. Bradshaw is a local philanthropist with a heart for children in need. She and her husband, Charlie, have supported the pediatric rehab program for more than 20 years. 
In the late 1990s, pediatric rehab staff members wanted to host a Christmas party to bring families together and celebrate developmental goals reached during the year. The Bradshaws funded the party, along with a gift for each child. It became an annual event, getting bigger over the years as the pediatric rehab program has grown to serve more patients.  
This year, of course, the COVID-19 pandemic required Caston and her team to adjust. 
"We look forward to the Christmas party each year, but we have been able to create a new and wonderful experience for these children with our Christmas-themed week," she said.   
Celebrating the holiday 
After the children finished their therapy sessions, they were treated to a special celebration. Each child was accompanied by one parent. The child sat for an individual, holiday-themed portrait. Photos were printed and given as gifts. Each parent received a canvas bag stuffed with baked goods, a custom-designed coloring book featuring Spartanburg Regional Healthcare System's pediatric mascot, Shelldon the Turtle, crayons, Christmas pencils, bubbles and a Christmas ball.  
The Bradshaw Fund not only makes a difference during the Christmas season – it provides support throughout the year by helping to fund specialized equipment or other at-home patient needs that may not be covered by insurance.  
Recently, the fund was used to pay for special auditory testing for a four-year-old patient. Caston said the testing led to a diagnosis that enabled the child's therapist to better understand her needs and set her on a course of appropriate hearing and speech therapy.  
"Her future is a very different picture because of you," Caston wrote in a letter to Judy Bradshaw.  
While the pandemic has forced the department to do things differently this Christmas, the idea was the same as each year before: to provide fun and support for children and show compassion for their families. 
"And another thing that has not changed," Caston said. "We are always so grateful to Judy and Charlie Bradshaw for their kindness and generosity." 
You can support pediatric programs and children in need at https://www.regionalfoundation.com/ways-give/families.