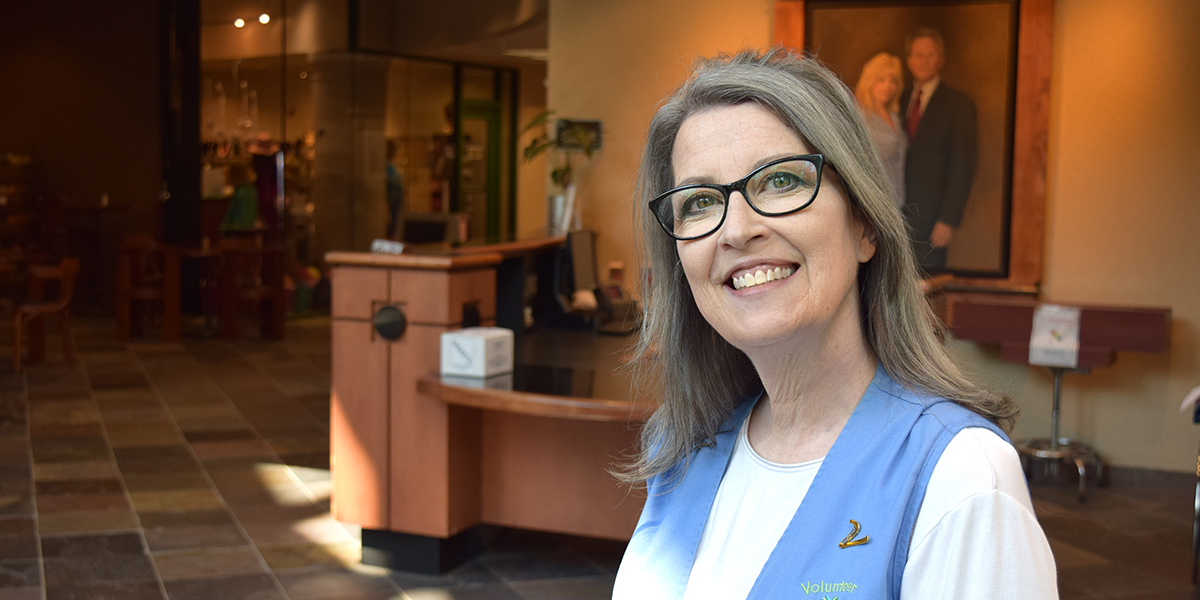 Volunteer experience brings cancer survivor full circle
Betty Wells is a friendly face that greets patients at Gibbs Cancer Center & Research Institute.
Wells is a volunteer; she takes patients to waiting areas or exam rooms and helps them find appointments. She volunteers to give back because she was grateful for help she received from the Spartanburg Regional Foundation.
A few years ago, after turning 50, Wells knew it was important to have a colonoscopy. The importance of cancer screenings had already hit home with Wells — she was successfully treated for breast cancer at Gibbs Cancer Center & Research Institute in 2004.
Lacking insurance to cover the procedure, Wells was able to get support through Spartanburg Regional Foundation's Betty Ann Moore Colon Cancer Fund. The fund helps make colonoscopy screenings accessible for uninsured and underinsured patients.
Wells was thankful to be a beneficiary of the fund and said she "wanted to give back." So she became a Spartanburg Regional Healthcare System volunteer.
This isn't her first stint as a volunteer with the healthcare system. Wells worked as a candy striper as a teen in the late 1970s, taking food trays to patients and going room to room to see if she could offer help.
Her mother and grandmother had both worked in nursing, and Wells thought she might follow in their footsteps. She enjoyed the volunteer work and appreciated having the chance to visit with patients. But it was difficult for her when one of the patients she became attached to died, and Wells decided to pursue a different career path.
After graduating from Dorman High School, she earned a degree in music education from Converse College. She went on to teach music at Oakbrook Preparatory School.
Starting in 2012, Wells began volunteering during summer breaks. She retired from teaching in 2016, giving her more time to spend supporting the healthcare system. She is among the more than 200 volunteers who provide support throughout Spartanburg Regional.
Much has changed at the hospital since Wells was a candy striper. Clinical specialties have been added. Advances in technology have opened up new avenues of research and treatment.
The Spartanburg Medical Center campus on East Wood Street has grown tremendously and seen numerous upgrades and enhancements. As with so many areas of the health system, facility additions have been made possible through philanthropy. The Foundation has helped transform the campus from the Montgomery Tower, the Emergency Center, Gibbs Cancer Center & Research Institute and the Bearden-Josey Center for Breast Health.
Wells talks with excitement about these improvements – especially Gibbs Cancer Center & Research Institute, where "wonderful doctors took such good care of me."
While the healthcare system has come a long way since the 1970s, Wells said her essential role as a volunteer remains the same.
"I'm here to be a friendly face and be helpful," Wells said.
And when she encounters cancer patients, she feels a special connection. 
"I understand what they're going through, and I can listen or provide words of encouragement."
Learn about the Spartanburg Regional volunteer program. You can also make a difference with a donation of any size.