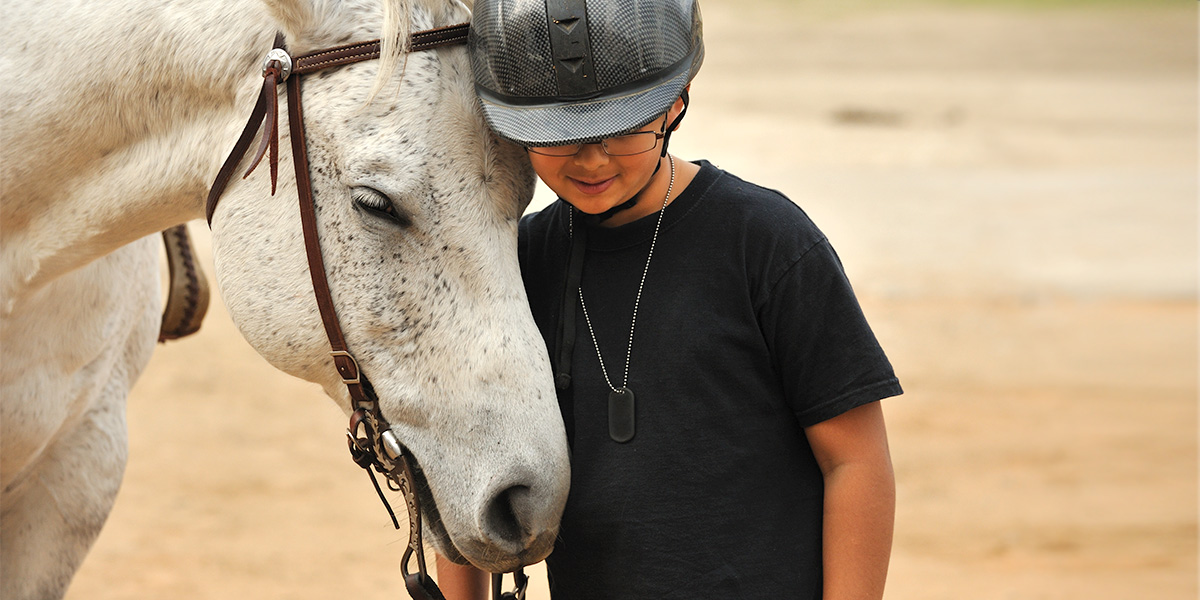 Therapy on the back of a horse
Spartanburg Medical Center joins with HALTER for pediatric rehabilitation.
A child's work is play, and for the patients of Pediatric Rehabilitation Services at Spartanburg Medical Center, that child's play may include riding a horse in the covered arena at HALTER.
Horses have long been used for therapeutic purposes. The specially trained therapists from Spartanburg Medical Center (SMC) utilize Equine Assisted Therapy (E.A.T.), a licensed form of therapy to treat children with autism, cerebral palsy, developmental delays, visual motor integration difficulties and more.
"We see tremendous gains in our kids who are seen at HALTER," said Sharon Caston, manager of Pediatric Rehabilitation Services for SMC. "We are providing medical treatment on horseback, and using that horse as a therapy tool."
HALTER, located on Country Club Road, is "an affordable Therapeutic Horseback Riding program that has served handicapped residents of Spartanburg and surrounding counties and students at the South Carolina School for the Deaf and Blind since 1987." With 12 specially trained horses, professionals and volunteers, HALTER serves more than 115 riders each week.
The Pediatric Rehabilitation Services staff at SMC has joined forces with HALTER to take its clinical practice outside. The original partnership was the brainchild of former Spartanburg Regional Foundation Executive Director Sheila Breitweiser, whose experience as President of the South Carolina School for the Deaf and the Blind familiarized her with HALTER. From its support through an original grant in 2012 from the Foundation, which helped build the covered arena at HALTER, the program has now become a vital part of the pediatric rehabilitation treatment program at SMC. 
"Covering the arena was the top thing on the list," Caston said, who added that therapy needs to be consistent, regardless of the weather. "The second most important goal was getting licensed medical professionals trained."
SMC occupational, speech and physical therapists who work with patients at HALTER are trained by the American Hippotherapy Association (AHA), receiving both Level I and Level II certifications. Therapy is flexible and profound, allowing for many kinds of gains for the patients, including balance, coordination, task sequencing, increased verbal skills, improved mobility and flexibility, emotional and social skills, and many others.
"The horse's gait is closer to a human gait than any other species," said Caston, describing the benefits of riding for a child with cerebral palsy. "When the horse starts moving, the heat from the horse's body relaxes and elongates the muscles of the rider. The child is moving in a different plane—very different from experiencing life in a wheelchair—and it wakes up the brain."
The stimuli gathered when riding is important for developing mental processing and concentration, and the relationship with the horse aids in communication and bonding skills.
"From an occupational therapy standpoint, it's the sensory input, the propulsion of the horse, the bouncing up and down, the environment, the temperature—all these things work to give the body and brain a lot of sensory information," said Carlos Fonte, an SMC occupational therapist who is AHA Level II certified. "The horse is very instrumental in this. Once a child builds a relationship with a horse, it increases confidence."
Other activities and exercises are used at HALTER, including brushing the horse to increase upper body strength and range of motion, playing cognitive games before riding the horse, leading the horse through cone pathways and many more.
All potential riders, who generally range in age from five to 10 years old, are carefully evaluated and receive a detailed plan to lead them through the sequential stages of development. Treatment goals are updated every 90 days. 
Now a seamless part of the pediatric rehabilitation treatment program, the partnership between SRHS and HALTER is unique.
"I haven't found a hospital that is doing this as we are," Caston said. "This is what is good for our patients, and we want to have this service available for the patients who would benefit."
A true indication of patient-centered thinking, SMC's use of horses for therapy has been found to be a highly effective extension of its clinical care.
To learn more about Pediatric Rehabilitation Services or HALTER, please call 864-560-6480.