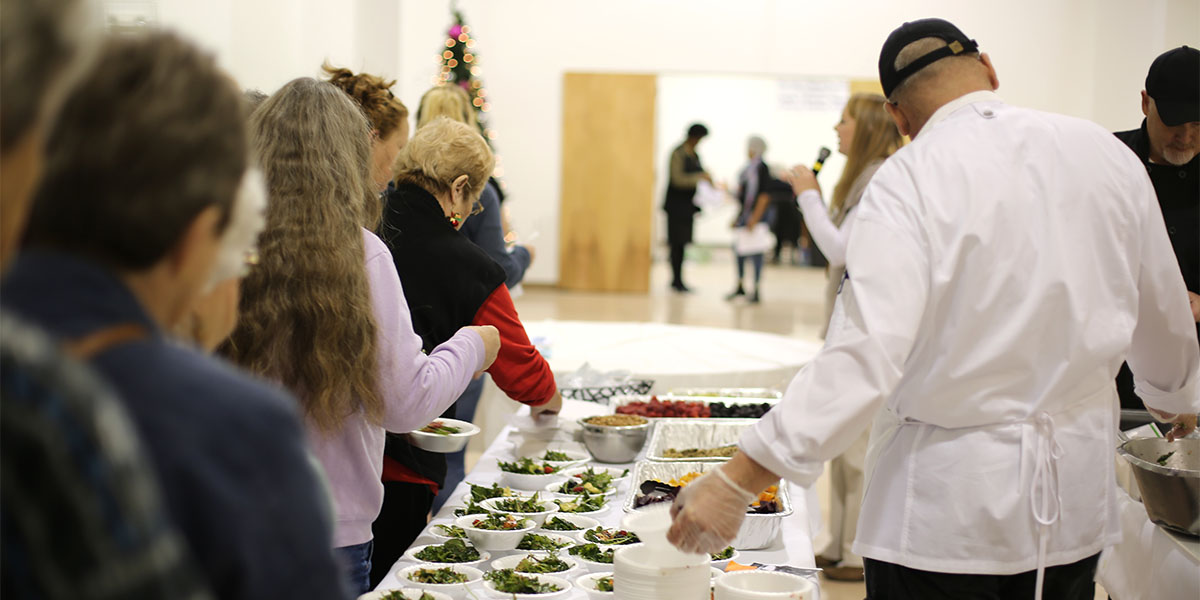 Tasty and nutritious
Each Wednesday, the Greater St. James Temple in Inman opens the doors of its gymnasium to community members in need of a hot, wholesome meal. Volunteers serve up soups, salads, meat and potatoes, all free of charge.
In mid-December, the usual fare was supplemented with selections that were a little foreign to attendees, who nonetheless gave them high marks.
"This is the first time I've ever eaten something like this, but it's good," said Steve Lockhart, seated at one of about 25 tables arranged in the gym.
Lockhart was enjoying a dish that included roasted beets, quinoa, blackberries, and avocado. It was prepared by chefs with Morrison Healthcare, who handle food services for Spartanburg Regional Healthcare System.
Lori Boyd and Kerri Stewart, of the Spartanburg Regional's Joe R. Utley Heart Resource Center, also gave a short talk about the ingredients, explaining their nutritional value.
This was a low-fat, heart-healthy dish, Stewart explained.
"If you can lower your cholesterol and blood pressure, it's not only good for your heart, but it decreases the risk of diseases like cancer, too," Stewart said.
Tasty and affordable
She and Boyd want Upstate residents to understand that healthy eating can be both tasty and affordable. They explain that ingredients such quinoa and avocado – though they may be unfamiliar to some who are used to traditional Southern cooking – are available at most local grocery stores.
Stewart, a registered dietician, leads monthly grocery store tours, explaining the nutrition facts on labels and giving advice about how to find good deals on healthy items.
Cooking demonstrations take place throughout the year, at the Greater St. James Temple and other community centers in the area.
These efforts are among the many ways the Joe R. Utley Heart Resource Center promotes heart health in the community. Funded by the Spartanburg Regional Foundation and named in honor and memory of a local heart surgeon, the center sponsors heart screenings, support groups and educational outreach.
Community service
The soup kitchen at the Greater St. James Temple opened in 2009. Though just outside the town of Inman, the weekly meals attract visitors from a wide radius.
"We serve people from 23 zip codes," said Carolyn Landrum, who heads up the soup kitchen.
Landrum explained that the church provides other social services to the community, too. The gymnasium building includes a small area with exercise equipment and a computer lab where guests can research employment opportunities. One Wednesday each month, lunch patrons receive basic household goods, such as toiletries and paper products.
The church also delivers meals to low-income residents in the area. The Spartanburg Regional Foundation provided a $5,000 grant in 2017 to fund shelving for supplies and freezer blankets for the safe transport of food to recipients' homes.
"The Lord has really blessed us," Landrum said.
A healthy partnership
She's grateful for the partnership with Boyd and Stewart, who visit quarterly to educate lunch participants about low-fat nutrition.
"The more we collaborate, the more we can help people," Landrum said.
Boyd, who serves as director of the heart resource center, appreciates the opportunities to collaborate, too.
"When we partner with organizations in the community to promote awareness about nutrition, exercise, and other healthy habits, we can really build our outreach and touch lives," Boyd said. "We're grateful for the Greater St. James Temple and for other groups that serve people in need and help to promote heart health."
The Joe R. Utley Heart Resource Center is located on the first floor of the Spartanburg Regional Heart Center, on the campus of Spartanburg Medical Center. 
To donate to the resource center or to other efforts to promote heart health, please visit https://www.regionalfoundation.com/ways-give/heart-disease.