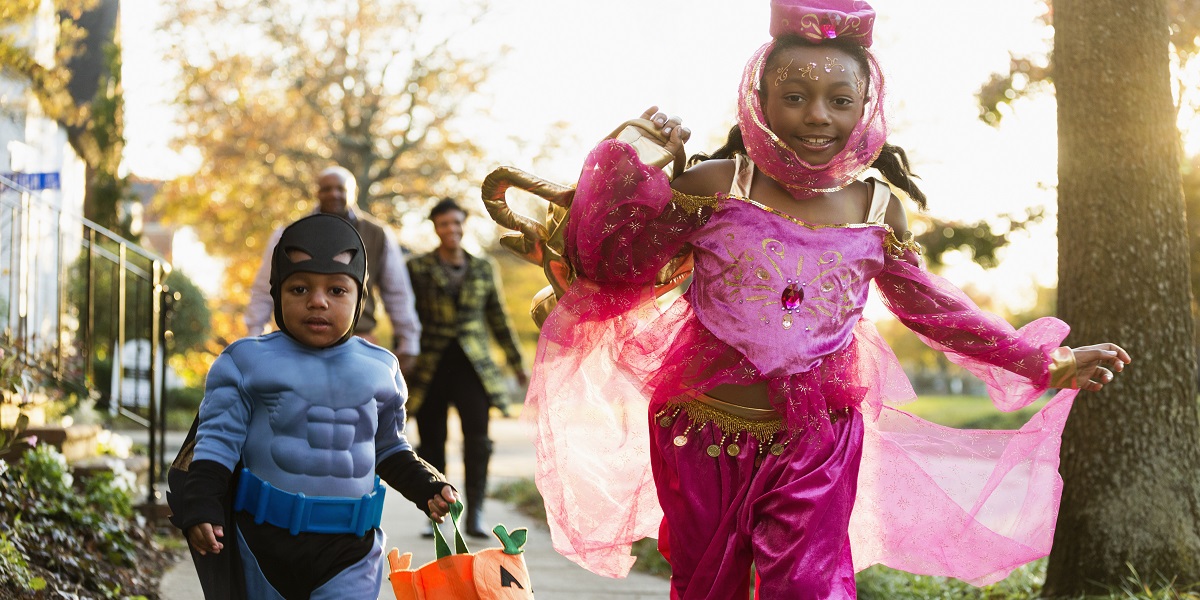 Taking the Scare out of Halloween
Halloween can be the biggest of treats with creative and fun costumes, scary decorations and tasty candy to collect. But there is an essential trick to getting the most from this day – making safety the highest priority.
"Halloween is the most dangerous night of the year for children and pedestrians," said Penny Shaw, program coordinator for Safe Kids of the Piedmont. "You can prevent injury if you take the right steps to do it."
Creating a safe Halloween experience starts with having a plan before trick-or-treating begins. First, parents should research and identify neighborhoods that are welcoming. 
"Make sure you are going to homes that are clearly celebrating Halloween," Shaw said. "Choose houses with lights on and with decorations to show that the homes are welcoming children."
Adults should accompany all children under 12. It's important to stay alert and keep kids together in groups.
"Kids have a tendency to dart off," Shaw said. "They see a cool decoration; they hear someone calling their name and they're off."  
Once families choose safe streets and neighborhoods, the focus should be on several other precautions involved with traffic safety. Families should always use sidewalks if available, and in all cases, the trick-or-treaters and their adult supervisors should walk facing oncoming traffic. Reflective clothing – necklaces, tape, glowsticks, stickers – is also a must, a crucial aid in helping with visibility. 
"The term we use in Safe Kids is 'be safe, be seen at Halloween,'" Shaw said. "If a driver can see your eyes, your reflective material around your neck, your wrists and your ankles, drivers will see you moving."  
Shaw added that trick-or-treaters should always obey traffic signals, use crosswalks, be aware of cars turning and backing up and only cross at intersections. 
Of course, dressing up is a huge part of Halloween's fun.  
Trick-or-treaters should wear only non-flammable costumes, and face paint can be a safer alternative to masks, as masks can hinder eyesight. 
If masks are part of the costume, Shaw said to wear them only when approaching a door and remove them while walking between homes. 

Adults should never wear masks; in order to keep the children safe, they need to be able to see everything and be recognizable to the children they are accompanying.    
Finally, bring some extra light if you're going out on Halloween. The flashlight on your phone can provide just the right amount of illumination, and it's another way to show movement to drivers.    
The most popular trick-or-treating hours are between 5:30 and 9:30 p.m. But if you're driving on Halloween night, you can take precautions, too. 
Use your high beams. 

Stay under posted speed limits. 

If the weather permits, open your windows.  
"If it's not cold, roll the windows down so that you can listen and hear," Shaw said.    
With all the dressing up and the promise of treats, Halloween is a special night for families, and establishing safety plans and guidelines will only make the evening better.
"If you follow the recommendations, you're going to have a safer night," Shaw said. "Everyone loves a good scare on Halloween, but not when it comes to your child's safety."