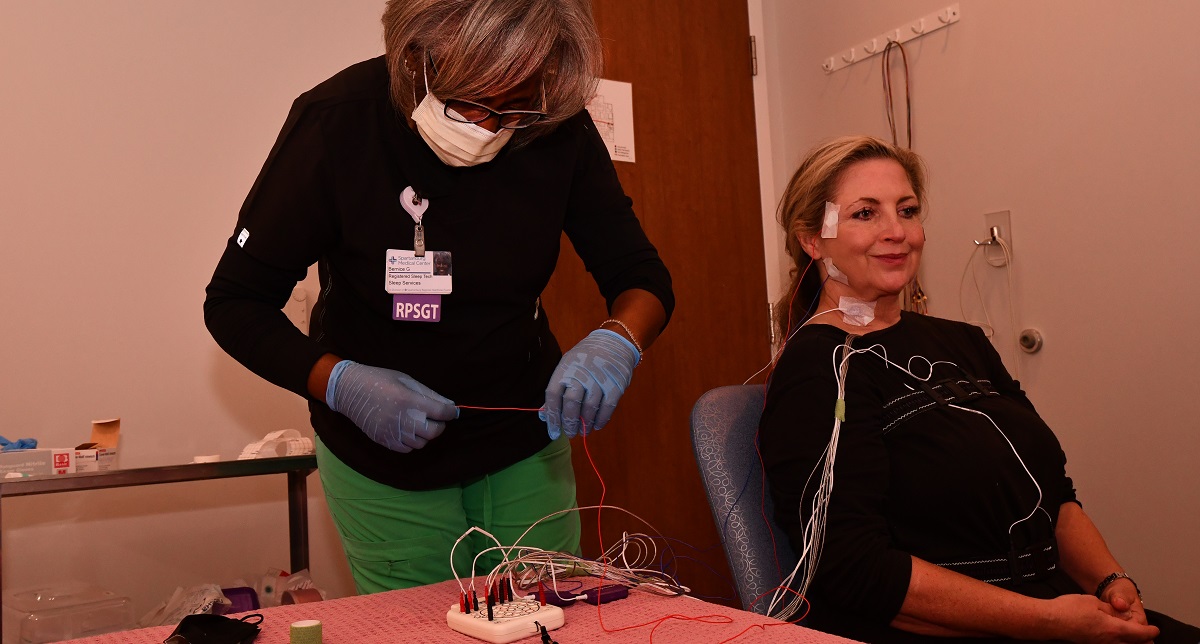 Struggling to rest? Spartanburg Regional Sleep Services offering new hours, locations to help
At the end of the day, we could all use a good night's rest. But many of us often struggle to feel well-rested and rejuvenated by the morning. 
At Spartanburg Regional Sleep Services, we try to help patients get their best sleep, and have expanded the program's hours and locations in order to better serve our patients. 
Sleep Services is staffed from 7 a.m. to 4:30 p.m. Monday through Friday. The three sleep labs are open from 8 p.m. to 6 a.m. The Spartanburg Medical Center – Church Street sleep study center is open seven nights per week. The North Grove Medical Park center is open Sunday through Friday. The Cherokee Medical Center sleep study center is open Monday through Thursday. 
Renovations took place in October and new equipment was installed to enhance the services offered to patients. 
What is the ideal setting for a good night's sleep? 
A cool, dark and quiet room is ideal. Turn off the TV, computer and cell phone screens one hour before bedtime. 
The lux of screens can affect your natural release of melatonin. The release of melatonin can help you fall asleep and maintain sleep. 
Turn away any clocks or devices so that you can't see the time. Looking at the time often leads to anxiousness about not being able to sleep, which may make going to sleep even more difficult. 
Does alcohol help you get to sleep?  
We have all heard someone say, "I can't sleep without a glass of wine." Alcohol may help in the initiation of sleep, but it can greatly disturb your night. Alcohol is a diuretic, increasing sweating and trips to the restroom, which will reduce your quality of sleep. 
What does alcohol do to your body as you sleep? 
Alcohol is commonly used as a sleep aid, but it can cause lasting damage to sleep structure and quality.  
Alcohol disturbs sleep stages and patterns, especially REM (the sleep where you dream).. When REM is disrupted, your quality of sleep is reduced, resulting in feeling groggy, unfocused and unrefreshed when you wake up.  
Eventually, you build up a tolerance to alcohol, and the occasional bedtime beverage may increase in frequency and amount. The withdrawal from alcohol use can also cause rebound insomnia, which is much worse than the initial sleep problems. 
What is another alternative for those who say they can only sleep after drinking alcohol? 
Other options may help with sleep initiation. Avoid napping during the day, as it can upset the daily sleeping and waking balance.  
Also, be careful with your caffeine intake. Caffeine is considered by many the most abused drug in our country. We self-medicate with caffeine and energy drinks to maintain wakefulness and then struggle to sleep after. 
If someone still can't get a good night's sleep, what can they do? 
Give Spartanburg Regional Sleep Services a call. We believe you can't do your best if you don't get your rest.  
Trisha Fair, RPGST, MA, is the clinical manager of Spartanburg Regional Sleep Services and offers a number of suggestions and tips to help those struggling to sleep well find better rest.