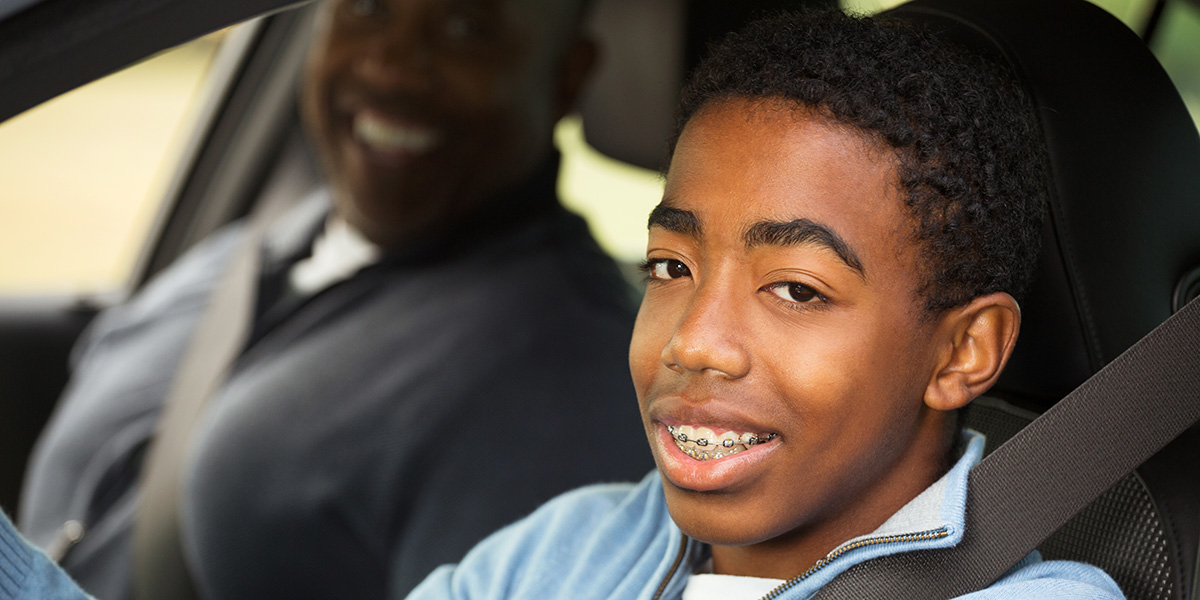 Steering teenage drivers out of harm's way
Earning a driver's license is an exciting time in any teen's life, and a bittersweet time for parents. While driving offers teenagers a new chapter in their lives and a step toward independence, it also creates new dangers.  
Motor vehicle crashes are the number one cause of teen fatalities.
Because of this, the U.S. Department of Transportation's National Highway Traffic Safety Administration has designated October 20-26 as National Teen Driver Safety Week to encourage parents and teens to have conversations about preventing accidents behind the wheel.
The learning curve
Parents spend countless hours talking to their children about the rules of the road, while trying not to show fear from the passenger seat, as their teen starts learning how to drive. Teens also learn about safe driving rules from the driver's education classes they are required to take before getting a license.
However, the real lessons of the road will not be relatable until a teen starts driving on their own.
"Once a child gets their license, and starts driving by themselves, their confidence soars and they may roll their eyes and act like they're not listening when you talk about safety on the road," said T.J. Mack, trauma injury prevention and outreach coordinator at Spartanburg Medical Center. "But keep reinforcing the rules. They are listening, and your constant reminders about these powerful messages will get through."        
Parents should especially talk to their children about the five greatest dangers for teen drivers, which are:
Alcohol
Not wearing a seat belt
Distracted driving
Speeding
Having too many passengers in their car
Firm rules and expectations
Everyone knows that parenting teens can be hard, and driving can present a new set of challenges. Parents should set and enforce firm rules and expectations for driving before they ever hand over the keys.
Keep in mind that driving is a privilege, not a right, for everyone – teens and adults. With freedom comes responsibility, so if your teen is having a difficult time following the rules, it may be time to take away the keys, review the basics and set firm expectations.
Safe teen drivers can mean the difference between life and death — for themselves, their passengers, and other people on the road.
"In 2018, the Level I Trauma Center at Spartanburg Medical Center cared for 29 teens who were involved in car crashes between the ages of 15-18," Mack said. "Keep in mind, this does not account for any teens who were pronounced dead at the scene of the crash."
In 2017, South Carolina drivers ages 15 to 19 were involved in 24,936 total collisions, and 92 of them resulted in fatalities, according to the S.C. Department of Public Safety's 2017 Traffic Collision Fact Book.
Never stop
National Teen Driver Safety Week is only seven days but reminding teens about safety should happen year-round. Don't fall into a false sense of security by thinking that once the state awards your teen a driver's license, they know all they need to know.
"Because of their lack of experience, teen drivers are a potential danger to themselves and to other drivers, which is why it is so important that parents never stop talking about driving safety with their teens," said Mack.     
We think nothing of constantly reminding our teenagers to clean up their room or take out the trash. They need constant road safety reminders as well:
Talk with them regularly about their driving
Leave notes by their keys
Send text messages
Go on drives together
You can bet that their friends will never stop trying to influence their behavior and decisions – so why should you? Keeping the conversation going will ensure that our roads, and teen drivers, stay safe.
For more information about National Teen Driver Safety Week, and to learn more safe driving tips for your teens, please visit https://www.nhtsa.gov/road-safety/teen-driving.
Mack conducts free "Think First" presentations to youth groups and schools to encourage young people to think first before making a decision that could result in traumatic injury. For more information, or to schedule a presentation, call 864-560-6839.