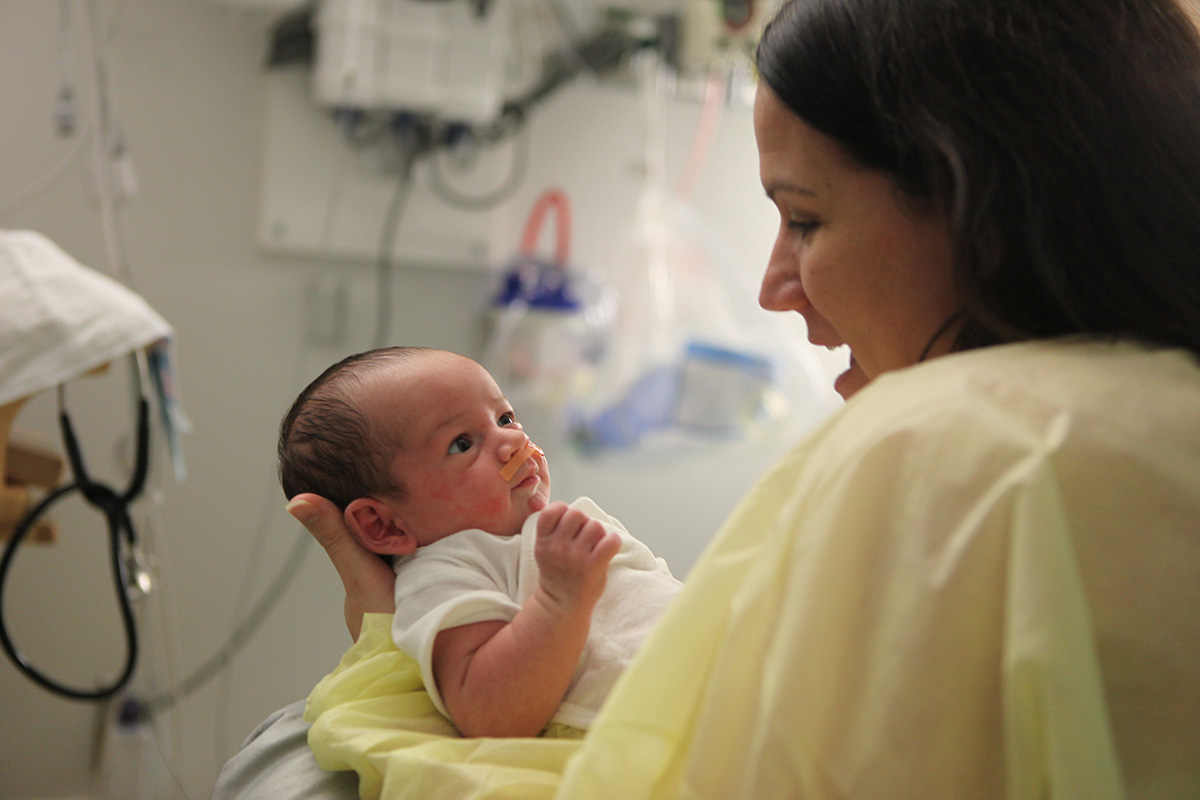 Jessica and her baby Sam
"The staff was amazing"
Sam Sherbert, age 4, was thrilled to be on his first soccer team last spring, and he's excited about being in school. He likes playing with trucks and exploring in the creek behind his family's home in Union.
But for the first few days of his life, his parents Jessica and Scott weren't sure if they would ever get to take him home, let alone see him develop into a healthy, thriving child.
Though Jessica's pregnancy with Sam went well, and he seemed perfectly healthy at birth, he started showing signs of breathing problems. He was rushed to the Spartanburg Medical Center's Neonatal Intensive Care Unit (NICU).
At first, Jessica was hopeful that it was only a minor setback.
"I thought he might need a little oxygen," she said. "But when he was taken to the NICU, he was intubated and on full life support."
Sam's lungs had not developed properly. He developed serious complications.
"We were told it could go either way," Jessica said.
It was the week before Christmas, and she and Scott tried to prepare themselves for the worst while still planning holiday activities for their three older children.
As doctors considered various treatment options – all of which carried risks – Sam's lungs began to heal on their own. Slowly, his condition improved as he continued to receive around-the-clock support in the NICU.
"We felt a great sense of relief," Jessica said. "But it was touch and go still for a while."
Over the next several weeks, there were ups-and-downs, but Sam continued to get stronger. Jessica and Scott drove from Union to see their child each day while he was in the NICU.
While visiting their baby, they developed a bond with Sam's caregivers.
"The staff was amazing," Jessica said. "They did a great job of communicating with us. They were on top of everything and made sure we knew what was happening."
Spartanburg Regional Foundation is proud to support the work of these caregivers. Donations to the Foundation's NICU Fund provide enhanced training for nurses as well as specialized equipment upgrades.
The donations help parents during a difficult time in the NICU.
"As a parent, you want to be able to fix things, and it's hard when you can't," Jessica said. "But somewhere between God and those caregivers, if they can fix it, they will. There's nowhere better those babies could be when they're in need."
To make an online donation to Spartanburg Regional Foundation's NICU Fund, visit regionalfoundation.com.