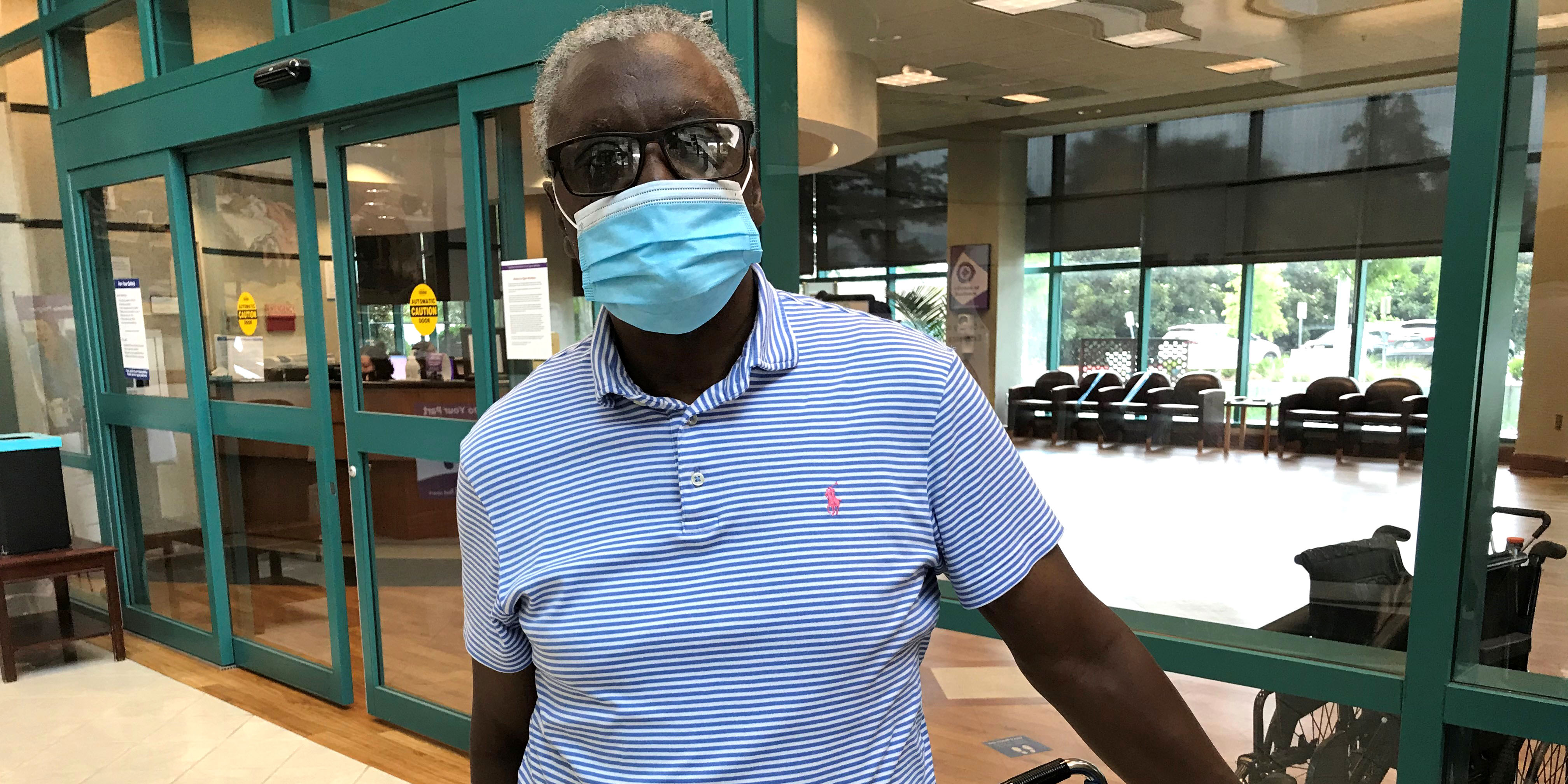 Volunteer Johnikin White
Spartanburg Regional volunteers returned this summer
When the call came in May that he could return to volunteer at Spartanburg Medical Center, Johnikin White was overjoyed.  
"The night before I knew I was coming back, I was so excited I couldn't get to sleep," he said.  
For 14 months, White and other volunteers across Spartanburg Regional Healthcare System were sidelined because of the pandemic.  
"It was a tough time," he said. "I got so tired of sitting around the house."  
White, a Vietnam veteran who spent his career in the automotive industry, helps visitors at the Spartanburg Regional Outpatient Center. He pushes patients in wheelchairs, provides directions and occasionally walks with patients to their appointment location.  
"It's busy, and I like that. I don't have much idle time," White said. "What brings me the greatest joy is to see how patients and families express their gratitude."  
White credits Spartanburg Regional Volunteer Manager Jill Dugaw with being accessible and supportive.  
"I work with such an amazing group of human beings, and I get a lot out of just being around them," Dugaw said.  
She knows that most volunteers want to stay active and enjoy spending time with others. In March 2020, the volunteer program was put on hold. 
"I was heartbroken," Dugaw said. "I knew it would be difficult, and I was worried about them." 
A long wait 
At the outset of the pandemic, of course, no one knew how long visitation and volunteer restrictions would be in place. Over the last year, Dugaw tried to keep everyone engaged and up to date with COVID-19-elated news.  
She met off-site with a small group of volunteers who worked to assemble IV bags for the emergency center. And when the vaccine clinic opened at USC-Upstate, she was able to place some volunteers there.  
Mostly, though, it was a long wait.  
"I cried tears of joy when I got permission to bring them back," she said.  
Dugaw manages about 200 volunteers at Spartanburg Medical Center, Union Medical Center and Spartanburg Medical Center – Mary Black Campus. Other Spartanburg Regional campuses, as well as Spartanburg Regional Hospice, also have volunteer programs.  
Coming back 
To come back to work, volunteers had to be vaccinated and undergo training. A few roles had been shifted according to needs as various hospital departments were getting back to normal.  
White was happy to be back in his spot in the outpatient center.  
"I get so much satisfaction when I'm able to help someone," he said. 
To learn about becoming a volunteer with Spartanburg Regional, please visit https://www.spartanburgregional.com/volunteer.