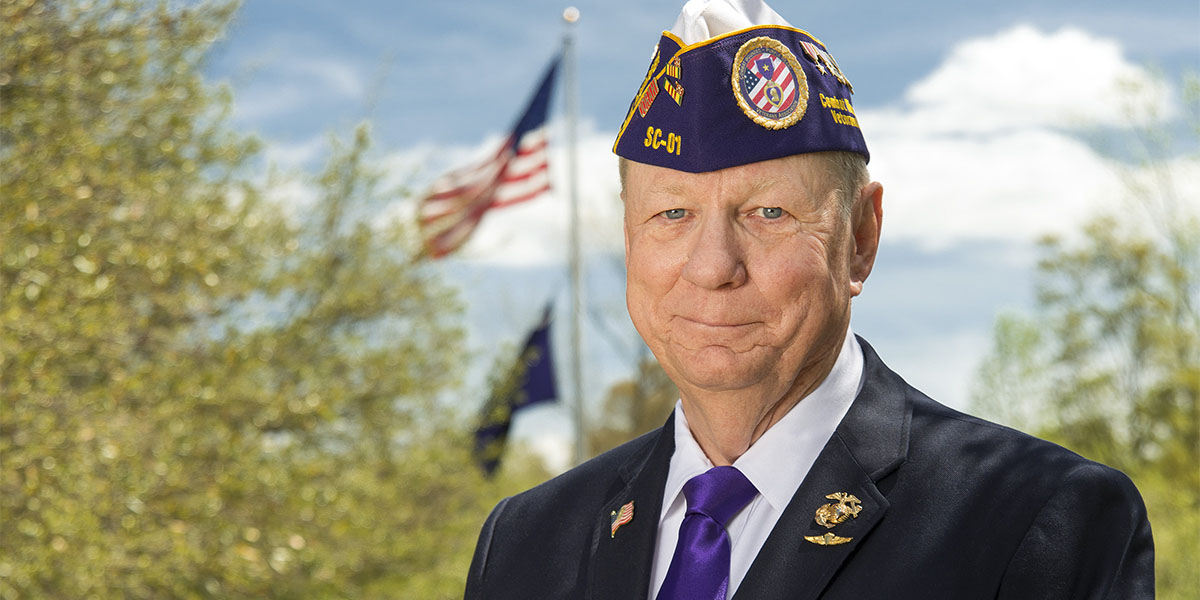 Spartanburg Regional Hospice volunteers connect with veterans
When Jim Williamson volunteers with veterans in the care of Spartanburg Regional Hospice, he knows he's doing something that matters.
It's not just that these patients deserve to be honored for their service and their sacrifices, they have someone there who understands what they've been through. Williamson brings a deep level of compassion and understanding many can't. He's a veteran, too. He served in Vietnam as a first lieutenant, where he earned three Purple Hearts.
Now, he is a volunteer with Spartanburg Regional Hospice in the "We Honor Veterans" (WHV) program. WHV is a collaborative effort of the National Hospice and Palliative Care Organization and the Department of Veterans Affairs. A cornerstone of the program is the recruitment of veteran volunteers to visit with veteran patients.
Veterans in hospice feel they can open up to volunteers like Williamson, and this is important. Experts on veterans issues explain that, as they near the end of life, many who took part in combat suffer from anxiety. They may have bad dreams and painful or frightening memories. Some are dealing with feelings of guilt or anger. Others may have been suffering from Post-Traumatic Stress Disorder (PTSD) for decades.
It is common for veterans approaching the end of life to want to talk about their experiences with Williamson. They feel a bond, and, in turn, Williamson is a good listener.
"I had the wife of one patient tell me, 'I'd never heard him talk about that.' Sometimes there's something they wouldn't tell a family member, but they would tell me," he said.
That kind of connection is important, said Lynn O'Dell, director of the Spartanburg County Veterans Affairs Office.
"It is really a good thing," she said. "Veterans really enjoy sharing stories with someone who has been through similar things. They've been through so much and need to be listened to – most of the time, that's what they really want."
Veterans' advocates and caregivers are putting more and more focus on end-of-life issue for veterans. World War II veterans and many Korean War veterans are now elderly and are dying in large numbers. Many Vietnam veterans are in their late 60s and 70s.
WHV was launched in 2010 to address the growing need for veteran-centered care. It fosters respectful inquiry, compassionate listening and grateful acknowledgment. More than 4,200 hospice and community-based healthcare organizations across the nation are partners. In 2012, Spartanburg Regional Hospice joined the initiative.
Volunteers and Spartanburg Regional Hospice associates strive to get to know these veterans and their families and to demonstrate compassion and understanding.
"We do a lot of listening," Hall said. "And we have heard amazing stories – stories of hope and courage and, in some cases, reconciliation. This effort is so rewarding."
Hall and other Spartanburg Regional Hospice associates support additional efforts to help veterans and their families know they are appreciated.
Veterans under the care of Spartanburg Regional Hospice are presented a WHV certificate and special lapel pin acknowledging their service. Ceremonies celebrating Veteran's Day and Memorial Day are hosted at Spartanburg Regional Hospice Home to honor patients and to remember those service men and women who have passed. Patients, family members, and friends are invited. They share stories, and some bring old photographs and medals earned during wartime.
"It is our duty and honor to serve those who have served us so heroically. It is a true privilege to be with these patients and families at their most vulnerable time," Hall said.
Williamson, who has volunteered with Spartanburg Regional Hospice for more than two years, acknowledges that spending time with those nearing the end of life takes a certain mental and emotional toughness. He feels a close bond with other veterans and, in particular, considers his fellow Vietnam Veterans "brothers in arms."
 "Death is inevitable, and if I can ease it for one patient and provide comfort for one family, then I'm willing to do it," he said.
If you are a veteran and would like to volunteer with Spartanburg Regional Hospice, please contact Kelly Hall at [email protected] or 864-560-5636.