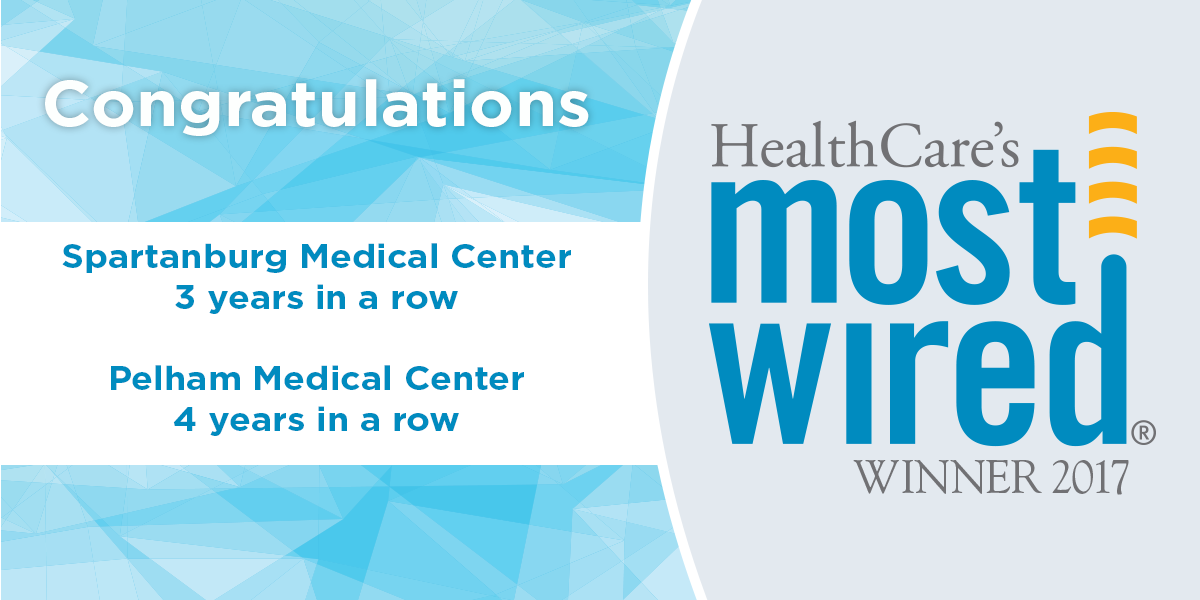 Spartanburg Regional Healthcare System named 2017 Most Wired
Technology is making it easier for patients and providers to interact — improving communication, safety and patient-provider relationships. New tools are helping patients become more actively involved in their care and maintaining their health, according to results of the 19th Annual Health Care's Most Wired® survey, released by the American Hospital Association's (AHA) Health Forum.
Most Wired hospitals are using smart phones, patient portals and remote monitoring to create more ways for patients to access health care services and capture health information. And Spartanburg Regional Healthcare System is one of these Most Wired healthcare systems.
"Last year, Spartanburg Regional Healthcare System implemented Epic, a new electronic medical record system," said Harold Moore, vice president and chief information officer for Spartanburg Regional Healthcare System. "Epic allows for a seamless flow of patient data between physician practices and our hospitals. This new electronic medical record system has resulted in a reduction of paperwork, more quality time with patients, improved time management, and better coordinated care and communication between the providers and the patient's care team."
Patients are also now using MyChart to monitor their health records and make appointments, and SRHS's business teams are using Strata Decision Technology, an integrated solution to drive financial performance, manage cost and improve value.
Innovation in patient care embraces emerging technologies and underscores the need for secure patient information exchange. Hospitals have increased their use of sophisticated IT monitoring systems to detect patient privacy breaches, monitor for malicious activities or policy violations and produce real-time analysis of security alerts.
·         82 percent analyze retrospective clinical and administrative data to identify areas for improving quality and reducing the cost of care.
·         Three-quarters use sophisticated analytics such as predictive modeling and data to improve decision-making.
·         Nearly 70 percent interface electronic health record data with population health tools for care management.
·         More than 70 percent are providing data analytic tools training to physicians and nurses.
·         45 percent initiate a patient pathway using health IT to follow a care plan.
·         Nearly 40 percent deliver quality metrics to physicians at the point-of-care.
·         32 percent have tools for real-time patient identification and tracking for value-based care conditions, such as chronic obstructive pulmonary disease.
HealthCare's Most Wired® survey, conducted between Jan and March 2017, is published annually by Hospitals & Health Networks (H&HN). The 2017 Most Wired® survey and benchmarking study is a leading industry barometer measuring information technology (IT) use and adoption among hospitals nationwide. The survey of 698 participants, representing an estimated 2,158 hospitals — more than 39 percent of all hospitals in the U.S. — examines how organizations are leveraging IT to improve performance for value-based health care in the areas of infrastructure, business and administrative management; quality and safety; and clinical integration. 
Detailed results of the survey and study can be found in the July issue of H&HN. For a full list of winners, visit www.hhnmag.com.