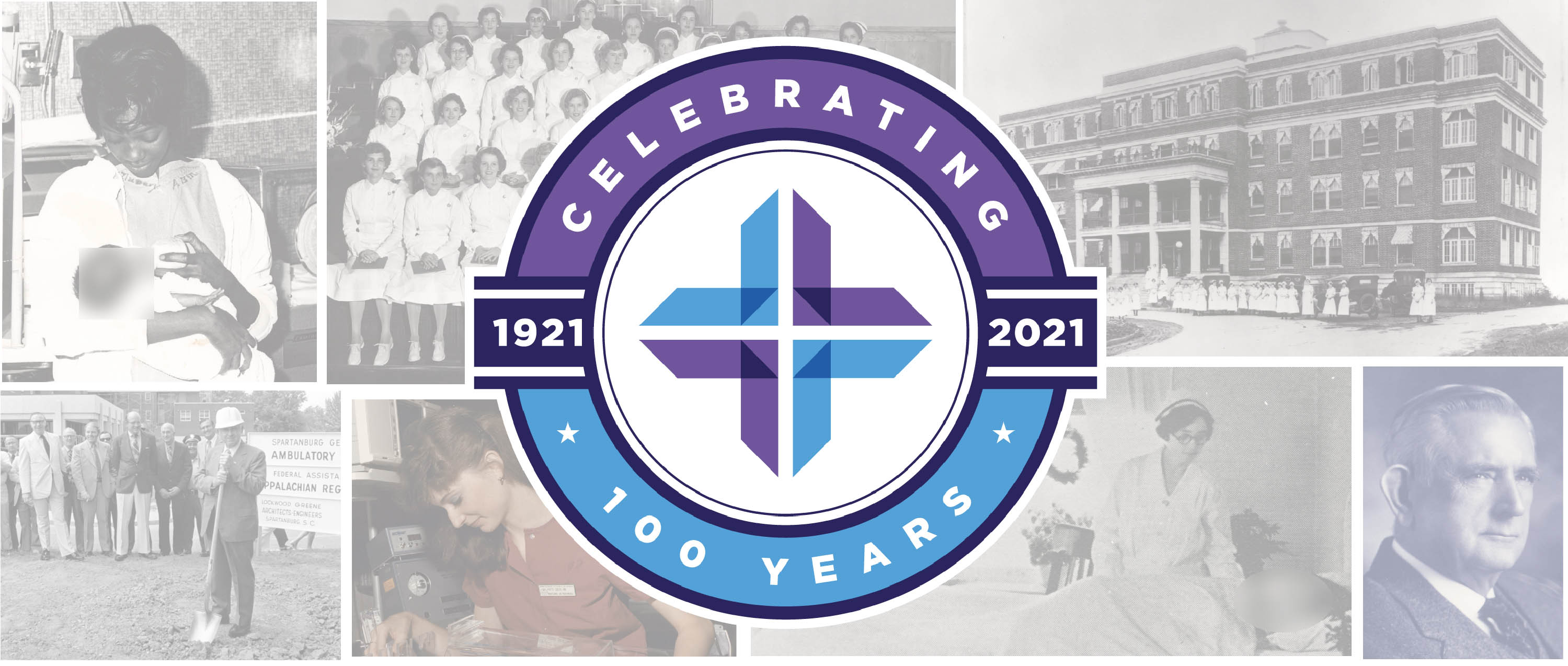 Spartanburg Regional: 5 facts about 100 years
For 100 years, Spartanburg Regional Healthcare System has served communities throughout the Upstate and beyond.
A century of excellence – that's a lot of history. Here's a few things to know.
Which hospital opened first?
Spartanburg Medical Center's Church Street campus opened on Aug. 29, 1921 … but it's not the oldest in the system. Union Medical Center, originally Wallace Thomson Hospital, opened Aug. 1, 1921. It joined Spartanburg Regional in 2015.
The first Mary Black Hospital opened on East Main Street in 1925. The Skylyn Drive facility now known as Spartanburg Medical Center – Mary Black Campus opened in 1968; it joined Spartanburg Regional in 2019.
Spartanburg Regional owns a historic mill
The hospital system renovated the historic Beaumont Mill in 2016. The building, which opened in 1890, now houses over 600 administrative healthcare associates that oversee operations across the Upstate.
Cancer care began almost immediately …
Dr. John Fleming opened the first local cancer clinic at Spartanburg General Hospital in 1934. But cancer care transformed forever when Gibbs Cancer Center opened in 1999; the Bearden-Josey Center for Breast Health followed in 2008. Services grew to include Greer in 2004 at Gibbs Cancer Center at Pelham, then expanded into a seven-story, 191,000-square-foot facility there in 2020. There are also locations in Gaffney and Union.
… so did nursing education
The first Spartanburg General Hospital School of Nursing class graduated in 1922; over 48 years, the school produced 1,057 nurses. Dr. G.B. Hodge and longtime hospital President Charlie Boone led the charge to open what is now known as the University of South Carolina – Upstate in 1967, whose nursing graduates currently work in 36 states and on three continents, according to USC-Upstate's website.
They've got tech skills
Spartanburg Regional's first recorded instance of tech-savvy inspiration came during the Great Depression, when Dr. Hilla Sheriff and hospital electrician W.C. Guy built an incubator to replace the hot sand and bricks traditionally used to keep newborns warm.
Their work became the precursor to Spartanburg Medical Center's top-rated Neonatal Intensive Care Unit, part of its comprehensive maternity services.
An automated robot has delivered medicines to departments at Spartanburg Medical Center since 1997. In 2008, Dr. Steve Leyland performed the first endoscopic beating heart robotic surgery in the South. Gibbs Cancer Center at Pelham brought the CyberKnife Robotic Radiosurgery System online in 2015.
Spartanburg Regional's first website went live in 1996. Want to learn more about Spartanburg Regional's 100 years? Visit www.SpartanburgRegional.com/Centennial.