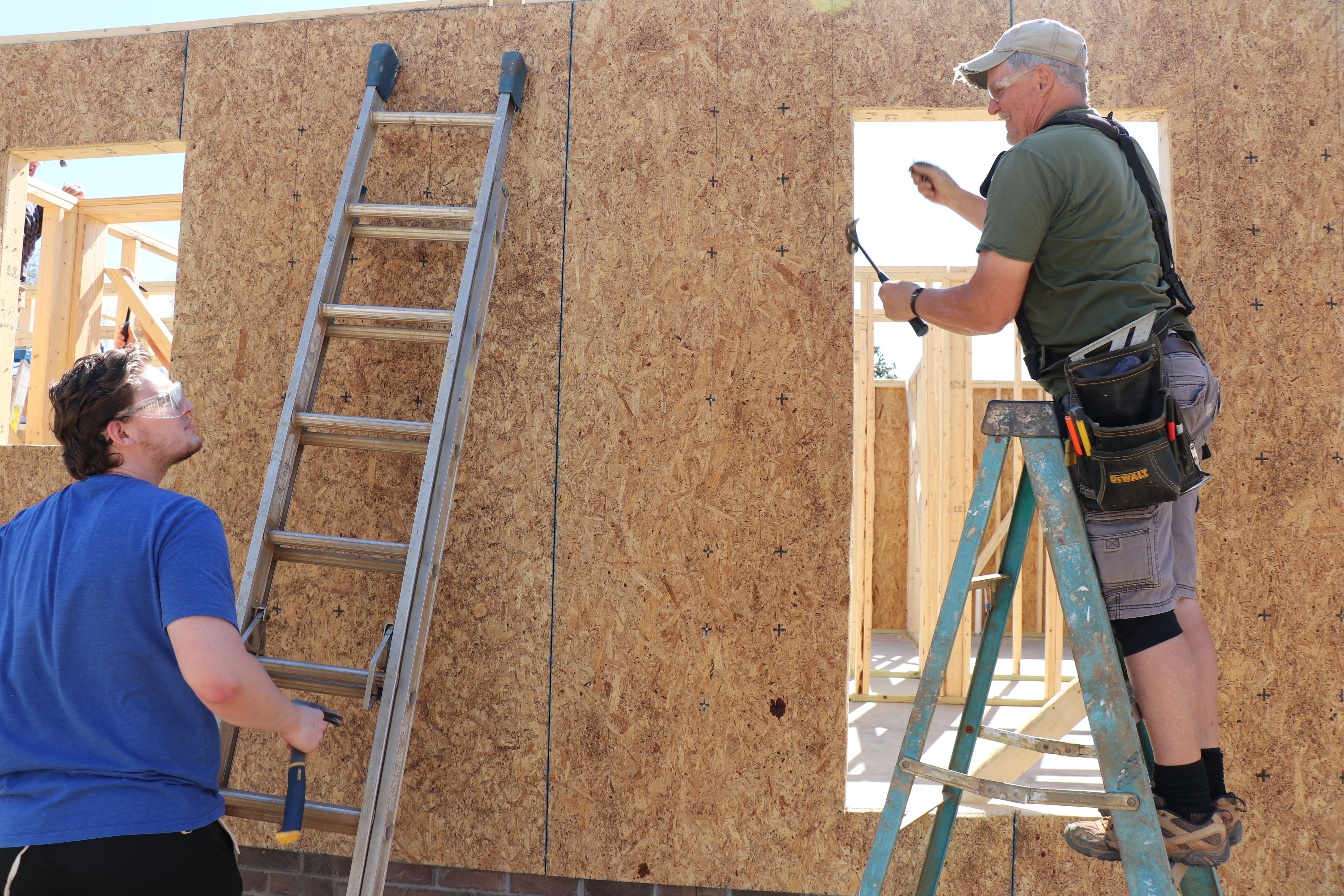 Spartanburg Medical Center emergency services staff swap medical equipment for construction tools in Habitat for Humanity build
On a recent sunny afternoon, a group of Spartanburg Medical Center associates erected wood framing and plywood panels – an early step to building a new residential home in Spartanburg's Drayton community through Habitat for Humanity.
About 25 associates with Spartanburg Regional Healthcare System's Emergency Services Department participated in the March build on Britton Street – roughly the 10th time associates have helped construct Habitat for Humanity homes.
Associates enjoyed putting their hands to work building affordable housing.
"I'm not from the area so I didn't know these types of opportunities existed. Then when we got the email asking about volunteering, I thought, 'You know what, why not? I'll give it a try and learn something new,'" said Kaley Morris, 22, a nursing technician at Spartanburg Medical Center – Mary Black Campus. "I'm definitely going to look into doing this more."
Larry Porter, the site supervisor for Habitat for Humanity, said seeing organizations bring volunteers to pitch in on building homes helps instill a sense of purpose and belonging in the surrounding Spartanburg neighborhoods.
"I think it helps these groups in the community to appreciate what Habitat does, putting families in homes. I know it's kind of a cliché, but it becomes not just a house but a home for the homeowners and their family," Porter said.
Ashley Smith, 23, who works as a nurse at Spartanburg Medical Center's Emergency Center, said she does not have a lot of experience with home building but felt compelled to volunteer with her colleagues. She said the experience helped her feel more connected to patients.
"This is a great opportunity. I just like helping people," Smith said. "I moved here a year ago and working in the ER, you see a lot of different people in the community who come in, so it's cool to be a part of this and give back."