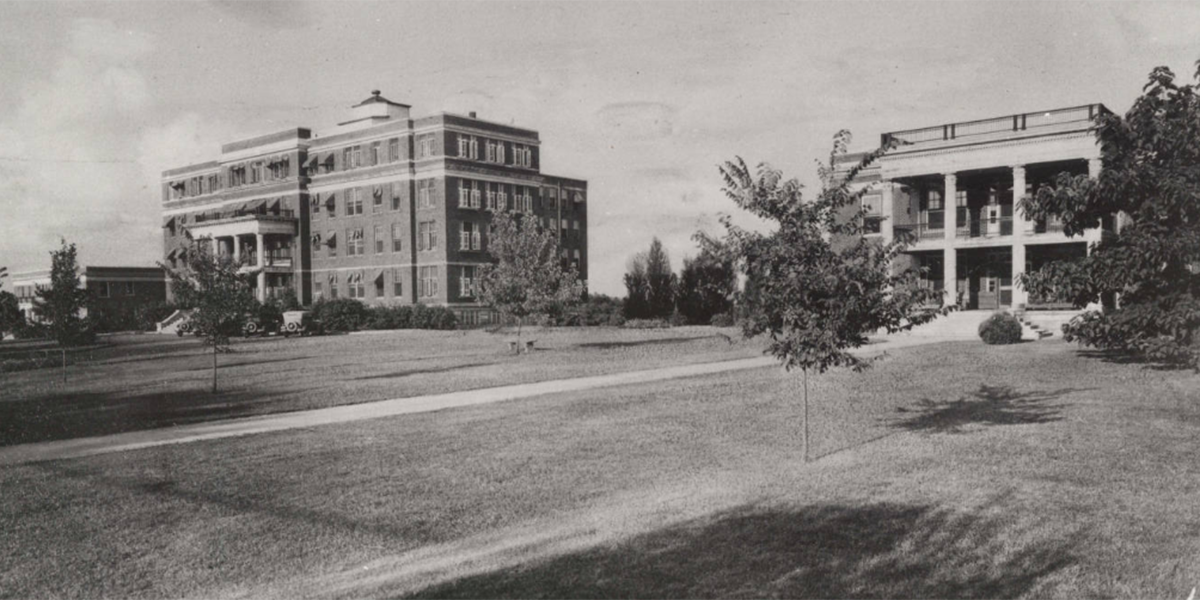 Spartanburg General Hospital in 1931; the nurses' residence is at right. Spartanburg General found ways not only to survive, but thrive during the Great Depression.
Spartanburg General and the Great Depression
Editor's note: This weekly series celebrating the 100th anniversary of Spartanburg Regional Healthcare System is excerpted from "Commitment To Our Community: 100 Years of Spartanburg Regional Healthcare System."  
Early on, Spartanburg General Hospital administrators realized that good stewardship of private and public funds would be critical to the success of the new hospital.
In the late 1920s, the grounds of the hospital were used for farming cotton and vegetables, which were sold at market. An electric refrigeration system was installed during the summer of 1928, which reduced the ice bill and eliminated waste from spoiled eggs, milk and produce.
When the stock market crashed on Oct. 29, 1929, Spartanburg General was more prepared than many hospitals to weather the economic depression. More than 700 hospitals around the country closed between 1929 and 1938.
Spartanburg General, however, remained open thanks in large part to the employees. Many accepted reduced wages and rallied around the hospital and patients in ways that continue today.
Records at the time note: "All employees remained loyal to the institution; in fact, it appeared that in the face of these reductions, their loyalty increased."
Patients bartered for care, bringing livestock or produce to pay medical bills. Nothing went to waste. Flour and sugar sacks were turned into aprons and towels, and the dietary department began making soap for use in the hospital.
Dr. Hilla Sheriff became director of the Spartanburg County Health Department in 1933. The health department and the hospital shared a budget, something Sheriff considered "a good example of how preventive, restorative and curative medicine could be practiced together effectively."
Sheriff helped Spartanburg General open the first family planning clinic in the state. An early proponent of family planning, she had a particular interest in the health of women and children.
In part because financial resources were limited, the Great Depression inspired innovation. Sheriff and W.C. Guy, the hospital electrician, improvised an incubator to replace the hot sand and bricks traditionally used to keep newborns warm. The incubator and the assignment of nurses to a newborn isolation room were the beginning of the premature baby nursery.
Although progress slowed during the lean years of the 1930s, Spartanburg General found ways not only to survive, but thrive. By 1938, the average daily number of patients was at 198, more than triple the census from a decade prior.
Travel through Spartanburg Regional's 100-year history through an interactive timeline and more.