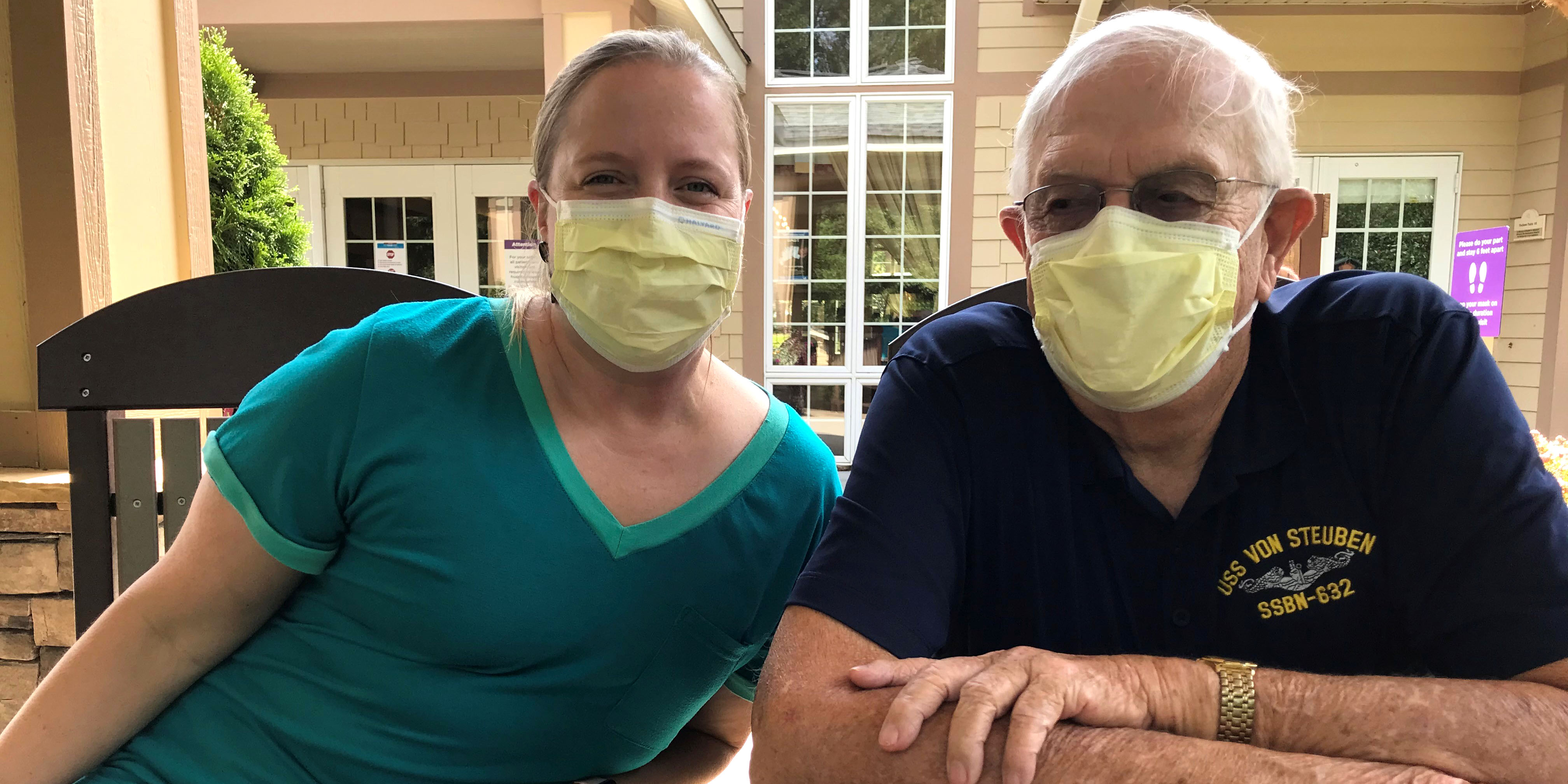 Volunteer coordinator Kelly Hall with volunteer Art Allum
Someone to listen: Hospice volunteer connects with patients
Art Allum is a soft-spoken man. He has a reserved demeanor, and he doesn't seek attention.  
Yet the impact of Allum's work with hospice families is profound, says Spartanburg Regional Hospice chaplain Bill Hesse.  
"Art has this sense of calm and such composure," Hesse said. "He helps bring comfort to families going through a really difficult time."  
Allum is among a group of dedicated community members who volunteer with Spartanburg Regional Hospice. He supports a program Hesse oversees called Bereavement Buddies – a team of hospice staff members and volunteers who call or visit those who have recently lost a loved one. Phone calls have been especially important as the COVID-19 pandemic has limited in-person bereavement events.  
"We check in to see how they're doing and want to let them know that we're thinking about them," Hesse said. 
Allum also visits patients in hospice care, and he's especially passionate about supporting patients who are military veterans.  
After finishing high school in Pennsylvania, Allum served for 20 years in the U.S. Navy. While he didn't see combat, he was on submarine patrols during the Cuban Missile Crisis and Vietnam War.  
He and his family settled in Blacksburg in the late 1970s, when Allum took a job with Duke Energy.  
He always had a heart for giving back.  
"My mother was a nurse, and she guided me to be someone who cared about other people," he said.  
Allum believes veterans deserve all the support we can give them, and his military background creates a natural connection.  
"People sometimes ask me, 'What do you talk about with someone who's in hospice?'" he said. "For us, all we need is an introduction. I can just ask, 'What branch were you in?' And they'll open up."  
Some combat veterans are bitter or suffer from PTSD, Allum said. Most just appreciate the friendship and "having someone to listen to them."  
A Father's Perspective 
Allum admires the work of the Spartanburg Regional Hospice team. He's seen their work up close not only as a volunteer, but also as the father of a patient. In early 2021, his son Glenn passed away at the Spartanburg Regional Hospice Home.  
When Glenn was 11 years old, doctors discovered that he had a brain tumor.  
"They said he probably wouldn't make it to 12," Allum said. "But he lived to 48."  
Glenn endured other medical hardships – a stroke and a series of serious injuries. A few years ago, he suffered an additional stroke, and his condition slowly declined.  
"Glenn had a lot of hard knocks, but he took everything in stride," his father said. "He was a real people person. We were very close, and I miss him every day."  
During his final days, Glenn's sister and brother, Anna and Allen, were able to visit him in the hospice home. Art was grateful that the family could be together in "a calm, relaxed atmosphere."  
"You feel comfortable there, and the staff was super," he said. 
Volunteers Make a Difference 
Kelly Hall, the volunteer manager for Spartanburg Regional Hospice, says that community members like Allum are an invaluable resource.  
They water flowers and keep bird feeders full at the hospice home. They greet visitors, and they help with clerical and administrative needs.  
Some visit hospice patients at their homes and support bereavement programs, bringing comfort to both patients and family members.  
"We're grateful for all who serve," Hall said.  
And Allum, she said, is "one of those volunteers who will do anything you ask. He's just really great." 
Allum says his motivation to serve is simple: He enjoys staying active and appreciates the feeling of making a difference for those in need.  
"I have to be busy," he said. "And I feel good about doing it."  
To make a donation to support Spartanburg Regional Hospice, visit https://www.regionalfoundation.com/ways-give/hospice.