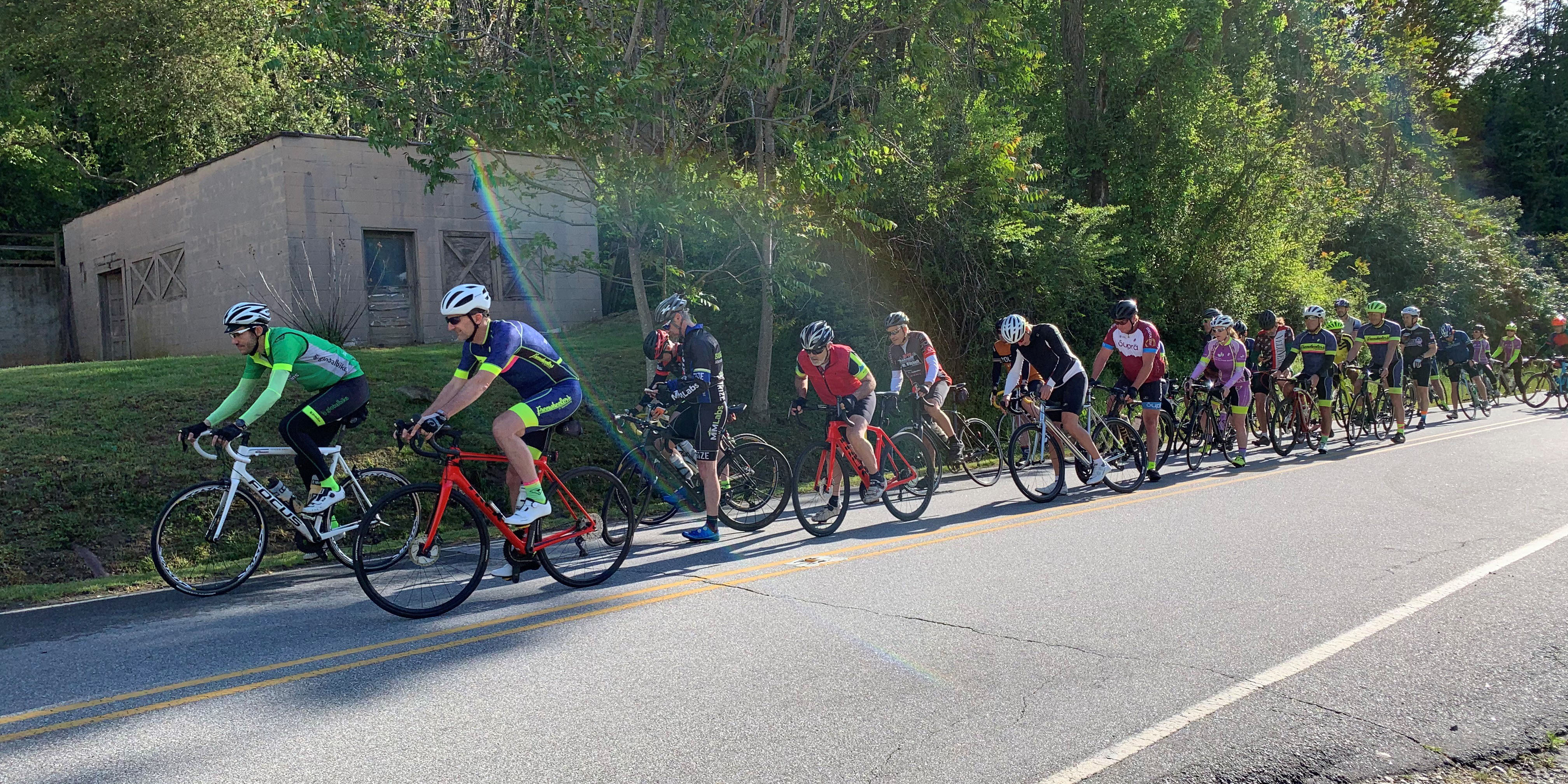 Riding for a cause: Annual cycling event supports cancer survivorship program
On a beautiful Sunday morning in late April, more than 30 cyclists took off from the Caro-Mi restaurant near Tryon to ride up the steep and winding stretch of highway known as the Saluda Grade.  
The riders were taking part in the Climb to Conquer Cancer, an annual event that raises money for the Spartanburg Regional Foundation's Cancer Survivorship Fund. The fund supports programs at Gibbs Cancer Center & Research Institute and those living with cancer.  
"I felt great about [the event]," said organizer John Cash. "We had to postpone it a day because of rain, but we ended up having a good turnout." 
Cash, who serves on the Spartanburg Regional Foundation's cancer division advisory board, said participants and other supporters contributed nearly $9,000. 
Cancer division board Chair Betty Montgomery and Foundation Executive Director Kristy Caradori were both on hand for the start of the ride.  
"The Climb to Conquer Cancer is a wonderful event, and we're grateful for John's leadership," Caradori said. "We also want to recognize and thank all of the cyclists who took part in this year's ride."  
Last year's event was canceled due to the COVID-19 pandemic.  
"Thankfully, we were able to do it this year," Cash said, stressing that he made sure safety protocols were in place.  
The ride involves 10 trips up and down the Saluda Grade. The climb up is 1,080 feet. Not every participant completes all 10 trips – there's no official finish line, and the ride isn't intended to be competitive. 
Cash completed 10 laps in about six hours. He has been an endurance athlete since his high school days and frequently rides along the Saluda Grade and other roads in the Tryon area.  
"I just enjoy exercise," he said. "And doing it for a cause and raising awareness about survivorship makes this event very special for me." 
Stacey Williams, the survivorship program coordinator at Gibbs Cancer Center, attended this year's ride, too. She thanked Cash for his "ongoing commitment to ensuring that cancer survivors are able to experience programs focused on achieving health and wellness after cancer."  
"John's compassion for those who have faced cancer and his dedication to providing support are inspiring," Caradori said. "He is a true friend to Gibbs Cancer Center and the patients it serves." 
Donate to support programs for survivors at the Foundation's website.