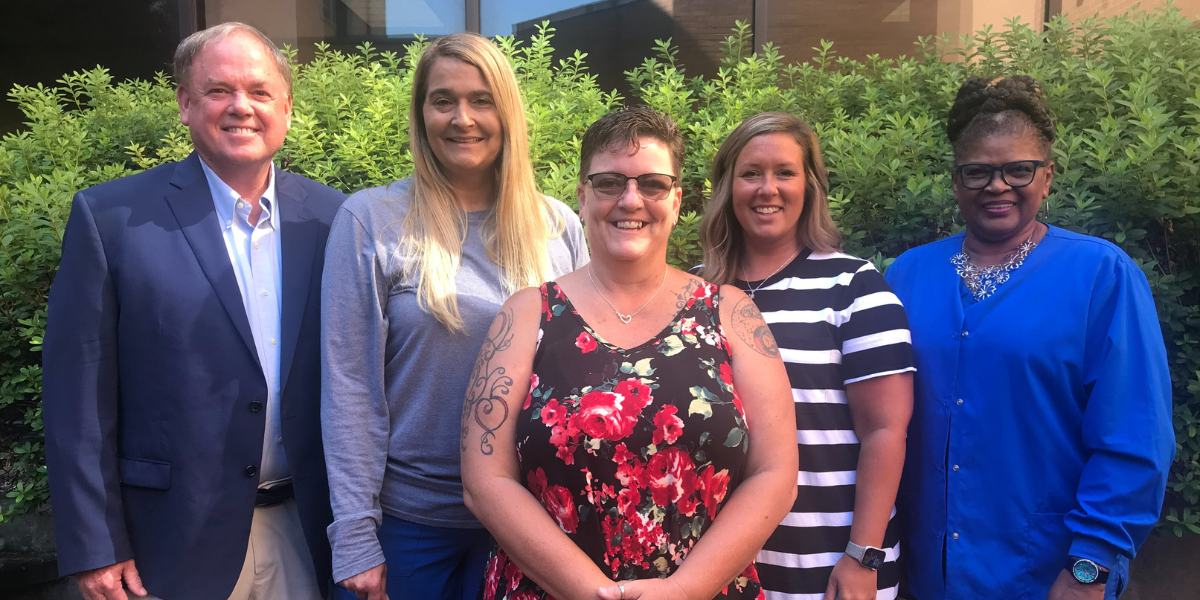 Pulmonary rehabilitation program giving patients hope in Union
Stacey Ratliff was put on a ventilator and hospitalized for 62 days when she contracted COVID-19 in 2021. She suffered chronic lung damage and was eventually discharged with portable oxygen. 
She would describe her quality of life then with one word: "Suffocating." 
Trying to accomplish basic tasks like walking, changing clothes and driving was exhausting. 
Ratliff eventually found out that Union Medical Center launched its new pulmonary rehabilitation program to care for patients with lung complications such as COPD or soft tissue damage from pneumonia or other illnesses. She became the new program's first patient in December 2022. 
"I felt trapped, but with this program, it gave me hope," she said. "I literally couldn't walk through Walmart. It was all I could do to get from my house to the car and from the car to the house." 
The pulmonary rehab program employs respiratory therapists who can see up to eight patients at a time. Patients use treadmills and other strength and conditioning equipment to improve lung functionality. Grant funding through the Spartanburg Regional Foundation made the program possible. The grant funded the purchase and installation of two recumbent bikes and two treadmills that are being used to provide supervised exercise and clinical education to the Union community, said Amanda Herin, the Foundation's senior director of operations. 
The program has met a need to see patients in rural communities, like Union, where previously it had been too difficult for some patients to get to Spartanburg Medical Center for similar care, said Mildred Jeter, a respiratory therapist. 
Spartanburg Regional Healthcare System has also operated a pulmonary rehabilitation program at Cherokee Medical Center for many years. 
In 2020, 12.5 million people in the U.S. were diagnosed with COPD, chronic bronchitis or emphysema, according to the American Lung Association. According to the Centers for Disease Control and Prevention, the percentage of adults in rural areas who have a COPD diagnosis is nearly double the percentage than in large metropolitan areas. 
Ratliff attended 36 visits with Jeter. After her last visit, she became the first graduate of the program. She is now implementing the exercises and strength techniques she learned while under Jeter's care so she can continue to live and thrive. 
"Now I can breathe better, I can walk better," Ratliff said. "I'm able to do everything I was doing, and I don't feel like I'm going to pass out when I do these things now." 
"Stacey did very well in the program. Having a chronic lung disease, exercising in a safe, monitored environment helped her to become more independent and learn breathing techniques to control shortness of breath," said Julie Berry, another respiratory therapist at Union Medical Center. 
Jeter said the goal is not to make patients dependent upon returning to the hospital for more rehab and follow-up, but rather to give them the techniques and tools necessary so they can continue to make strides at home. 
At times, having a support person to not just help with physical strength but also be a motivator and encourager makes all the difference. 
"It's all about pacing. That's how you keep patients conditioned. Once they leave me, I always push them to keep going," Jeter said.  
She and Ratliff quickly formed a bond. Ratliff said Jeter's bubbly, positive attitude helped her keep improving. 
"To me, laughter takes away from the thoughts of anxiety," Jeter said. 
The program at Union Medical Center is growing. There are now eight patients and several graduates.
"Providing pulmonary rehab at a local facility has allowed patients that live in the area to save time and transportation costs," Berry said. "It has been an honor to serve people in the community and know we are helping them to live healthier and breathe easier."