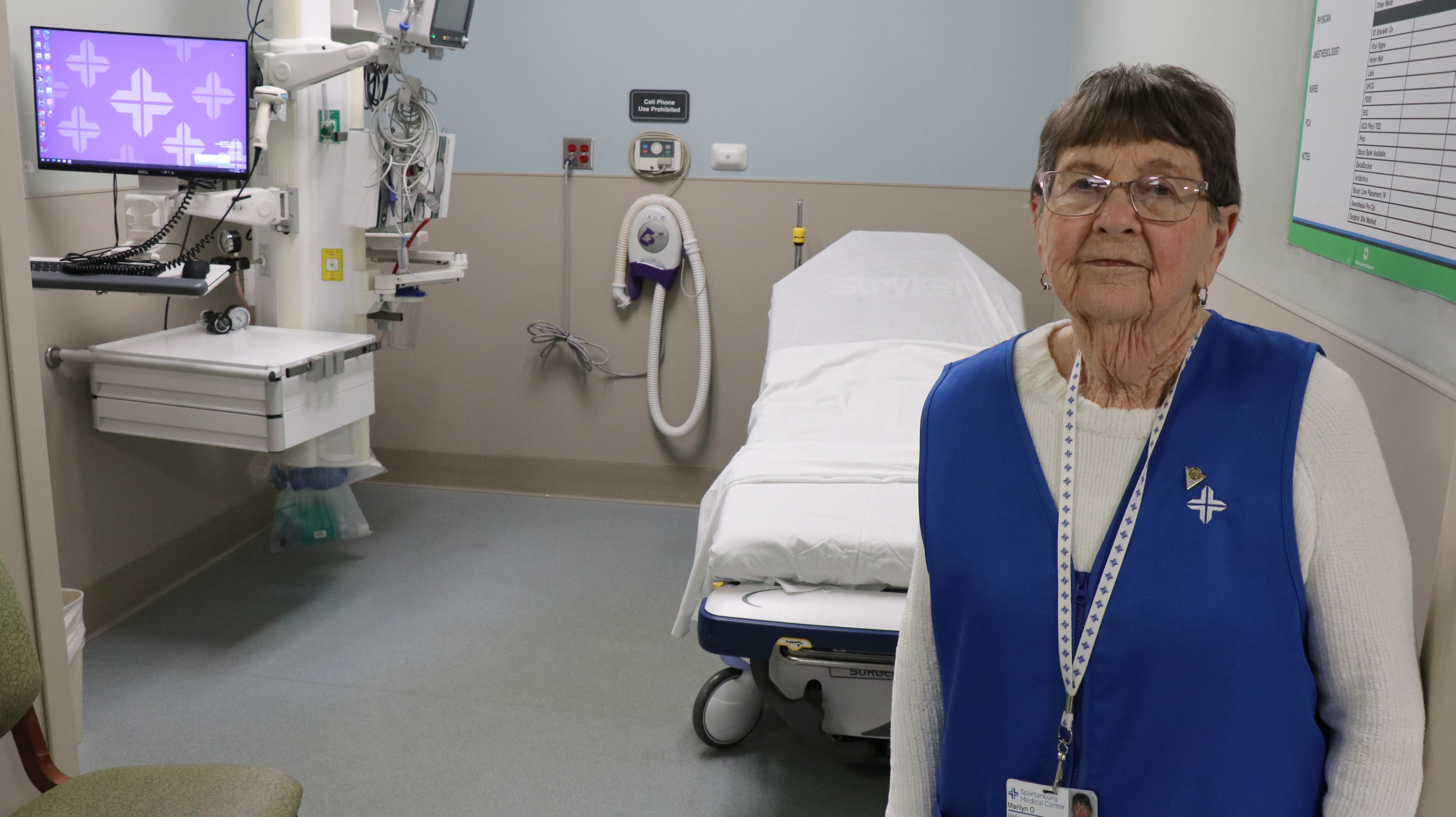 Proud to Be a Volunteer
It's 7:30 a.m., and 89-year-old Marilyn Orr has completed half her volunteer shift with preoperative assessments at Spartanburg Medical Center.
"I usually get here at 5:20 a.m., and I first collect the used strips on the board to identify patients' rooms," Orr said. "I clean those, and then as patients come in, I take them to their rooms." 
It's all in a day's work. Orr has been volunteering at Spartanburg since 2013. She is one of 200 volunteers who support the system's staff and create a positive, reassuring environment for patients and their families.
Like so many, Orr's reasons for getting involved are as interesting as her work. 
"Almost every one of the volunteers has a unique and interesting aspect of their story," said Jill Dugaw, volunteer services manager. "Whether they are a cancer survivor who wanted to give back, or they've finished a career and wanted to remain engaged, or they are a student getting ready to pursue health care as a field." 
Orr's story took many turns before arriving in Spartanburg. She and her late husband spent decades in Florida where she did bookkeeping for her husband's auto-repair shop. They bought a house near Lake Greenwood in 2006. When Orr's husband died in 2011, she moved to Spartanburg to be closer to her son. 
"I was interested in keeping busy," Orr said. "Volunteering helps people out; it is good to be a friendly face and voice for people who are anxious about why they're here." 
When she started, Orr volunteered three days a week in the Regional Outpatient Center transporting patients. She then transferred to the surgical waiting room, walking patients from the waiting room to their preoperative assessments.  
Now stationed in pre-op, her busy morning is sometimes blessed with a short family reunion. 
"My son is a surgeon. Usually, when he stops to see his patient before surgery, he'll stop in and say hello to me," Orr said just as Dr. Richard Orr came into the room to greet her with a smile and a hug. 
"It's wonderful what she's doing," Dr. Orr said. "There are patients that saw her years ago and ask about her when they see me in the office." 
Marilyn Orr's current duties represent just one of the opportunities to volunteer at Spartanburg Regional. Other volunteers might visit with patients, assist at information desks or stock supplies. There are about 60 different volunteer roles and placements.
Dugaw is actively seeking new applicants to join the volunteer services program while volunteers like Orr continue to give of themselves every week to help others.
"I'm going to do this for as long as I can," Orr said. "I'm very proud to be a part of Spartanburg, very proud to be a volunteer, to be of service."
To learn more about the volunteer program or begin an application, visit SpartanburgRegional.com/Volunteer.