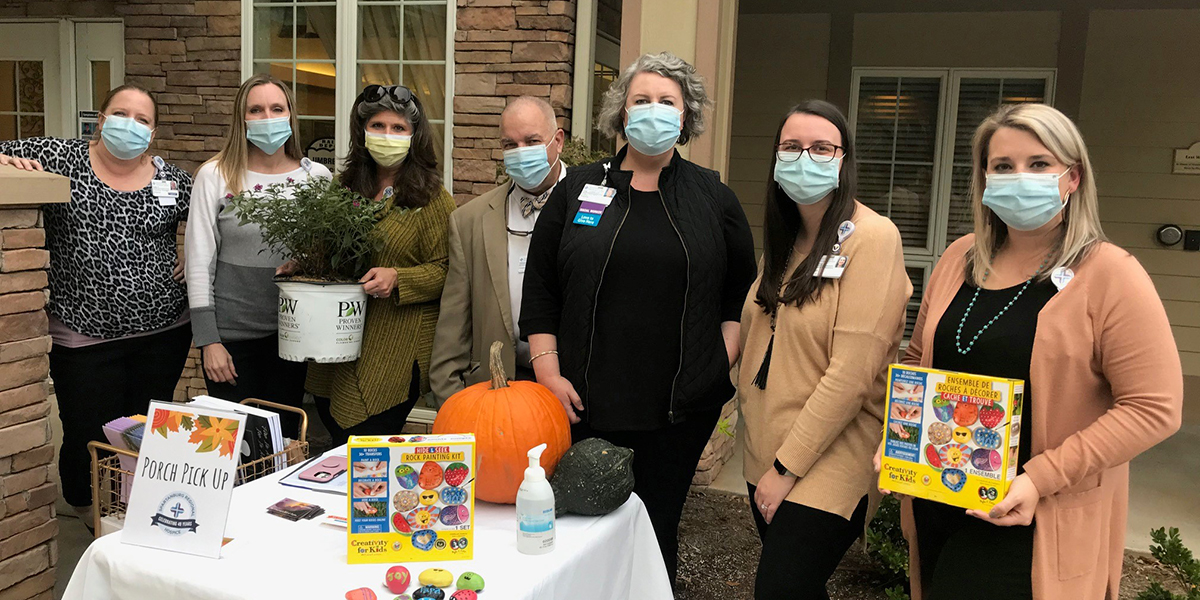 Hospice team held a "porch pick-up" on Oct. 20
"Porch pick-up" supports grieving families during pandemic
Few things feel more isolating than the death of a loved one. The pandemic has amplified that feeling for many.
To help those families, Spartanburg Regional Hospice held a "porch pick-up" event on Oct. 20 in front of the Hospice Home, inviting hospice families to stop by and select a book, butterfly bush or rock garden kit.
The event gave families more than something to take home, however. It gave them a chance to talk to the hospice staff members who served their family during their recent loss.
"We had some folks who really wanted to reminisce and talk about what they're going through," said Amy Knight, social work and counseling manager for hospice. "They talked about how hard it has been, but also expressed gratitude for how the hospice team supported their loved one and family." 
Throughout the year, bereavement support groups and services of remembrance help family members through the grieving process. Events that bring groups of people together have been put on hold during the COVID-19 pandemic, so the hospice team has found other ways to connect with community members who have recently lost a loved one.
"Rituals are often a comfort to families who are dealing with grief and planting a bush or creating a rock garden can be an opportunity to memorialize or honor a loved one," Knight said.  
Children who took part in the event received books that promote healing and understanding.
"Books can put things into words that help children process loss, and they can jumpstart meaningful conversations," hospice Director Kim Ross said.
The books, butterfly bushes and rock garden kits were provided through the Spartanburg Regional Foundation's Hospice Special Needs Fund.
Knight said about 50 community members took part in the program. Spartanburg Regional Hospice hosted a porch pick-up in June, as well, and is looking to hold another one this winter.
In the meantime, Knight said, the hospice team continues to support families in the bereavement program by making phone calls and sending cards and letters. While in-person support groups are on hold because of the pandemic, she said that virtual meetings are being offered.
In addition to supporting bereavement programs, the Hospice Special Needs Fund enables caregivers to go the extra mile for patients in the hospice program. For patients facing financial hardship, the fund can be used to cover the cost of utility bills or medicines. The hospice team also uses the fund to help families create special occasions that bring loved ones together and build memories.
"Donors to the fund make a difference for patients and families each day," Ross said.
You can support the Hospice Special Needs Fund by making an online donation:  https://www.regionalfoundation.com/ways-give/hospice.