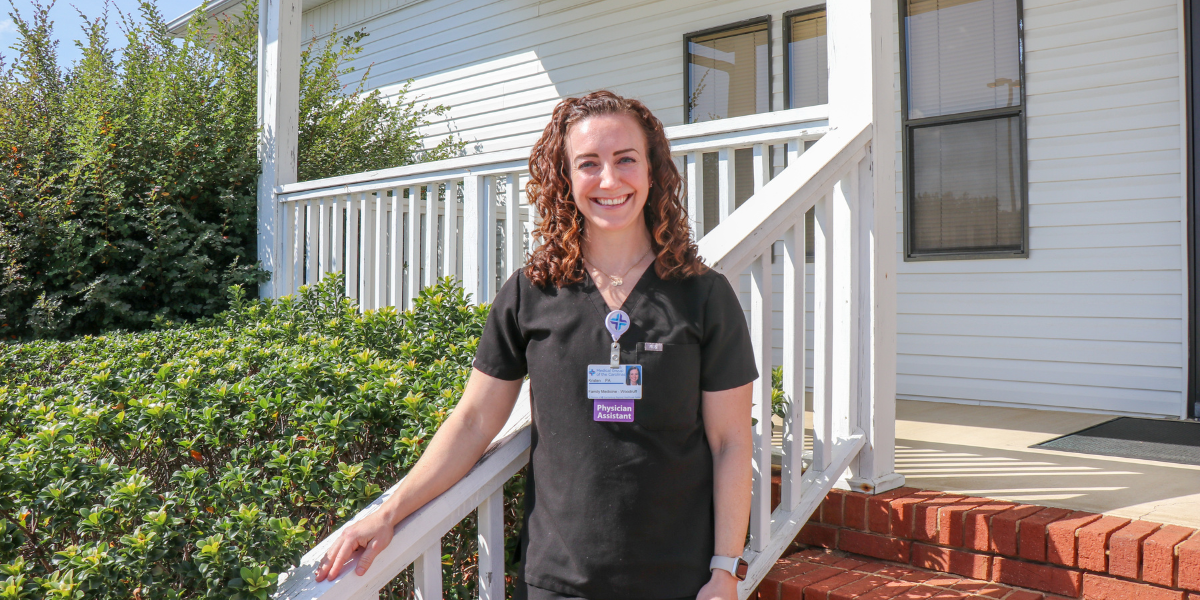 Physician Assistant Kristen Mosley enjoys relational approach that family medicine provides
Kristen Mosley knew she wanted to pursue a career as a physician assistant before finishing high school, after having the opportunity to shadow a surgery physician assistant in a mentorship program. 
After graduating from the Medical University of South Carolina, Mosley worked as an emergency center physician assistant in both Greenville and Spartanburg. She also had the chance to work in Cherokee and Union counties, where she got a feel for working in a rural setting.   
"I really do enjoy a more rural, community-based setting to practice medicine," said Mosley. 
Mosley appreciates the opportunity to form a relationship with her patients. Through her role as a family medicine physician assistant, she has been able to listen to her patients' needs and concerns before developing an action plan.  
"I have found that my patients appreciate having someone in their area who can take care of them and meet their needs where they are," Mosley said. 
For Mosley, the opportunity to get to know her patients personally helps to establish a level of trust that is needed in the discussion and treatment of any medical issues. 
Mosley is now accepting new patients with same-day or next-day availability at Medical Group of the Carolinas – Family Medicine – Woodruff, where she is a family medicine physician assistant.  
"I like the fact that working in family medicine gives me the opportunity to educate my patients about their medical conditions and how it affects their overall health," Mosley said. 
Mosley enjoys being able to look at the bigger picture of patients' overall health, as opposed to focusing on one acute problem. 
"I feel that having the knowledge about one's health or medical condition really empowers patients, and I want to provide them with the tools and resources they need to optimize their health as much as possible," Mosley said. 
How Healthy Lifestyle Changes Promote Disease Prevention 
While transitioning into a role in family medicine, Mosley has also been able to express her passion for healthy lifestyles can help prevent or manage diseases like type 2 diabetes, obesity and hypertension. 
"Sometimes, there could be other factors at play that may require a more medical approach, but a lot of times, these diseases could be controlled or significantly improved through lifestyle modification," she said. 
"I really like to counsel my patients on how to go about making simple little changes that can add up to making a big difference over time," said Mosley. 
Mosley wants to help her patients identify the underlying issues that they feel are holding them back from being able to make lasting lifestyle changes. 
In her free time, Mosley enjoys spending time with her husband and their two sons outside and at the park. She also enjoys participating in CrossFit, a high-intensity training workout program.  
To schedule an appointment with Mosley, call Medical Group of the Carolinas – Family Medicine – Woodruff at 864-560-5190.