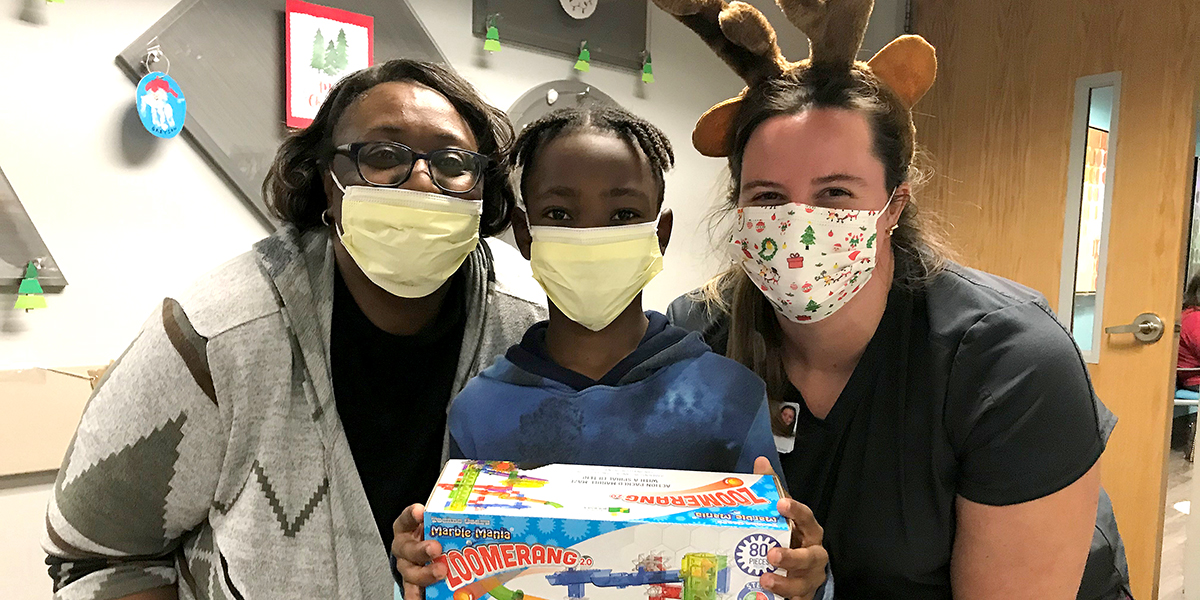 Philanthropists help create special Christmas celebration for pediatric rehab patients
One by one, pediatric rehab patients entered "Santa's Workshop."  
The "workshop," located in in the Spartanburg Regional Pediatric Rehabilitation clinic, was filled with colorfully wrapped presents in stacks halfway to the ceiling, thanks to Judy and Charlie Bradshaw. 
The Bradshaws funded the gifts, which included age-appropriate toys, dolls, puzzles and games that promote improved motor skills, language development or other needs. Physical, occupational and speech therapists selected each gift for their young patients.  
"Over the years, we have loved seeing the smiles on the faces of the children when they receive their gift, said Charlie. "It is just wonderful."  
Judy added, "The blessing is ours." 
The Bradshaws' generosity has benefited thousands of local children in need over the years.  
Charlie established the Judy Bradshaw Pediatric Rehab Fund to honor Judy and support her compassion for children. The fund provides support by helping to cover the cost of specialized equipment or other at-home patient needs that may not be covered by insurance.  
And for more than 20 years, it has funded a Christmas party for pediatric rehab patients and their families. Prior to the pandemic, the annual event was held at the Spartanburg Regional Outpatient Center.  
The last two Christmases, the festivities transformed from a party to celebratory activities incorporated during the children's weekly visits to the pediatric rehab clinic at Spartanburg Medical Center – Church Street Campus. 
Holiday-themed games, like "snowball toss," were incorporated to each therapy session. Following the appointment, each child was accompanied by their parent or guardian for a celebration.  
The child sat for an individual, holiday-themed portrait. They also decorated gingerbread cookies with their therapists, and then received their gift, which was purchased especially for them.  
Eight-year-old Raylen Lyles looked forward to the celebration all week, said his grandmother, Roberta Lyles.  
Raylen's specially selected gift was a three-dimensional puzzle. He enthusiastically unwrapped the box and held it up for his grandmother to see.  
Lyles said she was grateful for the Christmas celebration – and for all the ways the pediatric rehab program has helped Raylen.  
"They have done so much for him," she said.  
"The generosity of the Bradshaws truly makes a difference for these children," Pediatric Rehab Manager Sharon Caston said. "On behalf of our team, I want to say how grateful we are for all that they do." 
You can support pediatric programs and children in need at https://www.regionalfoundation.com/ways-give/families.