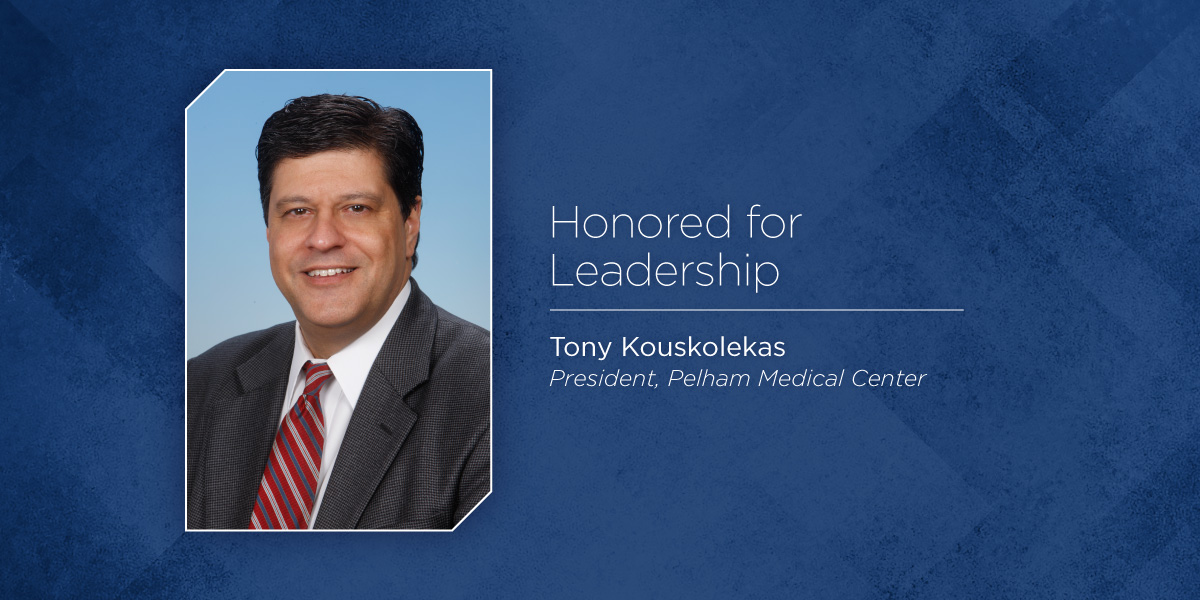 Pelham Medical Center president honored for leadership
Community engagement and leadership of a fast-growing hospital has resulted in Tony Kouskolekas's being named one of the 50 Most Influential People of 2016 by Greenville Business Magazine.                   
Since Kouskolekas stepped into the role as president of Pelham Medical Center in 2012, growth and economic development of the Greer community have been at the forefront of his goals.
Pelham Medical Center (PMC), a division of Spartanburg Regional Healthcare System located in Greer, has flourished during the last four years. And throughout that growth, PMC president Tony Kouskolekas has been at the helm. Since Tony became president in 2012, the hospital's name changed from Village Hospital to Pelham Medical Center in 2014. A Gibbs Cancer Center & Research Institute opened its doors on the Pelham Medical Center campus in 2013, and plans now are underway for a new multi-disciplinary cancer center slated to open in 2018.
Also under Tony's leadership, Pelham Medical Center became the only certified stroke center in Greer and is recognized for its low emergency room wait times.
Outside of the hospital walls, Tony was instrumental in the opening of the new Immediate Care Center — Pelham located off Pelham Road in Greer in the summer of 2016 and a family medicine practice located at the Cliffs in Travelers Rest in fall of 2015.
Contributing to the Greer and Greenville communities is important to Tony, and he has served on multiple community organizations:
Greater Greer Chamber of Commerce Board member, Board Chair in 2016
American Heart Association Heart Walk Executive Leadership Team
Greater Greer Education Foundation Board member
Greer Middle College Charter High School Board member
LiveWell Greenville Advisory Board
Senior Action Board Member
Greer Partnership for Tomorrow Board member
Also under Tony's lead, Pelham Medical Center has received multiple recognitions and designations:
Pelham Medical Center was chosen as one of 100 companies and organizations named The Best Places to Work in Healthcare for 2016 by Modern Healthcare.
In 2016, BlueCross BlueShield of South Carolina recognized Pelham Medical Center as a Blue Distinction Center in spine surgery.
Pelham Medical Center was recognized by the South Carolina Hospital Association's (SCHA) Working Well initiative and Prevention Partners for achieving the highest standard of tobacco-free excellence by creating a tobacco-free workplace and providing high-quality tobacco cessation programs for employees.
In 2015 and 2016, Pelham Medical Center was recognized as one of the Most Wired Hospitals and Health Systems for 2015 and 2016 from Hospitals & Health Networks. The recognition evaluates how organizations are leveraging IT to improve performance for value-based healthcare.
Pelham Medical Center voted "Best of the Upstate" by readers of The Greenville News in 2014.
The 50 Most Influential People of 2016 are nominated from Greenville Business Magazine readers and solicitations from local leaders in Greenville County. The magazine's staff researches community changes within the past year and leaders within the community such as, government, education, healthcare, financial institutions, technology, corporations, arts and non-profits.