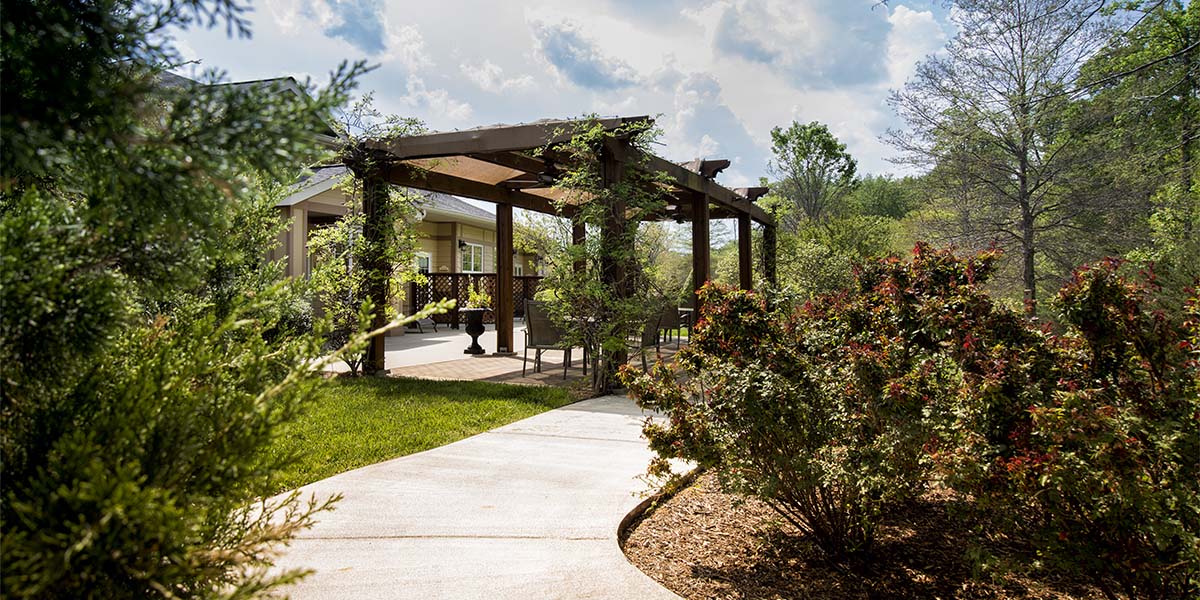 Peace and serenity
The Spartanburg Regional Hospice Home was conceived as a peaceful place, surrounded by the beauty and serenity of nature. Patient suites have French doors that open to private patios facing the lawn and garden area behind the home. Patients and families can often be found getting fresh air, taking a break, or relaxing under the arbor. 
The Spartanburg Regional Foundation is leading efforts to enhance the landscaping behind the hospice home. Grass will be planted, and there will be additional native flowers and shrubbery. Plans also call for upgrading existing structures and creating new tranquil areas for reflection.
"We believe this project is going to make our Hospice Home even more special and that families will really appreciate the added beauty of its surroundings," said Shelly Sinclair, director of philanthropy and hospice liaison for Spartanburg Regional Foundation.
David Church, vice president of oncology and support services at Spartanburg Regional Healthcare System, said that these improvements will help fulfill the original vision planners had in mind for the hospice home more than 10 years ago.
"We didn't want it to look institutional. We wanted a setting where there were birds and trees and flowers," said Church, who played a central role in the development of the hospice home.
Another key figure at that time was Spartanburg attorney Jim Thompson, who served alongside Marsha Gibbs and the late Katie Hodge as a tri-chair of the capital campaign to raise money for the project.
"It was envisioned from the beginning that we would create for patients and families an enclave where there could be peaceful and beautiful serenity," Thompson said.
According to Thompson and Church, numerous sites around the county were considered for the facility.
"It was a requirement that we would have a connection to nature," Thompson said.
Leaders settled on a piece of property near Asheville Highway, a few miles north of Spartanburg Medical Center. It was heavily wooded and came with an added bonus: The property is adjacent to the Upper Chinquapin Greenway, owned and maintained by the Spartanburg Area Conservancy (SPACE).
The location of the greenway means that the Spartanburg Regional Hospice Home will have a permanent buffer from I-585 and potential development. It also connects with a walking path on the Hospice Home property, giving families and other visitors access to an additional 1.6 mile walking trail.
SPACE executive director Andrew Waters said the adjoining properties make for a good partnership.
"Having had someone in my family in hospice, it's meaningful to me to be able to provide a place where family members can go to connect with nature," he said.
While the hospice home site turned out to be nearly ideal, it did require significant grading and a number of trees were cleared. The area was landscaped and, as Church said, "we rebuilt the forest" with newly planted trees and other plants.
"We built (a setting) we could afford," Church said. "We put the bones of it in place with the idea that it could grow."
Now is the time to grow, said Kim Ross, director of Spartanburg Regional Hospice and Palliative Care.
"This will further enrich the exterior space surrounding our Hospice Home. The original design was thoughtfully planned to allow for enhancement and expansion," she said.
Horticulturalist Stewart Winslow, who serves on the Spartanburg Regional Foundation's Hospice Division board, is consulting on the project. He is working with planners to select plants and a landscape design that will be both attractive and sustainable.
"I am grateful to those who contribute time, talent and funding," Ross said. "We are thrilled to have the opportunity to make the space even better for our patients, families and associates."