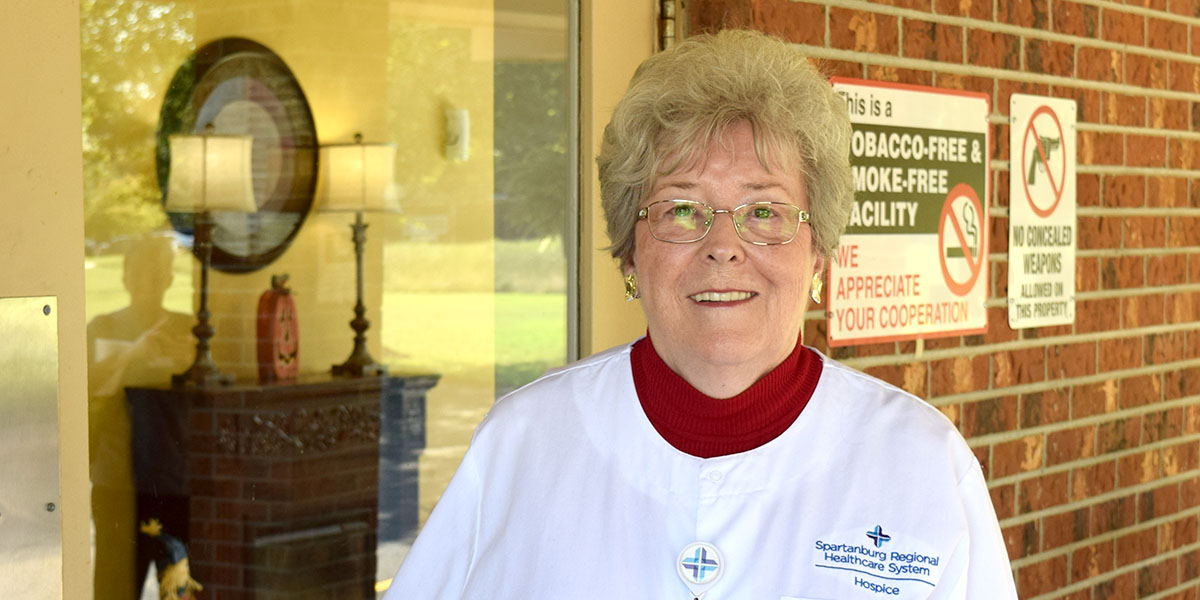 Patient visits and "fidget quilts"
For nearly 20 years, Linda Garrett has been doing her part to make things better for Spartanburg Regional Hospice patients and their families. Inspired by the care her mother received as a hospice patient, Garrett began volunteering in 1999.
She began as a volunteer with patients in their homes and went on to assist at the Spartanburg Regional Hospice Home. However, family commitments made it difficult for Garrett, who lives in Woodruff with her husband Walter, to keep up her schedule at the hospice home. So she now visits with patients who are residents of the nearby Woodruff Manor nursing facility.
She believes the patients appreciate her presence – even those who suffer dementia or are have limited awareness. They respond to her holding their hand or patting their head. Others are alert and enjoy talking – mostly about their families and life experiences.
"I like that I can learn about what things were like when they were younger," Garrett said. "And some of them have a really good sense of humor."
In addition to providing attention and fellowship for patients, volunteers can serve as an additional set of eyes and ears for the hospice staff. Garrett said she listens to the patients she visits for any requests or needs they might have. She reports back to hospice caregivers on anything she thinks might be helpful for patients.
Visiting Woodruff Manor isn't the only way Garrett supports Spartanburg Regional Hospice patients. She creates specially-made "fidget quilts" for Alzheimer's patients. These quilts come with attached objects such as zippers, buttons, and pockets. The idea is to give dementia patients something soothing to do with their hands when they become agitated or restless.
"Her quilts are really remarkable," said Kelly Hall, volunteer manager with Spartanburg Regional Hospice. "She is extremely talented and puts a great deal of work into them."
Garrett makes 10 to 12 of the quilts a year, and Hall works with hospice staff to get them to Alzheimer's patients.
Giving back comes naturally to Garrett.
"My parents were like that, so I guess it's sort of heredity," she said. "I was brought up to have a desire to help people."
To become a volunteer with Spartanburg Regional Hospice, contact Kelly Hall at 864-560-5636.