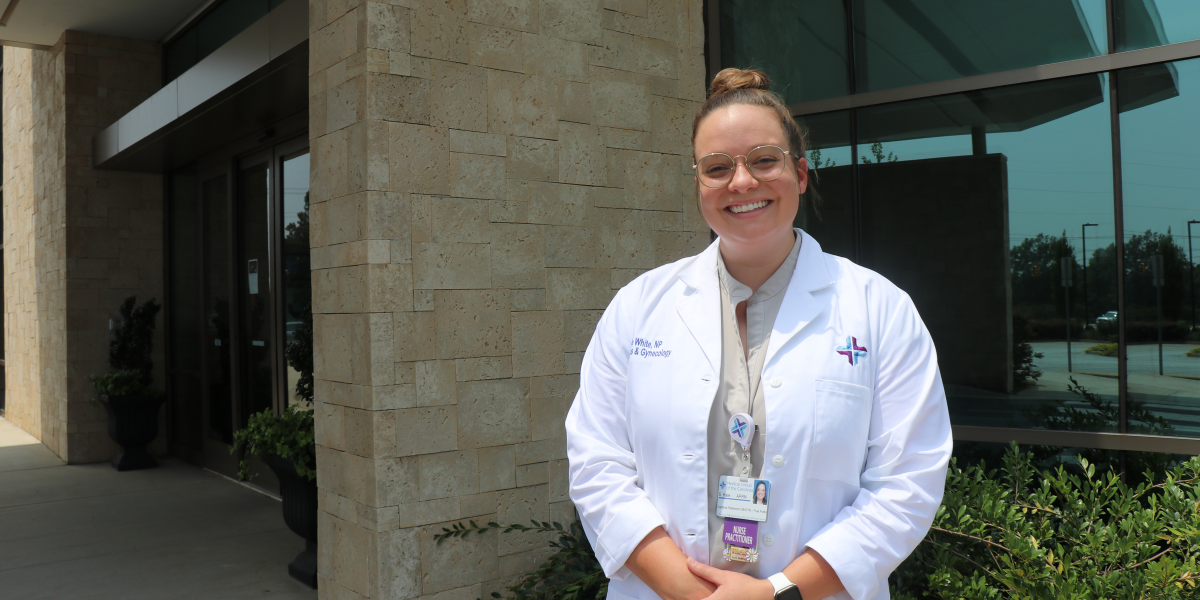 Nurse practitioner Kate White serves her patients with an individualized approach
Throughout her nursing career in the ICU, postpartum unit and lactation services, Kate White knew she was meant to specialize in women's health.  
"A lot of the things we focus on, like sexual health, reproductive health, pregnancy and menopause, are all things that I am passionate about," White said. 
Her passion brought her to Greenville, where White is now practicing as a women's health nurse practitioner at Medical Group of the Carolinas – Carolina Piedmont OB/GYN – Five Forks.  
White, a Georgia native, was drawn to nursing because of the patient-oriented environment. Being able to provide care to people in their most vulnerable state, especially in women's health, solidified her calling and pushed her to become a board-certified nurse practitioner. 
Taking an individualized approach to patient care 
When it comes to caring for her patients, White takes an individualized approach.  
"Nurse practitioners serve a different role within this system. Our role is based on heavy communication, and I make sure to prioritize that in my schedule," White said. "Everyone has different goals and wants different things from their provider." 
She wants her patients to know they're in the driver's seat and their voices matter. 
"My job is to give people the information they need to make decisions about their bodies," White said.  
Treating patients with Polycystic Ovary Syndrome 
While White loves serving patients in all areas of women's health, she is particularly interested in polycystic ovary syndrome (PCOS).  
Polycystic ovary syndrome is a hormonal disorder in females of reproductive age. This condition affects six to 12 percent of women in the U.S. alone. Common symptoms of PCOS can include irregular menstrual cycles, fertility problems and excess body hair.  
PCOS affects the metabolic system, the endocrine system, the reproductive system and more. 
"It is so complex, and it's not the same for everyone, so it's important to get to the bottom of what we can do to manage that particular patient's PCOS appropriately," said White. 
Seeing and being able to educate younger patients drives White to develop plans for PCOS management in her appointments.  
"A lot of women realize this is something that affects them when they are starting to have periods and coming to the reproductive stage of their lives," she shared. 
"I love teaching, more so than procedures or interventions, so that's one of my favorite parts."  
To schedule an appointment with Kate, call Medical Group of the Carolinas – Carolina Piedmont OB/GYN – Five Forks at 864-849-9466.