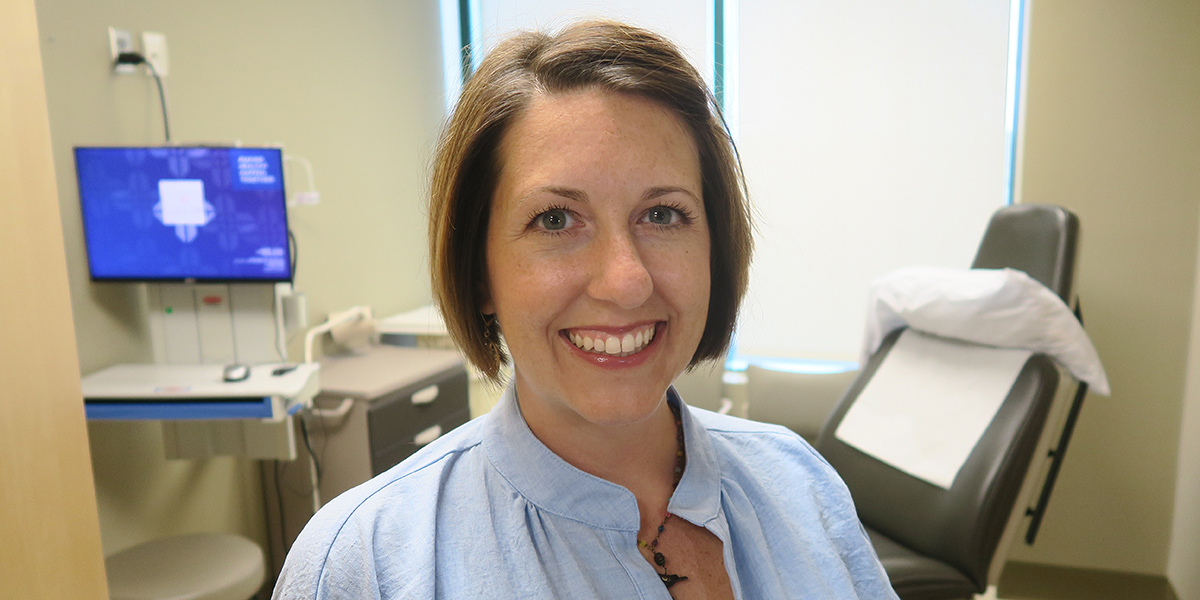 Nurse practitioner finds her dream job at Gibbs Cancer Center
Ashley Bernier, NP, loves caring for others, both professionally and personally.
After having her third child in March, Bernier took up gardening during her maternity leave. She volunteered to deliver meals to the elderly even while taking a year off from work as her family settled into living in Upstate South Carolina.
"I made my kids do it with me," Bernier said. "We delivered twice a week. I wanted them to know how rewarding it is to care for someone else."
These days, she's caring for patients at Gibbs Cancer Center, where she works as a Women's Healthcare Nurse Practitioner as part of Spartanburg Medical Center – Gynecologic Oncology – Spartanburg. 
Bernier works with radiological and gynecological oncologists to treat patients dealing with cancers of a woman's reproductive organs.
"A nurse practitioner is an extension of the physician," Bernier said. "We provide extra care for the patient."
She prides herself on the role she plays in helping patients understand what they are going through.
"Our patients need a lot of information and care," Bernier said. "I'm really good at talking to patients in a way that makes sense."
The road to SC
The New York native's family moved to Atlanta when she was in high school.
She earned her Master of Science in nursing from Emory University in Atlanta and worked as an intensive care nurse before going into women's health.
She returned to New York as a travel nurse for three years, then lived in Knoxville, Tenn., for almost a decade. It's there she began her work as a nurse practitioner in women's health.
She moved to Upstate South Carolina three years ago when her husband took a job in the area.
Today, her work at Gibbs Cancer Center ties together her career passions.
"Being a nurse practitioner in gynecology oncology really brings together my experiences as an ICU nurse and my experience in women's health," Bernier said.
She calls working in gynecologic oncology "a niche inside of a niche," and jumped at the chance to work at Gibbs Cancer Center.
"I waited a long time for this job to come open," Bernier said. "The radiation and gynecological oncologists work well together. It's nice for everything to be in one place."
The nurse practitioner cherishes the bonds she builds with her patients.
"I enjoy being a part of my patients' lives," Bernier said. "I love the relationships that I build with my patients."