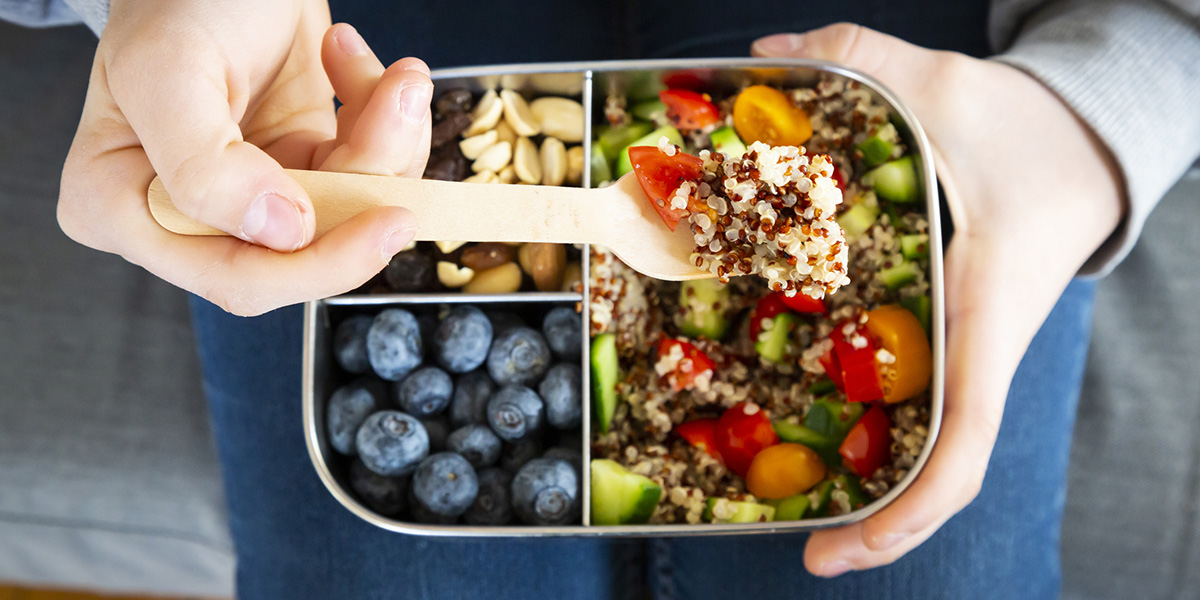 The not-so-secret life of superfoods: Pelham Medical Center dietitian answers questions
Superfoods don't have secret identities, but they can still be pretty confusing. How much is too much? Are decaf and dairy-free just as super? How can I keep superfoods in my diet while I'm traveling?
Jennifer Almy, MS, RD, LD, answered these questions and more during a recent webinar.
Below are highlights of the question-and-answer portion of the presentation.
How many berries should you eat per day?
Almy: I would say about a half a cup each day is fine. You could have a little bit more. As long as you're including them, I'm not too picky about the amounts.
Are there any particular nuts that are better for you or have better benefits than others?
Almy: They're all good. Some have higher fat levels or fat contents, but pistachios, cashews, almonds tend to be the ones that are a little bit better for you. So maybe focus on those, but if you're eating raw nuts, like raw mixed nuts, if you get them that way at the grocery store, you should be fine.
Do you need to grind up flax seeds for them to work best?
Almy: Yes, usually you do. Flax seeds work best when they are ground and including them in smoothies is probably one of the best ways to add them to your diet.
Do decaf coffee and decaf green tea still have the same benefits as caffeinated?
Almy: Yes, they really do. You're just missing the caffeine, but they still have any of the other phytochemicals …
I tend to drink some decaf green tea at night. I don't really want it at 3 o'clock or in the middle of the afternoon, so I tend to have a cup of the decaf at night, so I know I'm getting those phytochemicals without the caffeine.
In terms of yogurt, do you still get the same benefits of yogurt if it's dairy free?
Almy: Yes, you do. You're just missing the lactose component, which is just a sugar. So you are. You're getting all the other benefits. You're getting the proteins and all the other good stuff.
Is it possible to overeat superfoods?
Almy: Oxalates are a chemical that will inhibit calcium absorption … So If you have a history of kidney stones or possibly are concerned about kidney stone development, you'll want to avoid large amounts of spinach or quinoa.
But something like berries or oats, yogurt, those you really don't have to limit. You don't want to overdo anything. You want to eat everything in moderation.
So having these superfoods two, three, four times a week is great. If you have one or two superfoods in your diet each day, that is great. Variety is the spice of life, and you want to kind of change it up and eat different things and have things in moderation. That's my usual mantra and what I try to live by.
Do you have any suggestions for eating superfoods while traveling?
Almy: Plan ahead. If you know you're going to be traveling or you're going to be out and about, and you know the only place you're going to be able to stop is a McDonald's or some other fast-food place, plan ahead.
Plan some snacks, get a great water bottle, get a good cooler bag, pack some nuts and some fruits and yogurt as snacks. Those are all amazing things.
Pre-pack a salad with some spinach or kale or any of the other things I mentioned, but just planning ahead so that your only option is not to stop at a fast-food restaurant or somewhere like a gas station where you have to grab something.
And if you do, and you have some snacks with you, then maybe you can just get that grilled chicken sandwich instead of the fried chicken sandwich and fries and a soda. So you can make better choices when you're out and about. So just plan ahead.
Talk to your doctor about whether Spartanburg Regional's nutrition services could help you. Looking for a primary care provider? "Find a Doctor" at our website.