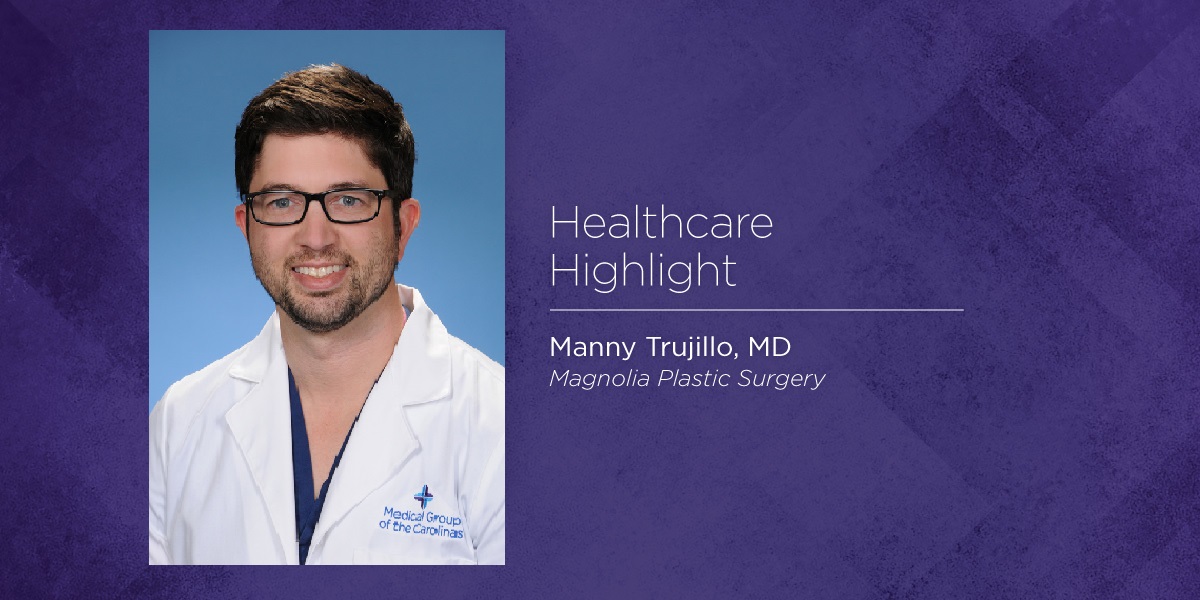 No boundaries with plastic surgery
Manny Trujillo, MD, has always wanted to take care of living things.
It started in high school when he worked at a veterinarian's office. 
"I originally wanted to become a veterinarian," he said. "Then someone asked me, 'Why not human medicine?' suggesting I could make a greater impact there. I think working at the vet was a good introduction into medicine."
Now the newest plastic surgeon with Medical Group of the Carolinas — Magnolia Plastic Surgery, Dr. Trujillo first started out with an interest in cardiac surgery. But the doctor grew passionate about plastic surgery during his residency at Spartanburg Medical Center.
During his general surgery residency, Dr. Trujillo worked with Magnolia Plastic Surgery's lead surgeon, Michael Orseck, MD, who helped deepen his interest for the field.
"I was greatly influenced by Dr. Orseck," he said. "I saw firsthand the breadth of reconstructive and aesthetic surgery and was drawn to the complexity of the surgical challenges."
With Dr. Orseck, Dr. Trujillo performed several DIEP flap breast reconstructions for breast cancer patients. This procedure uses skin and fat that is removed from the lower abdomen and transferred to the chest.
Dr. Trujillo has professional interests that include plastic and reconstructive surgery, breast reconstruction, lower extremity reconstruction, and aesthetic surgery. He is also experienced in microsurgery.
Microsurgery is a field that reestablishes continuity and blood flow to small, severed nerves and vessels. It has made a major impact on the potential to restore form and function to individuals impaired by trauma, cancer and congenital defects.
"Plastic surgery is unique because there are no boundaries with age or areas of the body — you can help children to senior adults," Dr Trujillo said. "Plastic surgery is unique because there can be multiple solutions and all of them can be correct."
For a plastic surgery consultation, please call Magnolia Plastic Surgery at 864-849-9330.
About Dr. Trujillo
Manuel Trujillo, MD, received his medical degree from the Medical College of Georgia. His performed his general residency at Spartanburg Medical Center and did his plastic and reconstructive surgery fellowship at Emory Healthcare in Atlanta, Ga.