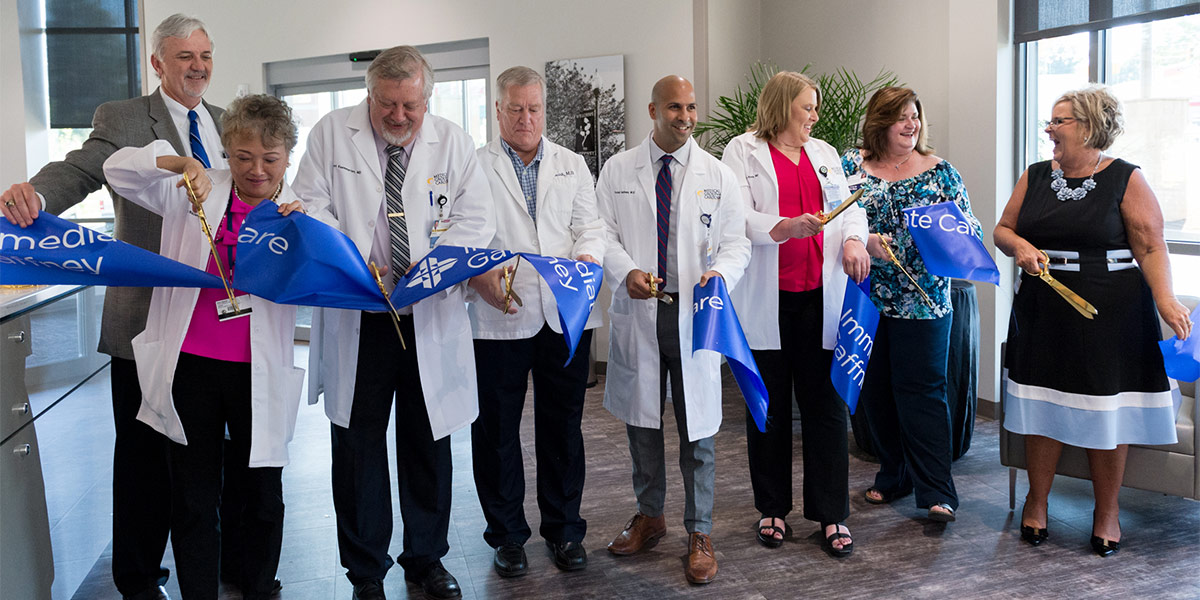 New Immediate Care Center opens in Gaffney
Gaffney's first urgent care facility opens Monday, June 5. Located on Floyd Baker Boulevard, Immediate Care Center – Gaffney is an innovative hybrid of both urgent and primary care.
A division of Spartanburg Regional Healthcare System, the new immediate care center will provide more healthcare options to the 55,000 people in Cherokee County and surrounding areas.
The staff and physicians of Medical Group of the Carolinas – Family Medicine – Gaffney will transition to Immediate Care Center—Gaffney and see current patients at the new practice. The new practice will offer an array of healthcare services including primary, urgent and specialty care.
"This new immediate care center will provide increased access and convenience for Gaffney residents in need of urgent or primary care services," said Mark Aycock, chief operating officer for Spartanburg Regional Healthcare System. "Not only can patients go to an immediate care center for an unexpected illness or injury, they can also use the Immediate Care Center – Gaffney as their medical home."
The Gaffney facility is the fourth immediate care center. There are currently two immediate care centers in Spartanburg and a third on Pelham Road in Greenville.
A total of 25 to 30 staff members will work at the immediate care center including five physicians. Robert Kaemmerlin, MD; Marilu Nazareno, MD; and Julia Roos, MD, are moving their practice from MGC—Family Medicine—Gaffney to MGC—Immediate Care Center—Gaffney. Joining the three existing physicians are new physicians Krunal Jethwa, MD, and Steven Smith, MD.
This new facility brings an investment of $4 million to Gaffney, including the purchase of land, equipment and construction of the facility, which was completed spring 2017.
SRHS's constantly growing physician group encompasses more 96 practice locations including 29 patient-focused specialties, at 54 locations with more than 300 physicians serving seven counties.
The new Immediate Care Center—Gaffney has walk-in hours for acute and urgent needs. Urgent care hours are Monday through Friday 7 a.m. to 9 p.m. and Saturday and Sunday 8 a.m. to 5 p.m. with no appointment necessary. Primary care is available by appointment only Monday through Friday 7 a.m. to 5 p.m. The building is 13,000 square feet and includes primary and urgent care, laboratory and X-ray. The facility will have 12 exam rooms, two procedure rooms and five specialty care rooms.