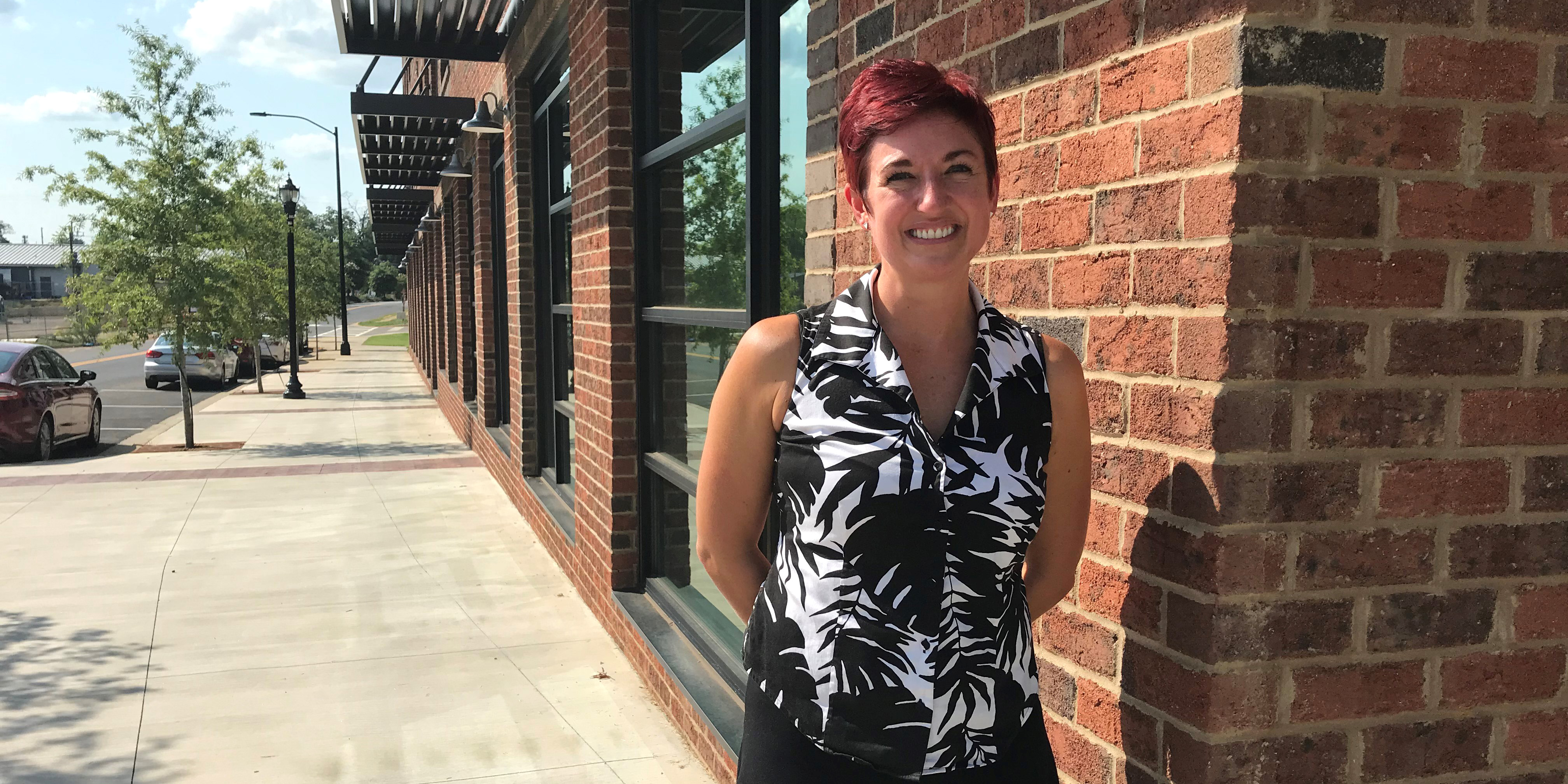 Summer Tebalt with AccessHealth stands outside the new facility located in the Northside development.
New facility boost for AccessHealth and community
Exciting things are happening in Spartanburg's Northside community.
In the area, construction began on the new Dr. T.K. Gregg Community Center, mixed-income apartments were developed, and there is an expanded presence by Edward Via College of Osteopathic Medicine (VCOM) and Wofford College.
Most recently, the new AccessHealth Spartanburg office was completed at the Northside Station on Howard Street. A partner of Spartanburg Regional Healthcare System, AccessHealth works with a network of physicians and other partners to provide care for those who lack insurance.
"Our mission is to improve the health and wellness of residents of the Northside community, and AccessHealth helps to fill an immediate and critical need," said Michael Williamson, CEO of the Northside Development Group, which leads strategic investments in redevelopment of the neighborhood. 
The presence of AccessHealth benefits the Northside community and patients throughout our community, Director Summer Tebalt said.
"We're centrally located and our office is on the City of Spartanburg bus line," she said. "Also, we have a history of collaboration with community partners, and this will make it even easier to work with them."
Other occupants of the Northside Station include BirthMatters, the Northside Development Group and VCOM, which has plans for a new on-site clinic. The Northside Station building also features about 20 apartments, as well as dormitory space for Wofford College students.
"It's really exciting to see everything come together," Tebalt said. "It's going to be a true hub of economic activity and resources to promote health and support those in need."
Tebalt also believes the investment in the new facility sends an important message to AccessHealth clients: the health system and community care about the needs of low-income patients.
"I think it's quite a statement for our health system to make a commitment to the Northside neighborhood and to having this beautiful space that patients will feel good about visiting," she said.
AccessHealth Spartanburg is a grant-funded program. It receives major support from The Duke Endowment. Donations to Spartanburg Regional Foundation also support AccessHealth.  
Tebalt is proud of how far AccessHealth has come in the 10 years since its founding. The program has grown to serve uninsured residents in Cherokee and Union counties and currently has a roster of about 3,000 patients. Tebalt believes her team of nurses, social workers and community health workers are ready to take on new opportunities and challenges, including an uptick of requests for support due to COVID-19.
"Since we've opened again, we've had a waiting list of people wanting to enroll as they or their family members have lost jobs or had hours cut and they've lost health insurance," she said. "We are definitely in demand as far as people needing to get connected to health providers."
Learn more about AccessHealth Spartanburg at https://www.accesshealthspartanburg.org/.
Donate to Spartanburg Regional Foundation's AccessHealth Spartanburg Fund at https://regionalfoundation.com/donate-now/community-health/.