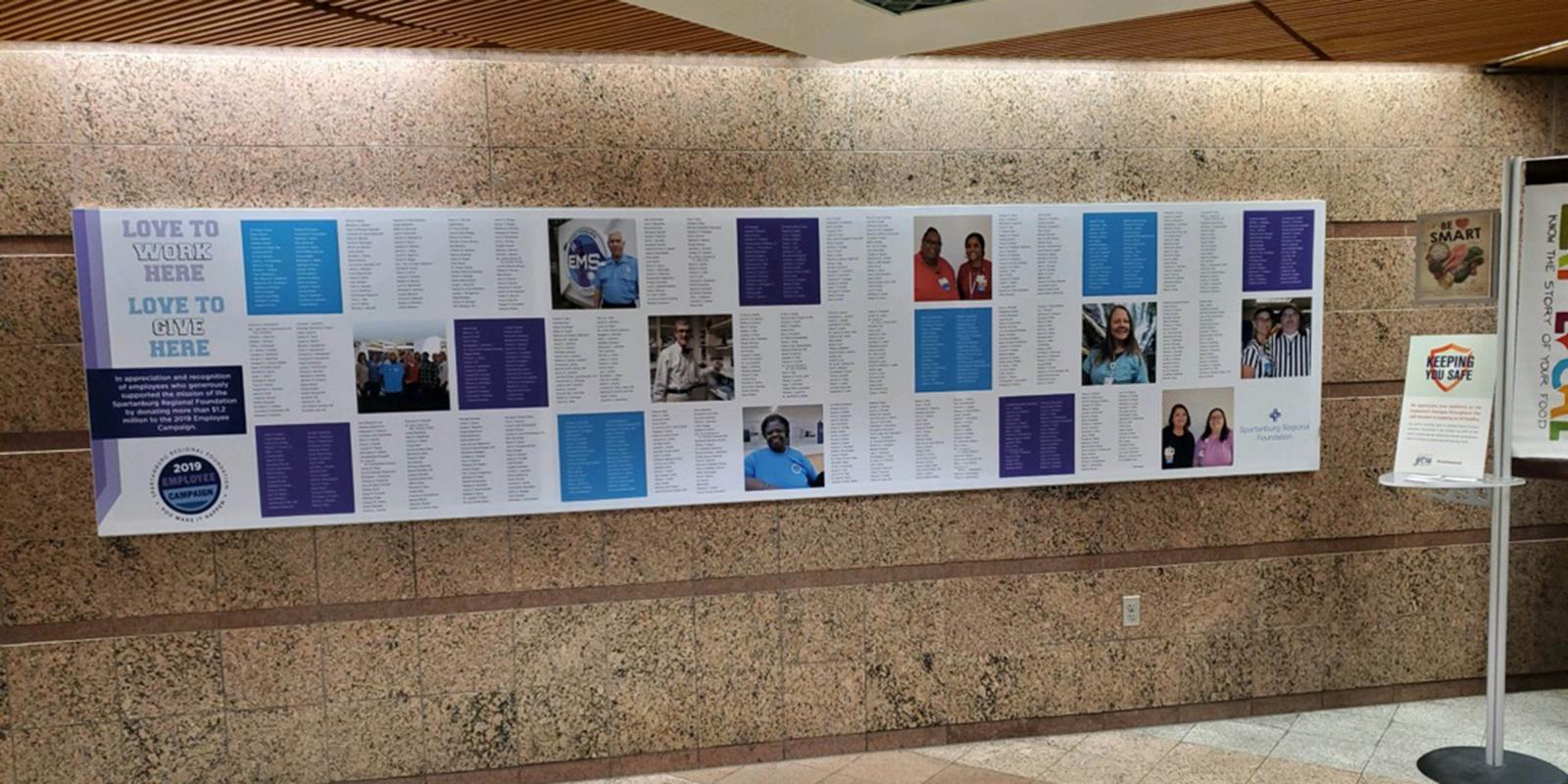 New donor walls highlight employee giving
In 2019, more than 2,000 Spartanburg Regional associates made donations to the Spartanburg Regional Foundation. Their names are now featured on walls at five hospital campuses in the Spartanburg Regional Healthcare System: Spartanburg Medical Center, Pelham Medical Center, Cherokee Medical Center, Union Medical Center, and Spartanburg Medical Center – Mary Black Campus.
The Spartanburg Regional Foundation unveiled the newly designed employee donor walls earlier this spring.
"We are always pleased to have the opportunity to recognize and honor our employee donors. We believe these donor walls, displayed in prominent locations in these facilities, are a great way to let community members know how committed Spartanburg Regional staff members are to giving back," said Shelly Sinclair, director of philanthropy with the Spartanburg Regional Foundation.
Sinclair heads up the Foundation's annual employee campaign. She says Spartanburg Regional associates are among the most consistent and generous donors.
"One thing I've always said is that the community can be assured that employees of our health system not only work hard to provide top-notch care for patients, but they're also willing to support health and wellness through their monetary gifts," Sinclair remarked.
Donations to the Spartanburg Regional Foundation support direct assistance for financially qualifying patients, promote community education and preventative screenings, and fund staff training and facilities upgrades.
Sinclair believes the new donor walls will be an attractive addition to the hospital campuses. "We just wanted something bright and pleasing to the eyes that could match the décor of the buildings," she said, noting that the design will allow for updates to be made easily as new donor names are added each year.
With the addition of several new Spartanburg Regional campuses in recent years, Sinclair believes the donor walls will help raise the Foundation's visibility among associates and community members. She pointed out that the Foundation manages funds designated to support individual campuses as well as numerous departments and programs.
"We work with more than 80 funds, and this gives donors the opportunity to target their gifts to areas of need that they are most passionate about," she said.
Sinclair thanked the administrative and facilities teams at each of the campuses for helping with the placement of the employee donor walls. "As always, they were great to work with," she said. "We're grateful for their partnership in raising awareness about the importance of the Foundation and about the generosity of Spartanburg Regional team members."
To learn more about Spartanburg Regional Foundation, visit https://regionalfoundation.com.