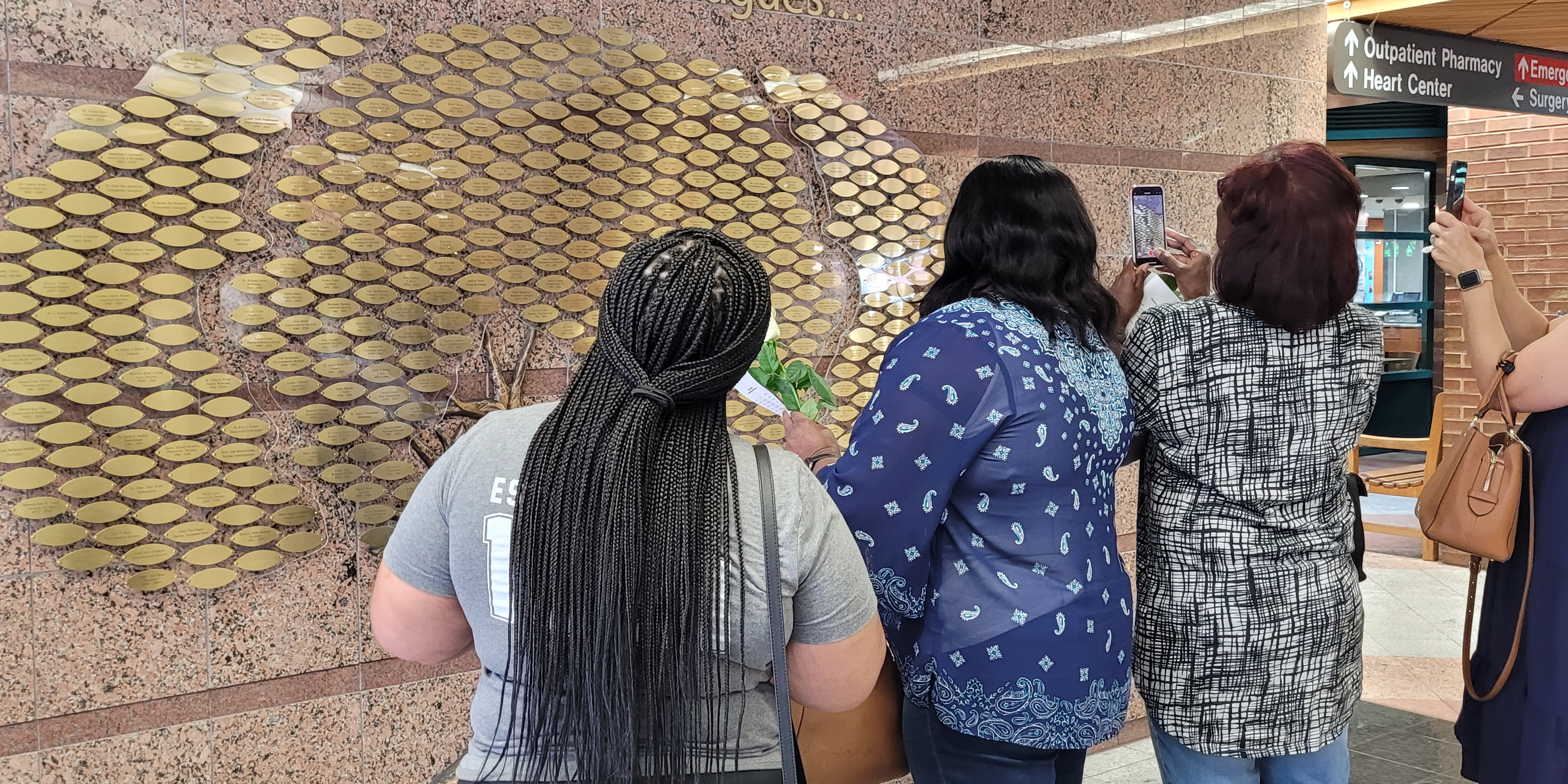 Memorial Tree honors lasting contributions of colleagues
For two years, communities haven't been able to gather as they once did.
"It has been hard," said the Rev. Carson Rogerson III, director of chaplaincy and pastoral education for Spartanburg Regional Healthcare System. "We haven't been able to do as much gathering; it has been really hard to share our stories and encourage one another."
On May 19, for the first time since 2019, Spartanburg Regional held the Memorial Tree Ceremony of Remembrance, which honors and remembers those who worked in the healthcare system and have passed away during the previous year. This year's ceremony included two services to remember those who died in 2020, 2021 and 2022.
Located in the main lobby of Spartanburg Medical Center, the Memorial Tree is an emblem of community, a touching display affixed with engraved leaves of honorees' names. It is also a reminder, Rogerson said.
"It does remind us that what we do has significant value and a lasting contribution that continues to be felt upon by the work of the folks who are here now," Rogerson said.
The event was held in the Spartanburg Medical Center chapel, followed by a viewing of the Memorial Tree with the newly engraved leaves.
The Memorial Tree Ceremony began in 2013 as a way to recognize long-term employees.
"It was very obvious from the first experience that this was something people needed," Rogerson said. "It was a way to acknowledge those folks who had contributed so much to the care of our patients, as well as to the connections we have with the community."
Rogerson said being back together to honor associates was a special time.
"For two-and-a-half years we've been struggling," he said. "We are grateful that the numbers are down so that we can continue this appreciation, celebration and remembrance."
Those remembered with the Memorial Tree this year include:
Tamara Arndt
James (Rob) Ashmore II
Lucille Barksdale
George "Rusty" Bethea
Barbara Black
Dr. Henry Butehorn Jr.
Cathy Bailey
Jane Boiter
Perry Wyman Cantrell
Robert Allen Cantrell
Sarah Caron
Brenda Cash
Jerry Casey
Geraldine "Ms. Geri" Clark
Oliver Clark – Pet Therapy
Margaret "Marge" Conlon
Peaches Crawford – Pet Therapy
Shakeliah C. Dewberry
John Perry Dodd
Elaine McNeely Dotherow
Susan Ebert
Katie Emmerth
Carolyn West Eubanks
James Jimmy Forbis
Dr. Michael Funderburk
Dr. John Joseph Gallagher
Emma Marie George
Kenneth Hall
Houston Miles Hallberg
Mary Harris
Janice Herndon
Vera Thomason Israel
Jerome Arthur James
Dr. Julian Josey
Dr. Henry G. Kelly Jr.
Dr. Andras Koser
Madeline Rene Lawter
Sonya Lipscomb         
Larry A. "Luke" McElrath
Jackalon Lee Mattison
Rosa Marlene Mayfield
Mary Burnett Mills
Annette Mizzell
Dr. William A. Morris
Dr. David Mullins
Patricia Nichols
Luther "Allen" Pendergrass
Mamie K. Pilgrim
Norma Sue Pitts
Faye E. Pruitt
Catherin Seaberg
Shirley Sellars
Dr. Garrett Snipes
Barbara Stauffer
Willie Stephens
Elizabeth "Betty" Bean Warlick
Charles "Nick" Wood
Nancy K. Worley
Pricilla Tanner Wydeman
Thomas "Tommy" R. Young III