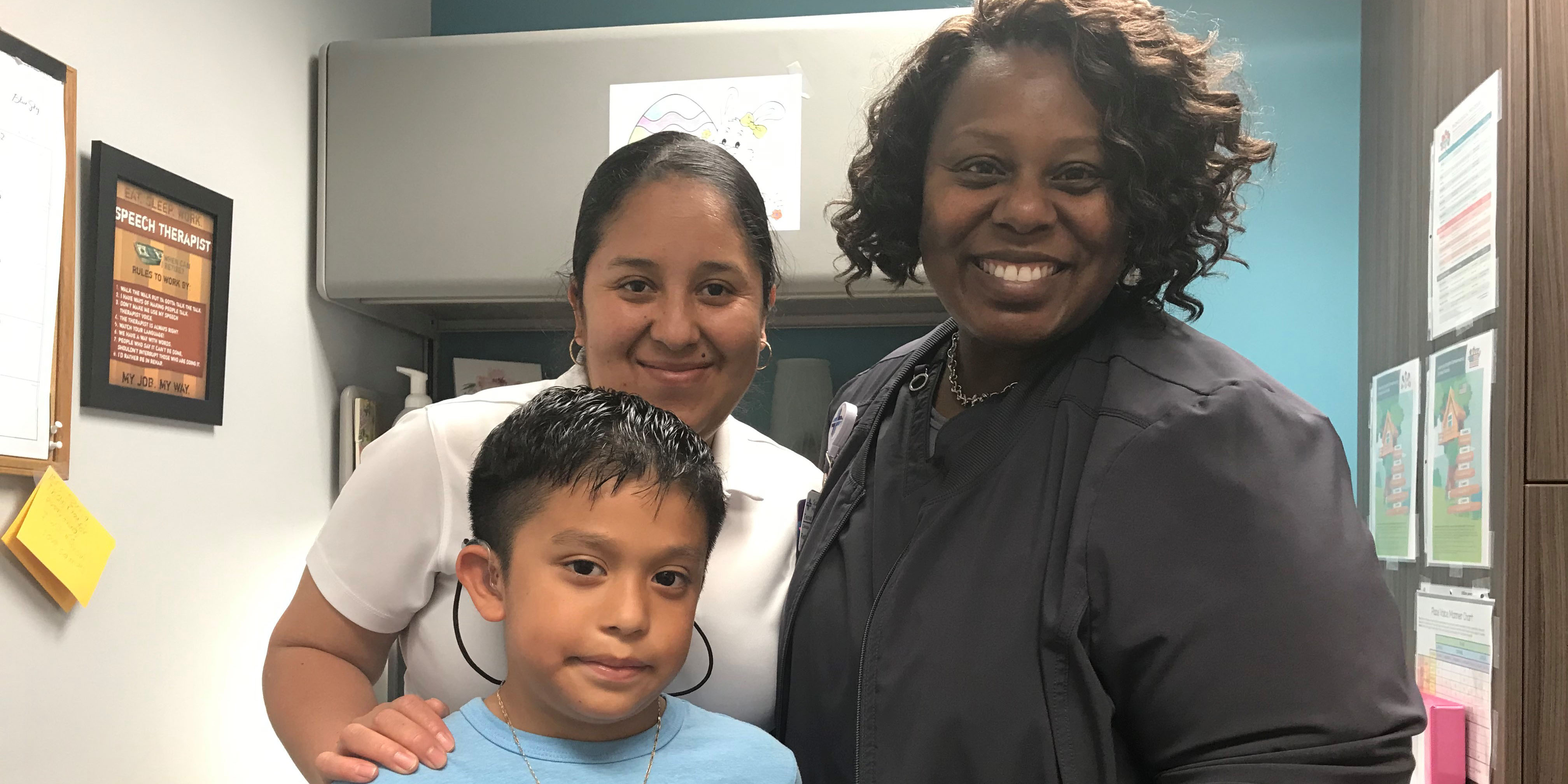 Making strides: Pediatric rehab patient benefits from auditory testing, therapy
Two years ago, when Irving Miranda was 6 years old, he was having a really hard time in school and at home. He had trouble focusing, following instructions, and his language development was delayed.  
His mother Jaquelin was encouraged to consider ADHD medicine.  
But Terria Miller, Irving's speech therapist with Spartanburg Regional's Pediatric Rehabilitation program, had a different idea. She didn't think his difficulty paying attention was due to a chemical imbalance in the brain. She thought he was struggling with auditory processing.   
"Working with kids over the years, it was just something I suspected with Irving," Miller said recently. "His hearing was fine. But he couldn't retain information – he was having trouble processing what he was hearing." 
She wanted Irving to undergo special testing that might diagnose the disorder and provide direction for treatment.  
The Bradshaw Pediatric Rehab Assistance Fund provided support to cover the testing costs.  
Judy Bradshaw is a local philanthropist with a heart for children in need. The fund she and her husband Charlie established provides support for diagnostic testing, equipment and home supplies patients need but may not be covered by insurance. The fund also supports an annual Christmas celebration that includes gifts that therapists handpick to help their patients meet developmental goals.  
"We are so grateful to have this fund to help go the extra mile for our patients," Miller said.  
As she suspected, testing revealed that Irving was struggling with auditory processing. He was prescribed hearing aids that help to block out background noise.  
He quickly began to make strides in school. He became more engaged with family members and friends.  
"He was having so much trouble paying enough attention, but now he's doing really good," Jaquelin said.  
During a recent therapy session, Miller asked Irving to pay attention to multi-step directions. He listened carefully and was able to carry out tasks according to Miller's prompts. 
"Good!" she said and gave Irving a high five. 
Miller said Irving will likely benefit from wearing the hearing aids as he grows older. Meanwhile, she helps him with other skills to compensate.  
Miller loves seeing patients like Irving thrive. "It makes me feel good," she said. "I feel like I'm doing what I'm supposed to be doing." 
Sometimes, the cause of a child's struggle isn't obvious. Miller enjoys using her expertise – along with philanthropic support – to figure out what's going on.  
"I'm an advocate for families," she said. "They don't always know where to turn. We try to look at every aspect of a child's situation and get help wherever they might need it."
To learn more about the Bradshaw Pediatric Rehab Assistance Fund, please visit https://www.regionalfoundation.com/ways-give/families.