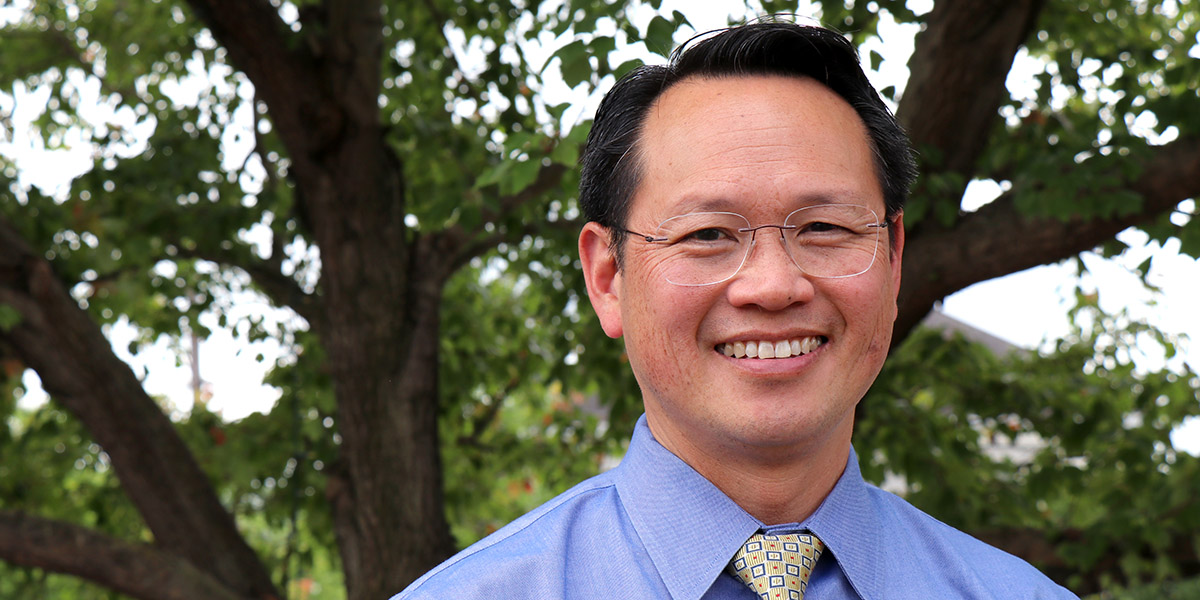 Making people whole
A place for everything, and everything in its place.
Thomas Leong, MD, thrives on seeing the many ways our world fits together. He loves woodworking and archery, fishing and gardening – anything that teaches self-sufficiency and respects the order of things.
As an orthopedic surgeon, Dr. Leong does the same thing for others.
"Orthopaedics is all about taking parts and making them whole," Dr. Leong said.
The surgeon recently started seeing patients with Medical Group of the Carolinas – Orthopaedic Surgery – Pelham.
He enjoys sports medicine and has served teams across the U.S. – the NFL's San Francisco 49ers; college teams including Stanford University, Texas A&M and USC Upstate; and high school teams including Broome, Chesnee and Chapman.
Much more than sports
But at its core, orthopaedic medicine empowers Dr. Leong to serve everyone.
"If I operate on a football player who tore his rotator cuff, it's no different than if I would operate on a soccer mom," Dr. Leong said.
One of Dr. Leong's favorite procedures: Shoulder arthroscopy, the repair of torn rotator cuffs and shoulders that keep dislocating.
"It's technically challenging and has a high rate of success," Dr. Leong said. "There's a joy to mastering something."
A family history of excellence
Dr. Leong's family instilled in him a passion for excellence. Born in Honolulu, Dr. Leong's mother started out as an elementary school teacher and eventually became a Hawaii state representative.
Dr. Leong graduated summa cum laude from Creighton University in Omaha, Neb. – a school his family is passionately devoted to.
His entire family is also dedicated to distinguished military service. His father served in Korea, where he earned a Purple Heart. His brother, another doctor, is currently on active duty in the Army.
Dr. Leong and his wife, Susan, are both Navy veterans. Dr. Leong attended flight surgery school at Naval Air Station Pensacola and performed both his internship and residency at Naval Medical Center San Diego. He completed his training at Stanford where he did a fellowship in sports medicine.
As a man of faith, Dr. Leong regularly explores how he fits into God's plan. He found his place in orthopaedics while studying medicine.
Dr. Leong comes from a large family, and he has continued that tradition as well. The Leongs have six children.
Making a new home
And so, the Leongs have purchased a new home, close to his new job at MGC – Orthopaedic Surgery – Pelham. They needed the extra space, but Dr. Leong also doesn't like long commutes.
"Live as close to work as you can," Dr. Leong said. "As a physician, it changes your perspective."
At the old house, the Leong family had built a lavish treehouse and a garden full of blueberries, figs, peaches and grapes. They also built a walk-in chicken coop.
"We like growing things our family can enjoy," Dr. Leong said.
They are already considering what projects they'll tackle at the new house, as Dr. Leong settles in with his family – both at home and his new work family.
"I try to treat my patients as if they were my friends or family," Dr. Leong said.
Learn more about Dr. Leong and schedule an appointment.
Q&A: Dr. Leong
Why did you decide to become a physician?
I really enjoy helping people and fixing things.
How did you choose your specialty?
When I was an intern, I had so much fun doing orthopaedics that I didn't mind long hours or being on call. Orthopaedics gives me the opportunity to repair bones and ligaments and return patients to active lifestyles and their families.
What is your philosophy of care?
I try to treat patients as if they were my friends or family. I try to explain things so that my patients can feel comfortable making decisions about their care and surgery. A good physician is a good teacher.
What do you consider to be some of the best advancements in modern day medicine?
Minimally invasive surgery greatly improves a surgeon's ability to accurately assess injuries, accurately repair structures, minimizes post-operative pain and speeds up the recovery time.
What is your vision for the future of medicine?
The future of medicine will involve seamlessly sharing the best information so that physicians can rapidly change their practices to the best evidence-based procedures.
If you had to choose a different profession (not in healthcare) what would it be, and why?
I would be a teacher. I thoroughly enjoyed studying biology and would still be able to teach and interact with many people.