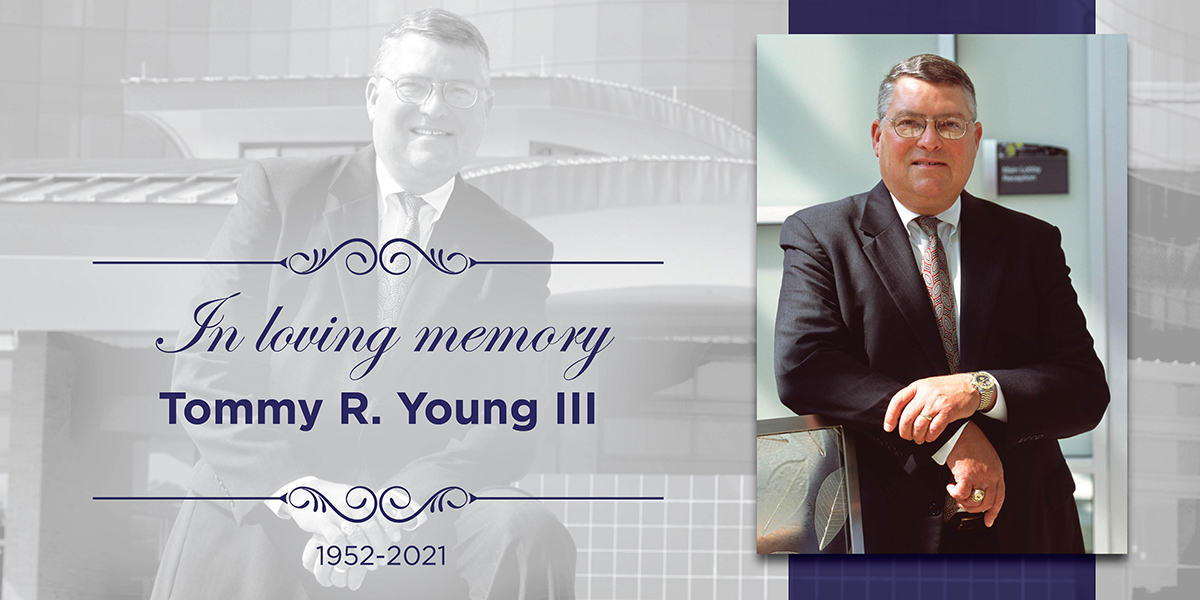 A legacy of service: Remembering Tommy R. Young III
Thomas "Tommy" R. Young III's commitment to improving his community ran as deep as his Spartanburg roots.
After graduating from college, he joined Young Office Supply, working with his father and grandfather to grow the company, while simultaneously focusing on philanthropic service.
"When I returned to Spartanburg after graduating from The Citadel in 1974, I went to work in the family business, Young Office Supply Company," Young said while accepting the Order of the Palmetto from Gov. Henry McMaster in 2019. "My grandfather encouraged me to get involved with the community, be active with the chamber of commerce, my church, and try to do the best I could to help make our region and our state a great place to live and to work. That is what I have tried to do."
By any measure, Young succeeded in helping make his community a better place. His legacy – both in business and philanthropy – will be evident for generations to come. Young died July 27, 2021.
"Spartanburg has been blessed with many extremely capable leaders throughout the years, and certainly Tommy is high on that list," said Norman Chapman, Young's brother-in-law. "The thing about Tommy was, no matter how difficult a situation was, when he walked in the room, you knew everything was going to be OK. Tommy did things quietly, but his fingerprints are all over Spartanburg."
A healthy community
Young's commitment to others extended to improving the health of his community.
He served two terms on the Spartanburg Regional Foundation Board of Trustees, including as chair from 2002 to 2003. He was on the campaign steering committee when the Foundation raised money for the new Spartanburg Medical Center emergency center in 2004.
"As a member of the Spartanburg community, I want the best in health care for my family, friends and business associates," Young said in 2004. "It was natural for me to make a gift to the Emergency Center Campaign to ensure this facility is equipped, staffed and ready with superior equipment and technology when emergencies occur."
Young also served on the Spartanburg Hospital for Restorative Care (SHRC) Board of Trustees for 17 years.
Nalin Srivastava, MD, who serves on the Spartanburg Regional Healthcare System Board of Trustees, said Young's impact can be seen in organizations throughout the state of South Carolina and certainly in his hometown.
"Tommy always focused the board's attention on the service Spartanburg Hospital for Restorative Care provides for the community, and we are forever indebted to him for his commitment to constantly supporting and moving SHRC forward," Srivastava said. "From higher education to health care, he deeply cared about improving the lives of those around him. He loved his family, and he loved Spartanburg. This community – and this hospital system – are certainly better because of his leadership and devotion."
The family business
In 1953, Thomas Rudolph Young Sr. and his son, Thomas R. Young Jr., bought a small office supply store and formed Young Office Supply, originally located on Morgan Square in downtown Spartanburg.
In 1974, Young III joined his grandfather and father in the family business, driving a truck, delivering office supplies, and installing furniture.  
"It's not the bottom; it's probably one of the most important jobs here," Young told the Herald-Journal in a 2004 article. 
In 1983, Young assumed the role of vice president and became president five years later. As chairman and CEO of Young Holding and Young Office Environments, he grew the company to exceed $28 million in sales annually.
For his success in business, Young was honored with the 2010 Neville Holcombe Distinguished Citizenship Award, the Spartanburg Area Chamber of Commerce's highest honor.
"I am very thankful and humbled," Young said of the honor. "When they started this award, I remember thinking there's no way a kid selling office supplies on the street could ever win it. This means very much to me, my family and my associates."
Today, the family business continues to grow with his son, Thomas R. Young IV, serving as president of Young Office since 2008.
Giving back to his community
Through the family business and his personal efforts, Young gave back to his community in many ways – his wife of 45 years, Elizabeth Chapman Young, a partner in everything he did.
A graduate of Spartanburg Day School and The Citadel, Young championed education. In 2007, he was appointed to serve on the Spartanburg County Commission for Higher Education, later serving as chair from 2011 to 2020. In 2017, the University of South Carolina recognized Young with an honorary Doctorate of Public Service Degree. In 2019, he was elected by alumni to be the next president of The Citadel Alumni Association.
Young served in leadership roles with numerous community organizations, including as chair of the boards of the Spartanburg Area Chamber of Commerce (OneSpartanburg, Inc.), the Carolina Piedmont Foundation (USC Upstate Foundation), Mountainview Nursing Home, the Arts Partnership of Greater Spartanburg (Chapman Cultural Center) and the Spartanburg County Foundation.
His extensive service to the community also included roles as president of the Rotary Club of Spartanburg, the Spartanburg Citadel Club, and the Piedmont Club. He served on the Allocations Committee of the United Way of the Piedmont and as a director of the Presbyterian Communities of South Carolina. He also served on the boards of the YMCA of Spartanburg, the Spartanburg Boys Home, the local chapter of the American Cancer Society, the local chapter of the Boy Scouts of America, and the Spartanburg Country Club. Young also served in several volunteer and leadership roles at First Presbyterian Church.
In 2019, in recognition of his lifetime of service, Young was honored with the state's highest civilian honor, the Order of the Palmetto, during a Rotary Club of Spartanburg meeting.
"This recognition is not one you can apply for," Gov. McMaster said at the award presentation. "It is one that is recommended from friends, colleagues, and those that know the intended recipient." 
Upon receiving the honor, Young said, "I am deeply humbled, surprised and thankful for all of you who have helped me do the things that I've done to try and make Spartanburg as good as it could be."