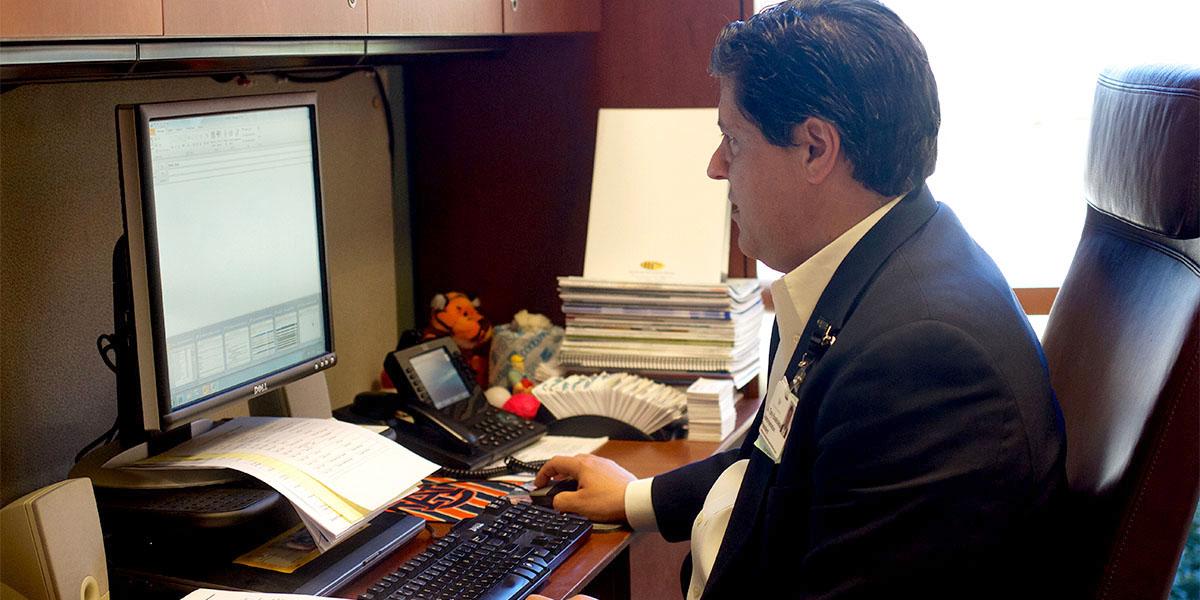 Leadership and community
Tony Kouskolekas emphasizes how the two go hand-in-hand
Pelham Medical Center president Tony Kouskolekas recently was named one of the 50 Most Influential People in 2016 by Greenville Business Magazine. We sat down with Kouskolekas who discussed the growth of Pelham Medical Center, his love for the Greer community, and the future of the Upstate. 
What brought you to Pelham Medical Center (previously Village at Pelham) in 2012?
Career-wise, I thought I was ready to "take the next step."  The idea of working with a well-established and respected organization like Spartanburg Regional Healthcare System was intriguing; and then to have an opportunity to take that next step as a hospital president was exciting and felt right. However, I really was not interested in moving for the sake of moving. I am originally from Alabama, and so my idea was to always get closer to my home state rather than farther away.
Finally, the Upstate of South Carolina could not be a better place to live, work and raise a family.
When you became president of Pelham Medical Center, what were some of your goals for the hospital and the community?
It was easy to see the campus was situated in a hotbed for growth. Before setting any goals, however, it was important to really to get to know the people and the organization and understand the culture.
Then, as a leadership team, we assessed our position with our six strategic imperatives – community, quality, people, financial performance, customer service and growth. The organization was already performing well in a variety of areas but it was evident that growth (more patients and services) was critical. Our team has done a magnificent job of taking care of more and more patients and efficiently implementing new services for our community.
From a community perspective, our leadership team realized that the community was uncertain how Pelham Medical Center needed to enhance the level of awareness of among stakeholders.
How has the Greer community evolved since 2012?
First, Greer is a "can-do" area and it is like no other place I've ever been. The people here are willing to roll up their sleeves and get things done.
I suppose, maybe, an evolution has occurred in Greer's notoriety; in addition to population growth, Greer is also seen as attractive for its quality of life opportunities.
What has not changed is the incredible, positive spirit Greer has. This community is very unique; there is a palpable spirit of community and teamwork that has not changed and, I suspect, will not change.
What does leadership mean to you?
First and foremost, it's about other people; if leadership is about the leader, it's destined to fail. Certainly, leaders have to make decisions and be tie-breakers, but the real focus has to be on advancing the organization for its betterment and the betterment of its stakeholders.
Servant leadership, to me, is the right process. We are called to serve in some capacity and my job is to serve all the stakeholders of the hospital in a way that benefits everyone involved. No doubt, leaders have to create expectations, set goals and model behavior, but leaders also have to help others grow and develop to achieve their goals. 
Who are some leaders who influenced you and what were the traits you admired?
I've learned things from every leader with whom I've worked – both good and bad. One boss taught me the importance of being committed to your core values and how critical it is not to deviate from them. You cannot be effective if you do not have core beliefs that drive you as a leader. From that same leader, I learned the value in being honest and transparent with everyone, even if the news was less-than-desirable.
From others I have learned the art of striving for perfection. I'm smart enough to know perfection is impossible but there is nothing wrong – and I would say it's totally appropriate – to strive for perfection in all we do. We can always be better.
From others, I learned the value of deeply listing to stakeholders and importance of building lasting relationships. After all, business is – at its core – a relationship business. Being trusted and respected are more critical attributes than being liked.
Reading articles and books about leadership, while also observing other leaders, helped to develop my core beliefs.
Through your community organization roles, what have you learned about the Greer community?
I have found breaking into Greer is very easy and the people are very welcoming. I have never found an inner circle you had to please to get anything done.
Greer wants to create its own future and people here really share a community spirit.
What do you see in the future for Greer and the Upstate?
Greer has infinite potential. I don't see anything that cannot be done in Greer because people here are so committed.
I am confident that Greer will continue to be the very desirable place to live, work, play and pray as it is today.