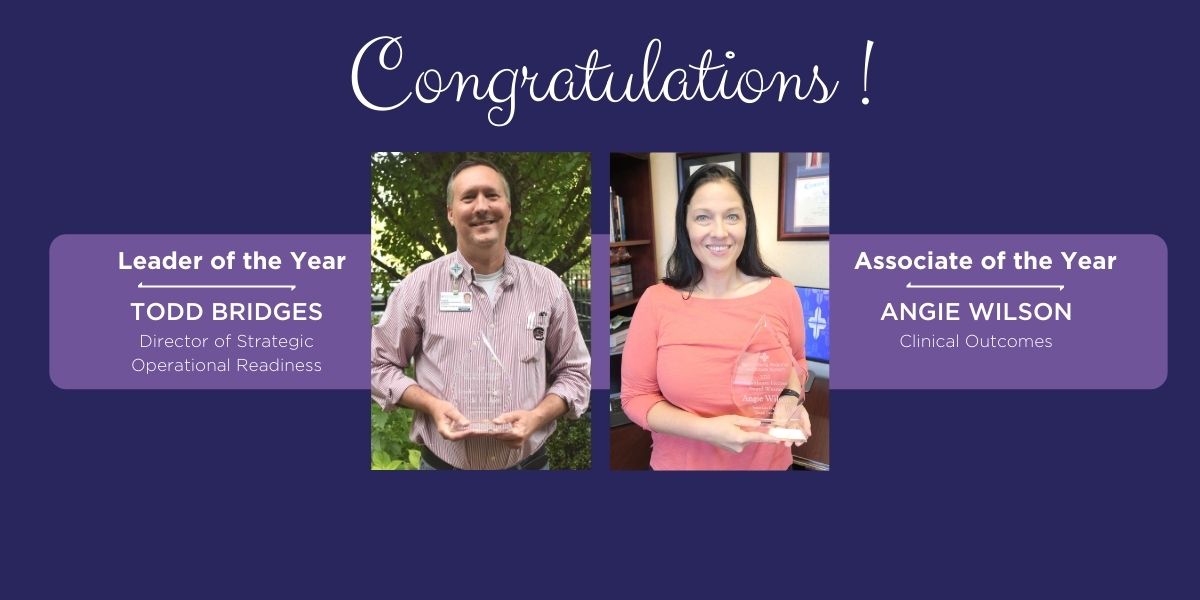 Leader, Associate of the Year, Healthcare Heroes recognized
Spartanburg Regional Healthcare System has more than 9,000 associates who are vital to the day-to-day operations of the healthcare system. From caring for patients to feeding associates and visitors, each associate plays a crucial role.
During COVID-19, healthcare workers have become even more important. Their hard work and dedication in the face of adversity demonstrates why they are all Healthcare Heroes.
Though the associates of Spartanburg Regional are heroes every day, this week the system has recognized their service and achievements with the 2020 Leader of the Year, Associate of the Year and Healthcare Heroes of each division. 
Associate of the Year: Angie Wilson, clinical outcomes, home office division
A colleague wrote:
"While Angie does not provide direct patient care, her behind-the-scenes work has been critical to the continued safe operations of SRHS. Angie was assigned as project manager for the management of PPE across the system. Her training and expertise in project management, partnered with her years of experience as a member of the Hospital Emergency Response Team, equipped Angie to be the best possible candidate to fill that critical role.
Leading by example, Angie never hesitates when it comes to helping people. She frequently bends over backwards for anyone and her compassion for employees and patients is unmatched. Throughout the organization, she is highly trusted and always knows whom to contact when an issue arises.  She will stick to the issue, collaborating effectively until the problem is resolved.  Without a doubt, Angie is hands down our Healthcare Hero."
Leader of the Year: Todd Bridges, director of strategic operational readiness
A colleague wrote:
"We will make it happen. That is the response we heard time and again from this leader throughout the COVID-19 pandemic. No matter the task, how big or how small, this leader demonstrates professionalism and approaches all tasks with a get-it-done attitude. This leader has been a member of the COVID-19 Task Force since its inception on March 10, 2020, and has been responsible for our emergency management oversight throughout the pandemic.
This leader is Todd Bridges. First and foremost, Todd and his team have been instrumental in ensuring the safety and security of our campuses. They initially worked with the Labor Resource Management team to man defined ports of entry at each of our facilities. This is not always an easy task, especially during the no visitation period. This team continues to carry out their duties with professionalism and grace under his leadership. 
He helped to ensure our staff had the necessary personal protective equipment (PPE) to safely care for COVID-19 patients and patients under investigation. Due to nationwide shortages, Todd continues to work with Purchasing to facilitate the acquisition of necessary PPE for the system using statewide contacts. To prolong the usage of PPE, Todd was also instrumental in working with the team responsible for creating reuse processing using UV lights.
Most recently, Todd has worked to facilitate 'pop-up' testing throughout our service area — sometimes with less than 24 hours notification. This is no small task but is always met with 'We will make it happen.'"
Healthcare Heroes
All Spartanburg Regional associates have gone above and beyond the call of duty during COVID-19. Many have performed tasks outside of their regular job duties, made sacrifices and helped others around them.
Below are Healthcare Heroes selected from each division: 
Medical Group of the Carolinas
Mendy Henderson, MGC — Skylyn — Orthopaedics
Post-Acute
Lavern Simpson, Finance — Internal Audit
Rural Health
Megan Herndon, CMC — Respiratory Care
Spartanburg Medical Center
Curtis Allen Plexico, Respiratory Care
Western
Heather Rogers, Environmental Services