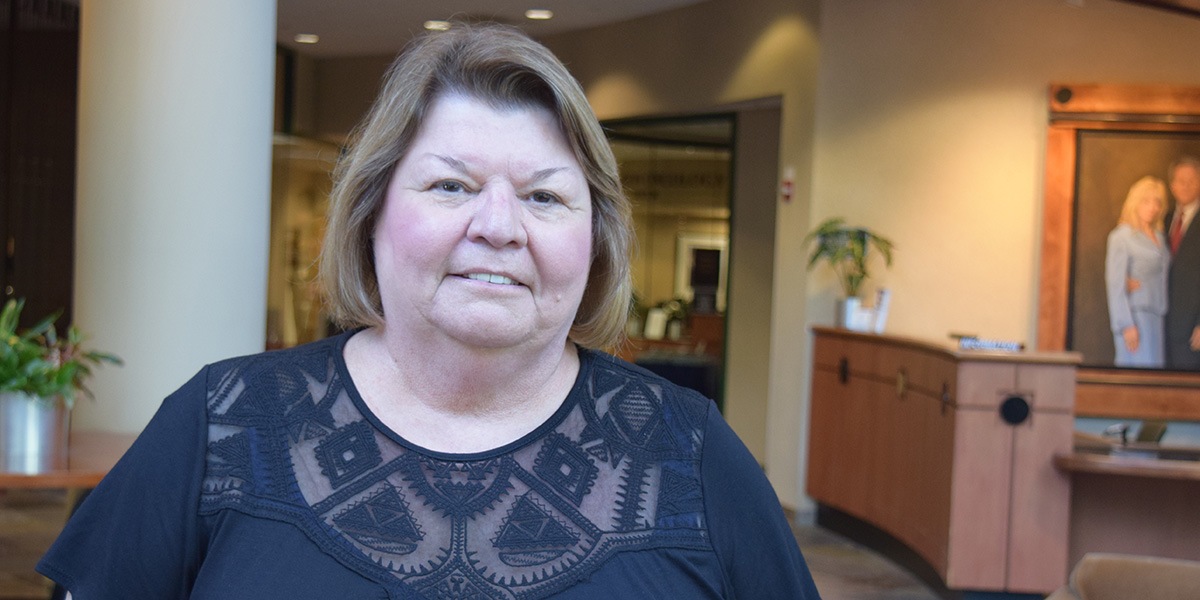 Glenda Sutton
"I've told everybody I know"
Glenda Sutton had no reason to think she had lung cancer.
As a former smoker and bladder cancer survivor, she mostly felt fine. But because of Sutton's history, her doctor recommended her for a low-dose lung CT screening.
"It only took about 20 minutes – then I went back to work," she said. "It was just the easiest thing to do."
That 20 minutes saved her life.
Sutton is among roughly 2 percent of patients whose screening led to a cancer diagnosis. It was caught early, and she underwent surgery in May to remove the left lower lobe of her lung. 
The surgery required a short period of recovery. By June, Sutton was feeling well and looking forward to getting back to her job in the lab at the Immediate Care Center — Reidville Road.
The low-dose CT screening for lung cancer is primarily geared toward smokers and former smokers. It's described as "low dose" because it involves less radiation exposure than a regular CT scan.
"So many people don't realize that a lung cancer screening is an option," said Tara Morris, lung screening coordinator for Gibbs Cancer Center & Research Institute.
The idea is to catch lung cancer early, when it's most treatable and the patient has the best chance for long-term survival. More Americans die from lung cancer than any other form of cancer. Survival rates are low, in part because it is rarely caught early enough to treat.
But low-dose CT screenings for high-risk patients can make a difference. The chest scan looks for masses on the lungs. If one is found, a radiologist will evaluate the severity and discuss treatment options with the patient.
Morris manages efforts to promote low-dose screening among current and former smokers between the ages of 55 and 77. The program is growing: 510 screenings were conducted by the mid-point of 2019; nearly double the rate of the previous year.
"There's great potential for reaching more people and saving lives," Morris said.
Sutton is a believer – and she's doing her part to promote awareness.
"I've told everybody I know," she said.
Do you meet the criteria for a low-dose lung screening? Below are the requirements:
Between the ages of 55 to 77.
Asymptomatic (no signs or symptoms of lung cancer).
Current or former smoker (quit within the last 15 years) who has a 30-pack year or greater smoking history. Pack-years are calculated by multiplying the number of packs smoked per day times the number of years smoked. 
No chest CT within the last 12 months.
A written order from your doctor.
From the Centers for Medicare and Medicaid Services
 Talk with your primary care physician to see if you need a low-dose CT scan. If you don't have a primary care physician, find your new medical home here.