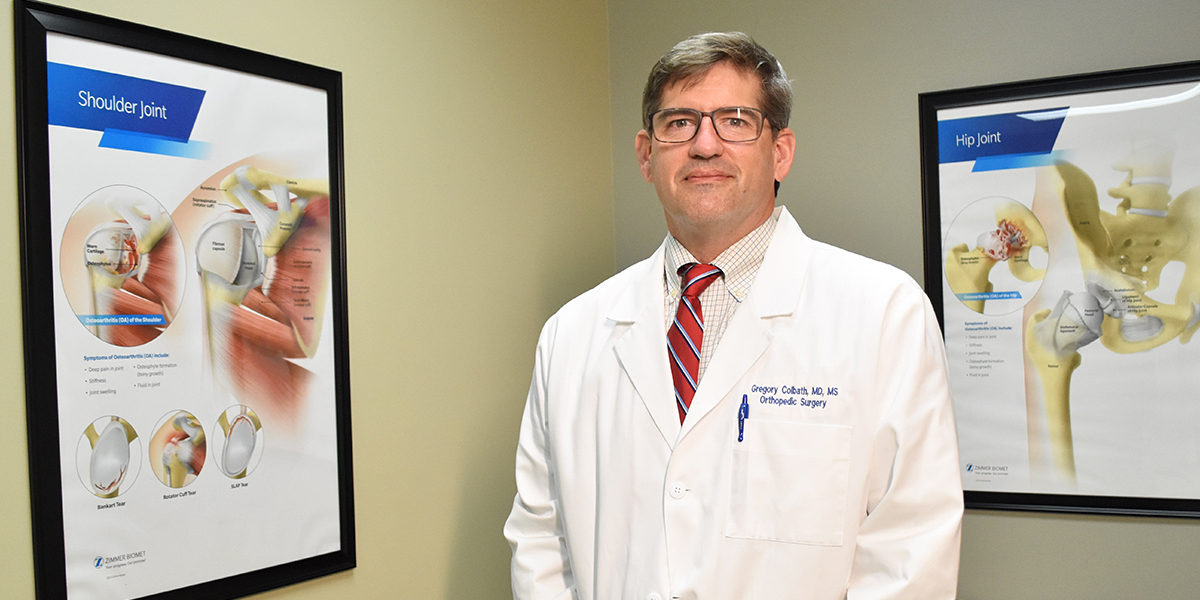 Dr. Gregory Colbath with a diagram of the shoulder
InSpace Balloon Treatment Offers Innovative Approach for Rotator Cuff Tears
Washing your hair. Putting on a shirt. Performing needed tasks at work. These everyday activities can be extremely painful and limiting for the millions of Americans who have rotator cuff tears. 
The rotator cuff is the primary stabilizer for the shoulder. It allows you to elevate your shoulder and lift items, as well as giving you the strength to perform overhead activities. 
At Spartanburg Regional Healthcare System, orthopaedic surgeon and shoulder reconstructive specialist, Gregory Colbath, MD, is using a new technology approved by the FDA in 2021 called InSpace to help patients with this condition. He was the first provider in South Carolina, North Carolina and Georgia to use the implant.  
This new procedure is designed to treat severely torn rotator cuff tendons that could not be addressed with standard suture repair or shoulder replacement. In such cases, a surgeon attempts to use sutures to make the repairs, but often there is not enough healthy tissue for the repair to be successful.
"I liken it to trying to stake down a tent tarp, where it's worn and torn and under too much tension, and it just rips even further," Dr. Colbath said. "InSpace allows for a completely new approach to treating these shoulders."
"It is one of the most innovative surgical procedures introduced for shoulder patients in the last 10 years," Dr. Colbath said. "It is changing how we manage patient expectations, particularly in regard to their postoperative rehab, and patients are able to get back to what they want to do sooner with better function and less pain."
"My patients are often out of a sling in a few days and back to work within a few weeks," Dr. Colbath said.
During the short outpatient procedure, the surgeon makes a couple of small incisions in the shoulder, inserts a camera and an arthroscopic shaver, and removes any damaged tissue. He then inserts an absorbable balloon, which is inflated with a small amount of saline solution. The entire procedure only takes 10-15 minutes. The balloon stays in the space, cushioning the joint to have range of motion without needing the torn rotator cuff to stabilize the shoulder.  
The balloon fully absorbs over the course of three to six months, allowing time for the shoulder to rehabilitate to compensate for the deficient rotator cuff. 
"It gives us one more tool to provide the best outcome for our patients who otherwise would not have other great options, particularly in a revision case or a massive rotator cuff tear," Dr. Colbath said. "Our goal is to restore function and mobility and allow patients to get back to their pursuits."
He has now performed close to 25 InSpace arthroscopic procedures and is pleased to see the quick progress and sustained recovery of his patients. 
"When patients come into my office for their three-week postoperative visit with full range of motion, no pain, and asking to go back to work, I know that we exceeded their expectations and restored their quality of life," Dr. Colbath said.
For more information about the InSpace balloon spacer for rotator cuff repair, contact Medical Group of the Carolinas – Orthopaedics – Skylyn at 864-216-4525.